Hannah Eden & Paulo Barreto: Metabolically Monstrous
Meet your coaches for the America's Fittest Couple Challenge 3 and see what they have in store!
Heading out the door? Read this article on the new Outside+ app available now on iOS devices for members! Download the app.
If you saw our March/April 2018 issue, then you're already familiar with Hannah Eden. With her shock of red hair and bold personality, she's pretty much impossible to miss. But truth be told, her other half, Paulo Barreto, is equally as commanding, and together they've created a fitness brand from scratch that is transforming lives the world over.
Now they are bringing this unique programming to you with the America's Fittest Couple Challenge 3. Read on to see what they can do for your body, your life — and your relationship!
Of the pair, Eden was the first to fall in love with fitness and went from underweight and emaciated to buff and beautiful in a matter of months. Barreto saw the change in both her physical and mental state and decided to join the party. Soon enough, he was also an exercise devotee, and a few years later, they opened their own gym.
Eden quickly realized that when it came to training her clients, the barbell was one of the most fear-inspiring barriers when it came to starting a program. With that in mind, she developed a concept that eliminated barbells completely, then did away with repetitions and prescribed weights to boot. The result was PumpFit, a program combining bodybuilding, yoga, Animal Flow, functional training, athletic conditioning, plyometrics, bodyweight movements and kettlebell sport — to name but a few disciplines. The workouts were carefully crafted and metabolically intense, packing a ton of work into about 30 minutes with the goal of building strength and lean muscle and burning fat.
And this metabolically monstrous package is what Eden and Barreto will deliver to you for the America's Fittest Couple Challenge 3 — time-efficient workouts using minimal equipment that anyone at any level of fitness can do and succeed. Because you work at your own pace and fitness level and choose your own weight increments, the program is gender-neutral and is perfect for couples from all walks of life — mother/daughter, father/son, spouses, cousins or even friends. Working with a partner encourages accountability, and even some friendly competition as you try to best one another.
At the time of this writing, Eden and Barreto were in Iceland, where Eden was cycling the perimeter of the country — more than 800 miles — to raise money in honor of her good friend who passed away from cancer. We caught up with them between pit stops in the chilly, remote mountains to dish about what's in store for this year's participants.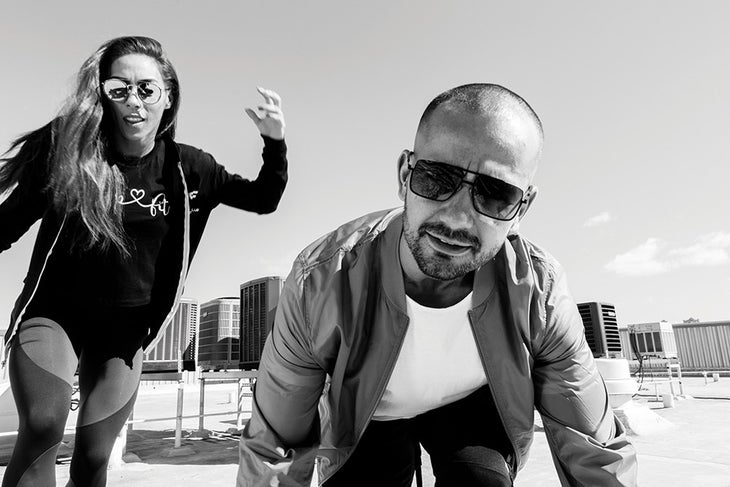 Oxygen: How important is it to have a partner to stay accountable when starting a
fitness program?
Paulo Barreto: It's key! When you start losing focus, the other person can reel you back in to the right state of mind. Luckily, Hannah and I are very in tune with what we want and what we represent. I always say that she's my anchor and my greatest inspiration, and it's a great motivator to try to keep up with her. She never stops!
Hannah Eden: We all have our good and bad days. When you're not feeling up to going for a run or taking a class, you need that person to step in and tell you to get off your ass and go sweat.
O: Do you guys work out together?
PB: We try to train together a few days a week. Most of the time, Hannah jumps into my class, so I get to coach and motivate her. I will also take her classes throughout the week, so she gets to kick my ass, too!
O: Are you competitive with one another when you do work out together?
HE: Yes, I am super competitive, especially with Paulo right next to me! He picks up a weight and I want to match it. If it's max-effort reps for time, forget about it — I will damn near pass out to win! But don't let Paulo fool you; he's no pushover and he will bust ass to beat me, too.
PB: It doesn't happen too often, but when I do beat her in a workout, I make sure I poke her and let her know what's up!
O: What is your training philosophy?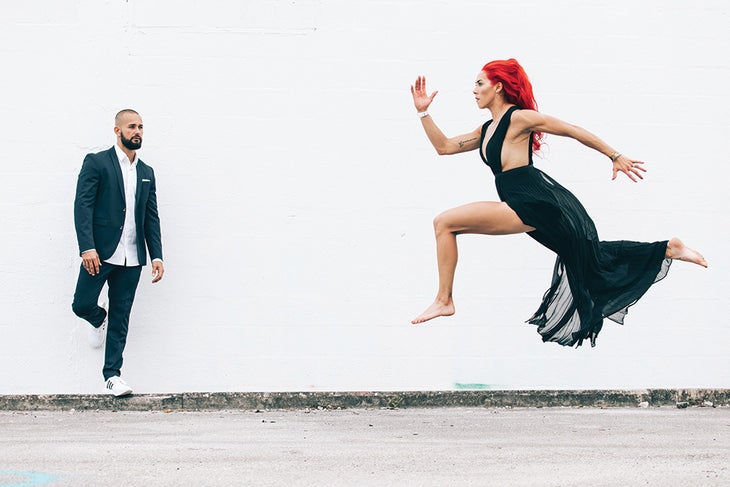 PB: Training can't be boring. Your mind is great at finding excuses, so trying to commit to a training routine that doesn't engage you or keep you constantly challenged is virtually impossible. Your fitness goals must be like a moving target so you can enjoy the process until it becomes a lifestyle.
O: What training style will you use for the America's Fittest Couple Challenge 3 workouts?
HE: We teach high-intensity interval training that uses very minimal equipment, and the workouts are time-based, not rep-based, so there's no level of fitness needed.
PB: Right. These workouts can be performed by anyone, regardless of where they are at on their fitness journey — beginner, intermediate or advanced — and modifications will be provided for those who need them.
O: Can both genders do the same workout?
HE: Absolutely. There are no gender restrictions in this — or any — workout.
PB: In today's society, stereotypes must be broken and women must be empowered. They can do everything men can do, as long as they have the right state of mind. I will, however, suggest different loads for men and women for our workouts.
O: How important is nutrition to succeed with your program?
HE: Nutrition is key! We only spend 30 minutes working out together, so what you do for the rest of your day really matters. Food fuels your workouts and defines your state of mind and your desire to move.
PB: Your commitment to nutrition will dictate how well you perform, recover and sleep and how drastically you can optimize all the work you will put in. You can work your butt off in a workout, but if you don't focus on the decisions you make throughout your day regarding your eating habits, you will never really see your true potential.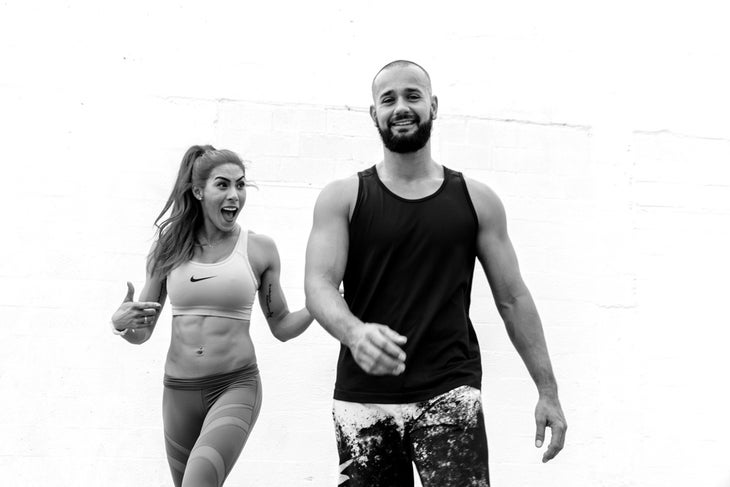 O: Do you have a nutritional philosophy?
PB: Nutrition must be sustainable for the long run. Crash diets and doing a complete 180 with your eating habits usually causes people to fall off the wagon. The change needs to happen gradually with the thought of sustainability at the forefront.
O: What kind of results can people expect?
HE: People can expect to shed fat and build lean muscle and strength. Most important, they will fall in love with fitness and better their lives.
PB: In 60 days, the results can be jaw-dropping. People can expect a drastic improvement in cardiovascular endurance and a decrease in body fat. And most important, they will learn to love themselves and their bodies!
Quick-Fire Q&A
O: What is your favorite thing about your partner?
HE: Paulo keeps me balanced. He's calm, calls me out when I need it, and supports me on everything I do and want to do.
PB: Her selfless and unstoppable drive to never stop evolving and trying new things.
O: Who has more endurance between the two of you?
HE: Totally me.
O: Paulo — would you ever dye your hair red to match Hannah's?
PB: Of course! When?
O: Who is the better dresser?
PB: Me of course! I even dress Hannah from time to time.
HE: I live in gym attire. That's stylish, right?
O: Who is the better cook between the two of you?
HE: We both cook, but in my opinion, there's always a better way of doing it if I'm in control!
O: Which one of you is the daredevil?
PB: Hannah for sure. Though I paddled 75 miles from Bimini to Florida to raise money for a cystic fibrosis foundation called Piper's Angels.
O: What about you is similar?
PB: We are both real people who genuinely care about those around us and value our true friendships, and we are both honest to a fault.
HE: We are real as f*&$. Maybe too real sometimes!
With the America's Fittest Couple Challenge 3, Hannah Eden and Paulo Barreto will bring you and your partner their unique brand of training — PumpFit — to transform your bodies and minds and get you into the best shape of your lives. Sign up today!