Body Fat: What's the Right Amount?
Everything you need to know about body fat percentages for fitness competitions.
Heading out the door? Read this article on the new Outside+ app available now on iOS devices for members! Download the app.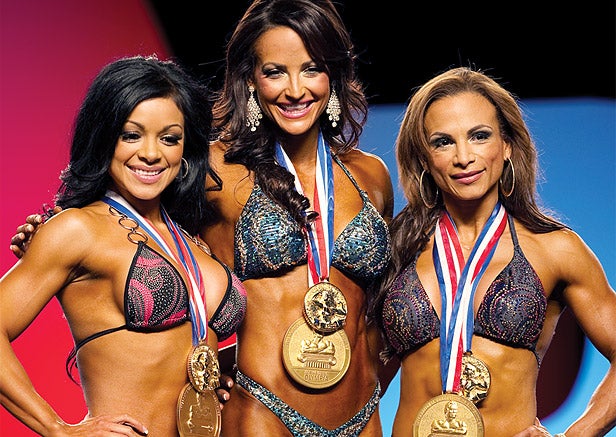 Fitness and figure competitors are usually exceptionally lean, whether they are on the stage, featured in an article or gracing the cover. When these pictures are taken, the athletes diet-down and hover between seven and 10 percent body fat. This is not a body fat percentage you should aim for if you do not compete. Moreover, this amount is only maintained for the time surrounding the contest and usually isn't sustained for more than a few days or weeks at a time.
"I think a lot of the time competitors like the idea of being able to maintain ultra-lean body fat levels after a contest," says professional fitness competitor Jenny Lynn. "It's not realistic, and it's certainly not healthy. All competitors should allow for an off-season for both a mental and physical break."
So what's the average body fat percentage for a pro competitor? IFBB figure pro Elaine Goodlad says she typically stays in the seven to nine percent zone for her 132-pound contest weight. "But each athlete is different," she says. "I have to reduce my body fat levels to be very low to compete, while an athlete like Mari Kudla-Donnelly always competes with a much higher body fat level. That look suits Mari best, and she's placed ahead of me many times."
After The Curtain Call
Once the winners are announced and the contest is over, it's time to get back to reality and back to a healthy body weight. "I recommend that most competitors stay in the 12 to 14 percent range in the off-season," says Kim Oddo, fitness trainer and nutritionist. "It's a healthy hormonal range to be in and, when it comes time for contest prep again, your program doesn't have to be extremely rigorous and take its toll on your physique."
Lynn says she competes in figure competitions at 125 pounds and seven percent body fat and goes up to 135 pounds and 12 percent body fat in the off-season. According to Lynn and Goodlad, 12 to 14 weeks before a show is a good time-frame to start a healthy diet to shed what they gain in the off-season."
Dangerously Low
The burning question remains: How low is too low? According to Goodlad, as the criteria in judging continues to encourage leaner athletes, competitors want to place well will push harder to be leaner. "It's not safe to get that lean, and it's not safe or healthy when it comes to what you have to do to get that lean," she says.
A few signs of dangerously low body fat levels are fatigue, hair loss or brittle hair, unhealthy skin tone, loss of menstrual cycle and slower motor sensory functions, sometimes referred to as cloudy brain. "More serious symptoms can include onset of osteoporosis, elevated liver enzymes and decreased autoimmune function," says Oddo.
For Good Measure
To get an accurate idea of your body fat level, there are a few ways you can go about it. The easiest way is the caliper test, which can be done at most gyms where they perform body fat tests regularly. If you don't belong to a gym, you can try a local university or hospital, where they may weigh you underwater. "The dunk tank is very accurate, but accessibility can be a little more difficult," says Oddo.
One other way of measuring body fat is with an impedance machine, which is also easily accessible but not quite as accurate, says Oddo. "I go with how my clothes fit and how I look in the mirror," says Hendershott. "Scales and calipers are a setup for disappointment for most people. People seem to forget that muscle weighs more than fat."
Whether you get tested professionally, use your eye as the scale or simply use a BMI calculator, be sure to stay on top of your game. Being in a healthy body fat zone is crucial to your athletic performance and personal strength.