Training During Pregnancy
Alicia Harris Ross shares how she trains into her second trimester.
Heading out the door? Read this article on the new Outside+ app available now on iOS devices for members! Download the app.
Now that I'm well into my second trimester, being pregnant is becoming more normal for my body and my life. I feel good most days and I push myself to continue to be fit, healthy and to workout regularly. However, the workout part doesn't always go according to plan. Pregnant or not, my normal morning motivation is generally low, and I'm not one to be super ambitious to get to the gym, but I know I need to do it. Reminding myself that I feel a lot better once I get up and get into my morning groove usually motivates me, but when that fails I move to my fail-safe plan—partner workouts.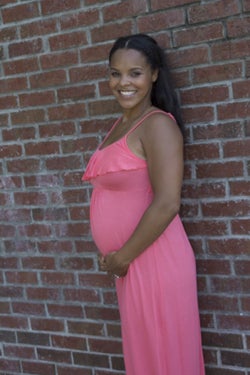 Meeting a friend at the gym will give me a sense of accountability. A good workout partner makes workouts smoother, more intense and definitely more fun. During some weeks I schedule three workouts with training partners so I know I will get the work done. Some weeks I only get to the gym once, but during that session I get work done. I prioritize my training by working on the most critical components of fitness: my legs and my heart. I perform a minimum 20 minutes of cardio before I move to my go-to leg moves.
I love lunges. There are so many variations to target different areas of the lower body — walking lunges, standing lunges, lunging or step-ups onto a box, reverse lunges and side lunges are a few lunge variations I use. Tempo training is a technique that I also do regularly. It's great for building stability to help me control the belly weight during pregnancy. Slowing down any eccentric part of an exercise engages a good amount of muscle fibers, making the muscles work longer under high tension and burn more calories in less time. I will do squats with a slow tempo and less weight than what I normally use. I lower the weight for four seconds and then explode through my heels, back to the starting standing position. With any tempo training the burn will be felt and it can be used with many exercises in the eccentric phase of the lift. After throwing in a couple more leg and a few compound upper-body exercises for the day, my hour workout is maximized, I'm feeling tired but good and I'm ready to get to my post-workout meal!
Like Nike…you just have to do it!
"Throw yourself into your tasks so that everyone will see your progress. Keep a close watch on how you live and on your teaching. Stay true to what is right for the sake of your own salvation and the salvation of those who hear you." (1 Timothy 4:15-16)