27 Ways to Stay Motivated
Do you have trouble sticking to your goals? Then it's probably time for a new approach. Keep the pounds off for good with these weight training, cardio and clean eating tips.
Heading out the door? Read this article on the new Outside+ app available now on iOS devices for members! Download the app.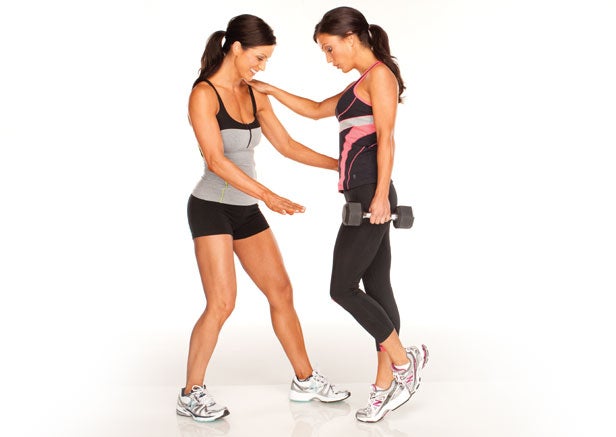 Is sticking to your goals as challenging as trying to stick to your budget at Lululemon? Then it's probably time for a new approach. Committing full-time to the
Oxygen lifestyle is the only way to a lean, fit body with lasting power. More than 80 percent of people who lose weight eventually gain it back, according to a study by the University of California, Los Angeles, and that means you need a no-quit plan that will keep you inspired for life.
The cycle of gaining and losing weight has been linked to hypertension (a risk factor for cardiovascular disease) in a study in the International Journal of Obesity. So to keep the pounds off for good and boost your health, too, follow these tips. They'll make your weight training, cardio and clean eating fun, so that you'll never slack, give up or re-gain.
Get Outside The Box
Take a new fitness class. Changing the skills you work on — for example, learning a new Zumba move this week, practicing your lotus pose next week — will improve the way your brain processes all the movements, researchers report in a recent issue of Neuroscience.
Experiment with a new vegetable, such as maca, a radish-like root vegetable. "It's a rich source of steroid-like compounds that promote quick regeneration of fatigued muscle tissue," explains Brendan Brazier, author of Thrive (Da Capo Lifelong Books, 2008) and formulator of the plant-based health food company Vega. "If you add maca to your diet, you'll be able to lift more weight and recover faster."
Train like a triathlete – even if you never plan to enter a triathlon. A new study published in Radiology has found that the combination of swimming, cycling and running is the best for heart health.
Try mornings. Set a fit tone for your whole day by performing a light cardio warm-up and just 15 minutes of bodyweight exercise in your bedroom before getting on with the rest of the items on your "to do" list.
Shake Up Your Weights Routine
Start your workout with a different exercise than usual. Simply switching around the order of your regular routine can stimulate both your muscles and your mind, according the American Council on Exercise (ACE).
Save your favorite move for last. You'll be a lot less likely to quit midway through a workout if you're looking forward to an exercise you enjoy.
Beat boredom. Instead of relying on machines, add in a combination of dumbbell, resistance-band and body-weight moves to hit your muscles from multiple angles, using different modalities.
Make It Social
With your BFF. Try out each other's gyms by looking into free guest passes. A change of scenery (and different equipment!) can be refreshing.
With your guy. Sign up for a calorie-blasting winter sport such as snowboarding or skiing, or check out the local skate rink or toboggan hill.
With your sister. Sign up for a 10K, join a soccer league together or make a fitness bet – who can do more pull-ups (loser makes the protein shakes). Whatever gets your competitive juices flowing.
With your coworker. Hit the treadmill together on your lunch break. Cover your display screens, set the timer for 30 minutes and see who burns more calories. Winner treats the other to a clean lunch the next day!
With your foodie friend. Swap your favorite recipes and brainstorm ways to make them cleaner (like ditching the white spaghetti for zucchini strips – use your carrot peeler!)
With your training partner. Try negative training. Here's what it is: Your partner assists you in the concentric movement (such as moving the weight upward in a biceps curl) and you do all the work on the eccentric movement (moving the weight downward) while your friend spots you. You'll be able to lift heavier than if you were alone and get to challenge your muscles in a fun way.
Create A Fit Environment
Find motivating quotes in magazines, books and on the Internet, and paste them in the places you're most likely to see, such as above your desk at work or on the bathroom mirror.
Choose a route home from work that passes by a gym. Seeing others coming in and out in their fitness gear will get you pumped to join in.
Keep your copies of Oxygen near the remote control on the coffee table. Seeing other fit women could make the difference between an evening on the couch and an evening in the gym.
Move Beyond Your "Hood"
Use exercise as a way to explore a new location, such as a vacation spot or an area you've just moved to. Instead of driving around, strap on your running shoes and go.
Take a hike. If tackling new terrain seems intimidating, bring along a pair of trekking poles. New research shows they can not only help you navigate among roots and rocks, but also stave off the post-hike soreness.
Sign up for a fitness event (a race, figure competition or charity walk) outside of your city. If it feels like a getaway trip, you'll be more motivated to do it.
Have More Time For A Pedicure
Going from the weight room to the treadmill? Walk-lunge your way over. Incorporating small bits of exercise can add up over time.
Give yourself a day off. Though you may feel at rest, your muscles will actually be busy recovering, repairing – and strengthening. Reschedule that late-night gym visit, set up the Tivo for your favorite shows or put a stop to whatever else might be causing you to get four hours of sleep or less per night.
Treat Yourself
Treat yourself to shoes. Splurge on a pair of Adidas instead of Christian Louboutins. High heels can permanently damage your calf muscles and can make walking in flatter shoes painful, found a British study among women.
Buy a new, BPA-free water bottle. It's a cheap way to brighten your workouts and stay hydrated.
More Tips!
Try a strategy called "chunking" in the gym. Shift your attention to just one "chunk" of your body during a workout so that your body doesn't get winded as quickly. For example, when you're doing cardio intervals, shift your focus away from how hard you're working to the way your strong, powerful legs move on the ground or treadmill.
Do it for charity. Pick a meaningful organization, such as the Salvation Army, that you'll donate your "fat clothes" to once you've reached your fitness goals.
Take part in fit activities that require you to "play." It can be a sport, a game or a fun challenge that you and your friends come up with.
Write down a new fitness or nutrition goal each week, and post it on the fridge. Keep it simple, such as spending an extra 10 minutes in the gym each day or topping up your meal with an extra heaping cup of veggies.