4 Ways to Burn Belly Fat
Four nutrients that will help melt away stubborn stomach flab.
Heading out the door? Read this article on the new Outside+ app available now on iOS devices for members! Download the app.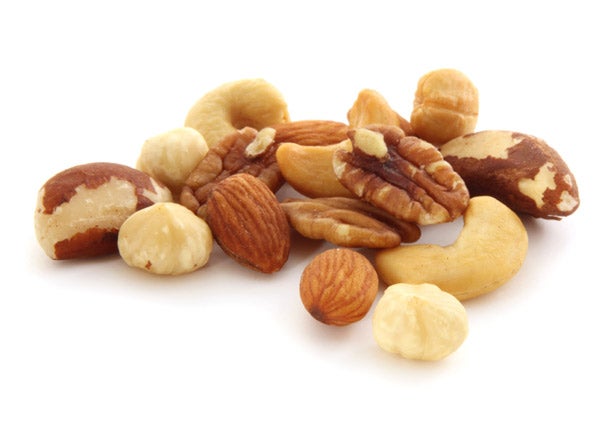 We all want a flat stomach, but the desire for it goes beyond aesthetics – excess belly fat puts you at a higher risk for inflammation, heart disease and type 2 diabetes. While no one food can make belly fat magically disappear, research shows that certain food types may help the process. So add these to your meal plan now to drop belly fat and get a healthy start to beach season.
Go nuts. Foods containing mono or polyunsaturated fats, such as oils, nuts, avocados and dark chocolate, are less likely to be stored as belly fat than trans or saturated fats. "Nut consumption has consistently been linked with smaller waists," says Julie Upton, MS, RD, CSSD, coauthor of Energy to Burn (Wiley, 2009). And it couldn't be easier, or tastier, to follow through. Top yogurt with chopped unsalted nuts, drizzle olive oil over salad greens, add flaxseed oil to your postworkout shakes or smear some peanut butter on apple slices. Calories still count, however, so always watch portion sizes. Stick to an ounce of nuts a day and no more than two tablespoons of olive oil per serving.
Whole-grain waist whittlers. Eating brown rice instead of white can help flatten your belly, according to a study in the American Journal of Clinical Nutrition. Study participants who ate whole grains lost more weight from their abdominal areas than people who ate refined grains. Why? Whole grains create less of an insulin spike and cause less fat storage, Upton says. "The available calories are more likely to be burned as fuel." For an easy waist-trimming evening snack, munch on whole-grain cereal in place of refined goodies. "A bowl of whole-grain cereal saves you excess calories and sugar while adding valuable fiber," says Jillian Wanik, MS, RD, board-certified specialist in sports dietetics in Connecticut. The key to finding the least refined cereal is to look for the word "whole" listed as the very first ingredient. Other grains include oats, plain popcorn, bulgur and quinoa. And the longer it takes to cook, the better the chances you have of revealing those abs.
Fiber up for a flat tummy. While the average American eats only 15 grams of fiber a day, active women need at least 25 grams. "A high fiber intake is associated with a smaller waist circumference," Upton says. A recent study from the University of Southern California found that people who upped their fiber intake over two years melted belly fat by 4 percent. The study also showed that those who ate less fiber had a 21-percent increase in abdominal fat. That's because fiber (both soluble and insoluble types) plays an important role in your digestive tract – it promotes regularity, a feeling of fullness, and delays the absorption of sugars, fat and cholesterol. But a word of caution: Add fiber gradually to avoid the gassy side effects. TRY: Eat a high-fiber breakfast cereal (13 grams), toss a handful of kidney beans into your salad at lunch (13 grams) and have a cup of raspberries for dessert (8 grams).
Trim with tofu. As a versatile, low-cost, high-quality protein, tofu can now add "belly-fat reducer" to its list of benefits. Credit the soy isoflavones in tofu. "As few as 70 mg of isoflavones have been shown to create a reduction in belly fat," Wanik says. Another study showed a reduction of belly fat in post-menopausal women who drank soy shakes containing 20 grams of soy protein plus 160 mg of isoflavones. Use tofu to replace ricotta in Italian dishes or try this easy stir-fry for a quick lunch or light dinner.