7 Nighttime Tips for Weight Loss Tomorrow
Get expert-backed tips to help you reach your weight-loss goals.
Heading out the door? Read this article on the new Outside+ app available now on iOS devices for members! Download the app.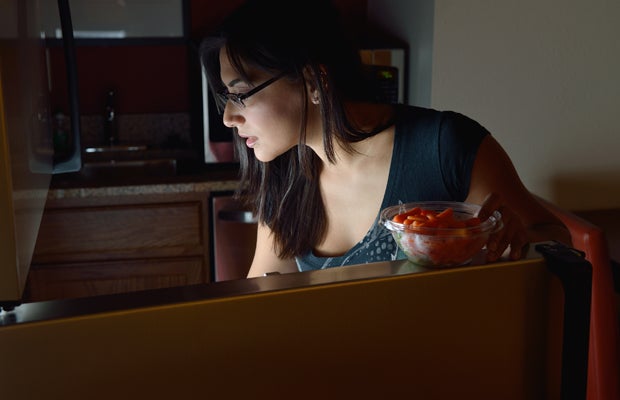 When it comes to getting your physique in peak condition, every moment can set you up for success—if you know what to do. And chances are if you are a regular
Oxygen reader, you know what you need to eat, the workouts you need to do and the amount of sleep you should get. But did you know there are things you can do before you go to bed that can set you up for weight loss the next day? Use these tips to wake up primed to look and feel your best.
1. Plan what time you will eat breakfast…then have dinner 12 hours prior. "If you eat the same food but condense the hours that you eat, your weight loss will be greater," says Lauren Slayton, MS, RD, the founder of Foodtrainers and author of The Little Book of Thin. "I suggest 12 hours food free from your last bite at night to that first taste the next day. Timing is indeed everything when it comes to your weight."
2. Skip the Chinese dinner. When you eat a salty meal, such as Chinese food, for dinner, the sodium stays in your body over night and soaks up fluid while your sleep. The result: You wake up feeling bloated.
3. If night bites are your thing, munch right. Your last meal of the day shouldn't be more than 150 calories. Try to make it a combination of complex carbs, fat and protein. Good candidates are a small apple with 1 tablespoon of nut butter, blueberries with a half cup of Greek yogurt, or a hard-boiled egg and a banana. Also, make sure you nibble more than an hour prior to bedtime so that digestion doesn't interfere with sleep.
4. Check your age before your late-night fridge raid. That late-night binge will not just undo a whole day of great eating and workout habits but may lead to weight gain if you are a certain age. According to a recent study in Eating Behaviors, late-night eating may only lead to weight gain if you are between the ages of 31 and 61. If you're younger or older, the likelihood of extra pounds creeping on at night is diminished.
5. Drink water…lots of it! Water flushes toxins (and things like salt) from your body, and it keeps your body's metabolic processes humming. Just make sure that you don't drink a ton of water within an hour of sleeping; otherwise you may spend the night running to the bathroom.
6. Make tomorrow's lunch tonight. Restaurant meals are high in calories—an average of 1,327 calories, according to a 2013 study published in JAMA Internal Medicine. By making your lunch, you're controlling the fat and calories you consume. In addition, planning your meals and controlling your portions sizes were found to be hallmarks of success weight loss, according to research in the International Journal of Obesity.
7. Set your thermostat to 66 degrees F. A small study by the National Institute of Health Clinical Center found that people who lowered their thermostats to 66 degrees F burned 7% more calories while sleeping than those whose thermostats were set at 75. In numbers, that's about 100 calories burned over 24 sleeping hours. Not much, but little things add up./p>