Can Eating Chocolate Help You Lose Fat?
How this antioxidant-rich superfood can help you blast more fat, curb cravings and boost your overall health.
Heading out the door? Read this article on the new Outside+ app available now on iOS devices for members! Download the app.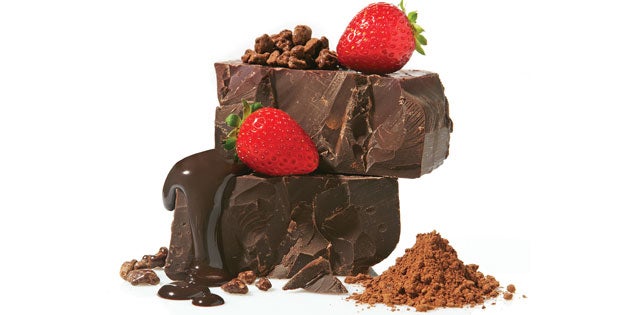 Consider yourself a chocolate lover? Good news. You may not have to keep it locked up anymore when you're on a fat-loss mission. Not only has cocoa recently been applauded for its heart-health benefits and antioxidant content, a study published in The Archives of Internal Medicine reported that people who ate chocolate at least five times per week had a lower body mass index (BMI) than those who indulged in this sweet treat less often. The reason? While it hasn't been exactly determined, preliminary animal studies point to the flavonoids in chocolate blocking the accumulation of fat in fat cells. So go ahead and sweeten your meal plan with this nutrient-packed dessert of the earth. Just remember, moderation is still key, so keep your cocoa consumption in check.
Torch More Calories
Indulging in a serving of dark chocolate with 70 percent or higher cocoa content provides more than half of your daily needs of the metabolism-boosting mineral manganese, along with 20 percent of your magnesium needs. Just keep your portions to a square or two.
Fight Fat
Got a cocoa craving? Stir some all-natural cocoa powder into your shakes, yogurt or oatmeal for a dose of fat-burning flavonoids without the added sugar and fat of regular chocolate — plus, two tablespoons contain more free radical–fighting antioxidants than a three-quarter cup of blueberries.
Stress Less
Chocolate contains compounds that may help you calm down and slim down. A recent study showed that stressed-out individuals had lower levels of cortisol, a stress hormone that can cause belly fat, after they consumed dark chocolate every day for two weeks.
17: Percentage fewer calories consumed during a meal following the consumption of dark chocolate, according to Danish researchers. Dark chocolate tends to have a stronger satisfying effect than milk chocolate.
Kick Sugar Cravings
Cocoa and dark chocolate are low on the glycemic index, meaning your blood sugar won't spike off the charts and lead to more sugar cravings. Research also shows that the flavonoids in cocoa and dark chocolate can actually stimulate your body's cells to remove sugar from the bloodstream by lowering insulin resistance, and in turn decreasing your overall blood sugar levels.
Control Appetite
Just a whiff of chocolate can quash appetite, according to a study from the Netherlands, in which women ate, and later just smelled, 85-percent dark chocolate. Both eating and sniffing the chocolate produced similar appetite-suppressing effects.