"No More Emotional Eating!"
Inspired by her son, Texas mom and full-time law student Heather Wilkinson lost nearly 120 pounds and changed her life for good.
Heading out the door? Read this article on the new Outside+ app available now on iOS devices for members! Download the app.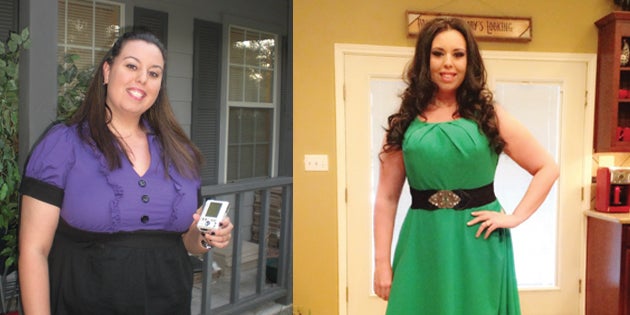 Age: 29
Hometown: Orange, Texas
Weight before: 283 pounds
Weight after: 164 pounds
There's nothing Heather Wilkinson loves more than to play basketball and jump on the trampoline with her 8-year-old son Kyden, but more than a year ago, these things would have seemed impossible. In December 2012, the 29-year-old law school student from Orange, Texas, weighed 283 pounds and wouldn't be caught dead doing any exercise. It all changed during a trip to the local park with her son.
"I was totally out of breath walking from the car to the bench where I would watch him play," Wilkinson says. "I felt like a terrible parent watching all the other parents playing with their kids." Kyden tugged on her arm and begged her to come and play, but she was too winded. Right then and there, she made up her mind: Something had to change.
At the beginning of her weight-loss plan, Wilkinson says she was too large to do much exercise — and too embarrassed to go to a gym — so she started with a complete overhaul of her diet, cutting out junk food and following a low-carb diet. "I changed my whole approach to food," she says. "When I was heavy, I ate when I was happy or sad. Now, I eat when I'm hungry." The hardest part in the first month was watching her husband Mark gorge himself on all the unhealthy foods she used to enjoy, but soon Mark jumped on the healthy-eating bandwagon, which was a tremendous help.
For exercise, just making a point of walking around the house was a big improvement from Wilkinson's sedentary ways. Week by week, the pounds began to melt off, and once she hit the 50-pound weight-loss mark, Wilkinson felt unstoppable. She started doing Zumba and Spinning classes at the gym, and then moved on to her own cardio workouts on the elliptical and treadmill, along with strength-training exercises given to her by a friend who trained her school's cheerleading team. She incorporated a lot of bodyweight exercises, especially plyometrics and yoga.
A year after that fateful day at the playground, Wilkinson had shed 119 pounds and weighed in at a lean and muscular 164 pounds. The feeling of being able to play with Kyden now? "It's absolutely wonderful," she says. "He's gotta keep up with me now. He's really happy."
Wilkinson has no plans to slow down. "My son is the reason I chose to lose weight in the first place," she says. "I'm not going to regress on this diet and disappoint him." As extra motivation, Wilkinson was diagnosed with Type-2 diabetes before she began her fitness journey, and she is now symptom-free. Her husband Mark has also been right there with her — he's lost 109 pounds.
The biggest thing Wilkinson learned during her weight loss was that she never realized how unhappy she was with herself. "My confidence is here, and I have self-esteem now," she says. "I'm doing things I never would have thought myself doing, like hiking and biking." When Wilkinson talks about her plans to go backpacking and skiing after she graduates from law school in 2015, you can hear the excitement of a newfound life in her voice.