Evolve Into Your Greatest Potential
Once a smoker leading an unhealthy lifestyle, Christy Denney transformed her routine and her body after giving birth to her son.
Heading out the door? Read this article on the new Outside+ app available now on iOS devices for members! Download the app.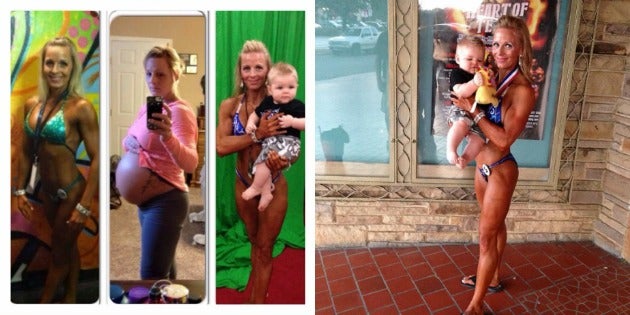 Name: Christy Denney | Hometown: Dallas | Age: 38
Occupation: ER nurse
Words of wisdom: "It's never too late to evolve into our greatest potential, both inside and out. If you're going to stand out, make it count!"
Growing up, Christy Denney was a pack-a-day smoker leading an unhealthy lifestyle. At 32 years old, she decided to flip the script. Over the next six years, she competed in six figure competitions and two natural bodybuilding shows, but at 38, she got news she was pregnant.
"When I found out at 38 I was pregnant, I was full of mixed feelings," Denney says. "I thought I was losing my body to be a new mom."
Denney gave birth to her son 41 weeks into the pregnancy, and four days later, she began working out and preparing meals.
"I was riding a stationary bike I bought at Academy for $99 and eating prepared meals to get me on track," Denney says. "I decided before I gave birth I would try the prepared meal method I found online."
As a nurse in the ER, Denney had to split her time between her son, the hospital and the gym. Even with a limited schedule, she began to see results.
"My workouts were an hour or less since I had no time for playing around. Five months later and I thought, I'm ready to compete," Denney says. "I couldn't believe my body was rebounding so quickly."
Denney hired her coach, Andrew Vu, picked a show and stepped onstage at eight months postpartum. She took home an impressive second-place trophy.
She currently lifts weights three to four times a week and does high-intensity interval training twice a week while putting an emphasis on her diet.
"I'm a big believer in eating well as often as you can, but I've found that about every three days, I like some sort of a treat," Denney says. "Supplements are my best friend, and iForce Nutrition is the company I prefer. I'm able to get everything my body needs from them to keep me on track."
Denney's pregnancy has changed her outlook on fitness and the human body, and she is continually inspired by her son and his happiness.
"We are truly amazing creatures, and it's never too late to evolve into our greatest potential, inside and out," Denney says. "If you're going to stand out, make it count!"