Kara Saha Fell In Love With Fitness And Lost 125 Pounds
After 22 years of failed diets and an ever-expanding waistline, Kara Saha finally found the answer.
Heading out the door? Read this article on the new Outside+ app available now on iOS devices for members! Download the app.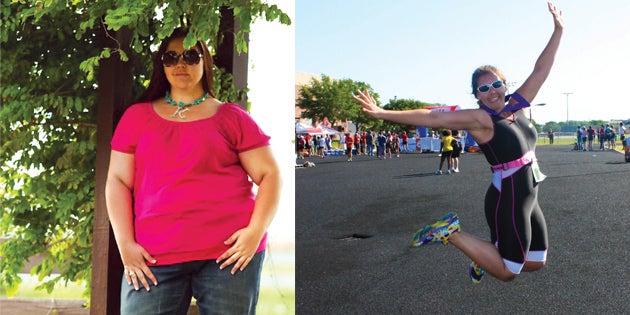 Age: 27 • Residence: College Station, Texas • Starting Weight: 305 pounds• Current Weight: 180 pounds
For the first 22 years of Kara Saha's life, being overweight was all she knew. It's not that she didn't try to drop the pounds — she bounced from one fad diet to another, but each time any weight came off, it didn't last more than a few weeks. In January 2009, her weight at an all-time high of more than 305 pounds, the Elmaton, Texas, native made a commitment to exercise. Performing three light workout sessions a week, she dropped 30 pounds in six months, but her progress soon stagnated, and over the next year, she only saw a loss of about 5 pounds.
Saha realized that the light exercise regime that she'd been following wasn't going to be enough to get the results she wanted, so she hired personal trainer Sam Etheredge at her local Gold's Gym. Etheredge, and later another trainer, Noel Youngs, added two missing ingredients to Saha's program: fun and challenge. Saha found herself putting in the extra effort trying to beat her own personal records in the gym, which also required careful attention to nutrition as fuel for her workouts. "I fell in love with fitness," Saha says. "The transformation that I went through was mind-blowing, not only for me but for the regulars at the gym and for anyone who had known me throughout my childhood." Over the next year, she burned off another 90 pounds.
During her lifestyle transformation, Saha, a marketing assistant, also fell in love with the fitness community. She decided she wanted to help others achieve their health goals, so she secured her National Academy of Sports Medicine personal trainer certification and now works part time as an online trainer at TheGetinShapeGirl.com. "This job is more rewarding than I could have ever imagined," Saha says. "And just to think, it all started with a little strength training followed by a cleaned-up diet."
To help see the results of her hard work, Saha had surgery in 2012 to remove an incredible 16 pounds of excess skin from her 120-pound weight loss. She also underwent a full body lift and breast augmentation. Since the surgeries, Saha has run a half marathon and several 5K races and has completed a sprint triathlon. There are still times when she suffers self-doubt, but Saha just reminds herself why she wants to be healthy. "If you want it — really want it — you'll find a way to make it happen," she says. "Because the desire to achieve is the key to success."