Finding Her Balance
Read how this mother learned to be a little selfish when it came to her health and fitness.
Heading out the door? Read this article on the new Outside+ app available now on iOS devices for members! Download the app.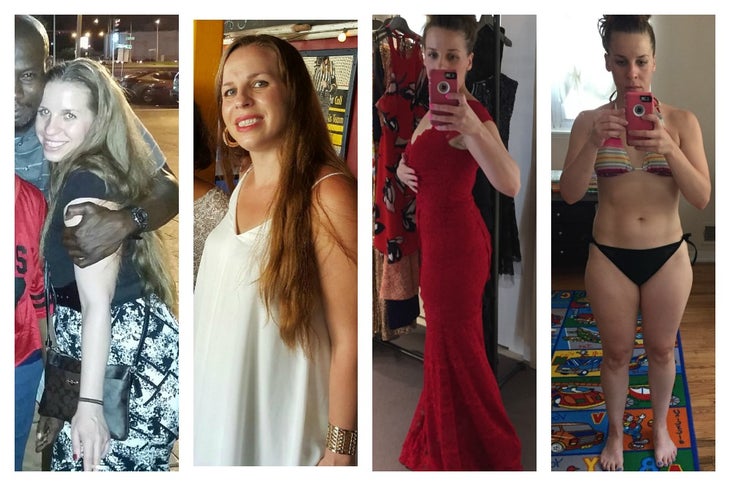 Name: Alycia Bethea | Age: 30
Old weight: 168 | Current weight: 137
Occupation: Accountant/bartender
OXYGEN: What was your life like before your transformation?
Alycia Bethea: I've always been really active, especially having a military background, but the last couple of years I have been trying to establish a foundation for my family. I really didn't know how to balance two jobs, my son and my personal life — plus finding time to eat right and go to the gym.
OXYGEN: Have you had any significant life experiences that set you down that path?
AB: I had my son a year ago and bought my house the year before that. My husband is also a police officer, so the home schedule always revolves around his work. (He works the swing shift from 3 p.m. to 1:30 a.m.) I fell into the role of making sure everyone else in my life was taken care of and had everything they needed, and I let myself go. Plus, for women, it is hard to get back on track after having a baby. Your body is never the same, and you are always tired.
OXYGEN: What was the turning point? How did you make the change?
AB: I was getting ready to go out on my first date since having my son (he was 7 months old) and I couldn't find anything that fit me. I felt unattractive and didn't want to go because my confidence was gone. I decided right then that I needed to get myself back together because if I wasn't happy with myself, I couldn't enjoy my family to the fullest. I started looking up personal trainers online and found Nay Jones. I researched her and looked over her profiles and liked what I saw. It was also my 30th birthday, so I decided this was the perfect gift for myself.
OXYGEN: What is your current training/nutrition regimen? How has this helped you? Any favorite exercises?
AB: I currently work out seven days a week. I do at least 40 minutes of cardio a day and lift afterward. I also eat a high-protein, low-carb diet, and I drink green tea daily. I usually meal-prep on Sundays and make enough food for the week. I make sure to eat no less than five meals a day and have at least one protein shake. I also drink a ton of water — the more the better. I am never hungry, and the protein shake helps with my sweet tooth! I love to run, so my cardio is usually a lot of interval sprints. I also love deadlifts and bridges. Gotta build those glutes!
OXYGEN: Do you have a coach? If so, what impact has he/she had on your training and results?
AB: Nay Jones was the coach who helped me out. I started her 10-week program in March, and she planned out my diet and workouts. I loved it because you take photos every week to track your progress, and she makes sure that every workout has videos to ensure you know how the exercise is done. On top of that, she video-chats whenever you have a question about form or diet. She was so motivating and positive. She got me excited about working out again!
OXYGEN: What would you impart on someone reading about your journey?
AB: You are the only person who can better yourself. It is OK to be a little selfish when it comes to your health and fitness. When you feel great on the inside, it projects to the people around you, making everyone much happier.
OXYGEN: How do you stay motivated and on track?
AB: I keep a picture of myself before I lost the weight up in my bathroom. It reminds me of how hard I have worked to get to where I am now. I also got my husband on a healthier lifestyle, which helps. We hold each other accountable.