A New, Fit Life
One simple test changed Sarah Hanson's life — forever.
Heading out the door? Read this article on the new Outside+ app available now on iOS devices for members! Download the app.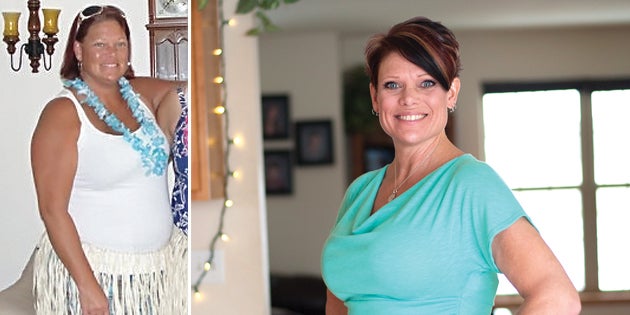 Name: Sarah Hanson | Hometown: Janesville, Wisconsin | Age: 47 | Height: 5'7" | Old weight: 230 lb | Current Weight: 135 lb | Occupation: Photographer | Unexpected Bonus Of Her Transformation: "My husband jumped on board! I set him up with a menu and workout plan, and he lost 25 pounds and gained a lot of muscle!"
Sarah Hanson was always slender, and some people might have considered 5 feet 7 inches and 105 pounds in high school overly thin. She played sports, was on the pompom squad and even had to take in the size 3 skirts she bought for school. But in 1989, she began breaking out in hives for no apparent reason, and the doctors — baffled as to its cause — put her on prednisone to decrease what they thought was an allergic reaction.
But the hives didn't go away, and the prednisone made her very hungry. "I developed issues with binge eating and would hide food from my family," Hanson says. "I'd eat it by myself so no one could see me — cookies, candy, donuts, fries." Soon she ballooned up to 230 pounds and was miserable. She stopped being active, and her joints ached in addition to her painful digestive issues.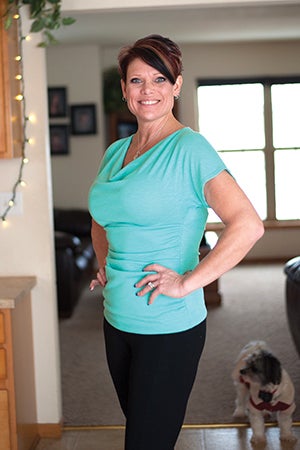 In 2010, Hanson had had enough and saw a new doctor who gave her a simple GI test and unconditionally diagnosed her with celiac disease. This autoimmune disorder is a severe allergic reaction to gluten, which damages the lining of the small intestine, preventing it from absorbing foods. So the battery of previous doctors were partially right — hers was an allergic reaction but one that had perpetuated because of her diet. Consequently, Hanson cut out all wheat, barley, rye, and other gluten-containing grains and products from her diet to quell the reaction — and the hives began to disappear. Finally, she was able to go off the prednisone.
Once she felt better, Hanson formulated a new "bucket list" of fitness goals. She bought a treadmill and began using the iFit programs for weight loss by Jillian Michaels of The Biggest Loser fame. In four months, Hanson had dropped 74 pounds, and the hives had completely vanished.
Related: No More Emotional Eating!
Hanson now lifts heavy weights, does HIIT cardio training and CrossFit, and teaches group fitness classes regularly. Next, she hopes to become a certified nutritional trainer so she can assist people with dietary issues in formulating healthy meal plans so they can succeed as she has.
"I suffered for more than 20 years with chronic hives, and my immune system was reduced to nothing because of all the medications," she says. "A simple test can confirm whether you've got this disease, so if you think you may have it, get tested. Now I look at every day as a blessing, and I aspire to inspire others with my new, fit life."