Healing the Heart, Mind and Body
After suffering from low self-esteem and undergoing two open-heart surgeries, Amanda Green Widener decided to take a stand.
Heading out the door? Read this article on the new Outside+ app available now on iOS devices for members! Download the app.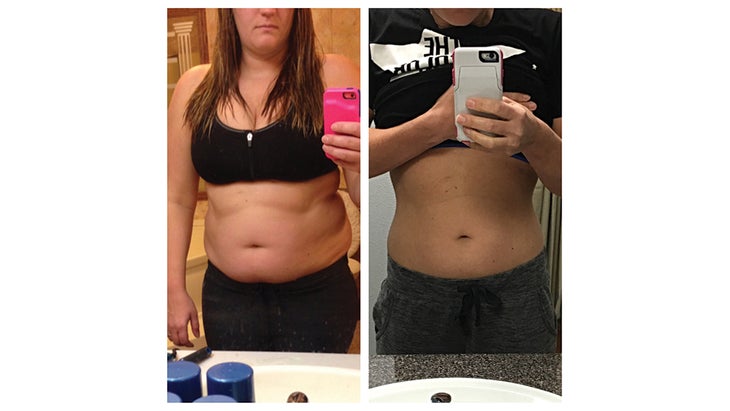 Name: Amanda Green Widener | Age: 31
Old weight: 210 | Current weight: 150
Occupation: Arkansas local Revenue Office supervisor
OXYGEN: What was your life like before your transformation?
Amanda Green Widener: Looking back on my life before my transformation, I would have to say I was extremely depressed. I would look in the mirror and I would feel disgusted with myself. I had low self-worth and would often find myself in tears because I was so embarrassed of what I had let myself become.
OXYGEN: Have you had any significant life experiences that set you down that path?
AGW: I was born with a hole in my heart, and at 18 months old, I had my very first open-heart surgery. I had a second surgery at 17 and have a bovine valve in my heart. After I had gained all my weight, I found myself with shortness of breath and higher blood pressure. I knew that I needed to make a change not only for my self-worth but also for my heart. I never considered myself to have a heart condition, and I refused to let it stand in my way of what I wanted to accomplish in my life. I am now my heart doctor's only patient who has ran three half marathons and a full marathon!
OXYGEN: What was the turning point?
AGW: I bought a body-fat-percentage scale, and it said I was 72 percent body fat. Even though I doubt that amount was correct, it was definitely a wake-up call for me. I took the scale back, told them it must be broken and started changing my life.
OXYGEN: How did you make the change?
AGW: I really did not know what I was doing when I started this journey — I just learned as much as I could from anyone who would help me. I cut out all sugars and fried foods and quit drinking soda, and I started eating lean meats and vegetables. I joined Zumba and did Women Can Run Arkansas. I signed up for Conquer the Gauntlet and started lifting heavy weights with the nephews, and it became an instant addiction.
While training, I broke my ankle and it took over six months to heal. When I was able to train again, I joined a gym and went back to weight training and running and started doing HIIT. I found myself struggling with plateauing with my weight loss and someone referred me to Brooke Walker. Working with Brooke has been the best thing I've ever done for myself. She has taught me so much about my diet and exercising.
OXYGEN: What is your current training/nutrition regimen? How has this helped you? Any favorite exercises?
AGW: I weight train five to six days a week and do three to five sessions of cardio per week. I try to have a very balanced diet with lean proteins, healthy fats, good carbs and lots of vegetables each day. My favorite meal is grilled ahi tuna steaks, brown rice and broccoli, but I do eat other lean meats such as chicken and turkey.
I use iForce Nutrition Whey Protein powder immediately postworkout and drink iForce Compete every day to help with muscle recovery and hydration. I drink at least a gallon of water a day. I believe my diet and nutrition have been very beneficial to my training. I've seen a big difference in fat loss and muscle gain. I love to work arms and back with drop sets and failure sets!
OXYGEN: What would you impart on someone reading about your journey?
AGW: Don't quit! Sure, it gets frustrating especially when you don't see results at first. You just have to stick with it and stay consistent. Write down everything you eat and drink. This will help you see where you can make changes. I also took several pictures throughout my journey so I could see the changes in my physical appearance. I would also highly recommend finding someone like Brooke Walker to help you get started on the right path.
OXYGEN: How do you stay motivated and on track?
AGW: I'm a self-motivated person — working out and eating right is easy for me because I really want it. I have a picture of my goal body in my phone and I look at it from time to time, especially if I'm having cravings for something I shouldn't be eating. I also surround myself with people who share the same passions and goals as I do. Having a group of people that will help you instead of being negative and discouraging will be a huge help when trying to reach your goals.