"I found strength in myself"
When Maria Amantea schooled herself in fitness, she dropped 50 pounds and learned a lesson in confidence.
Heading out the door? Read this article on the new Outside+ app available now on iOS devices for members! Download the app.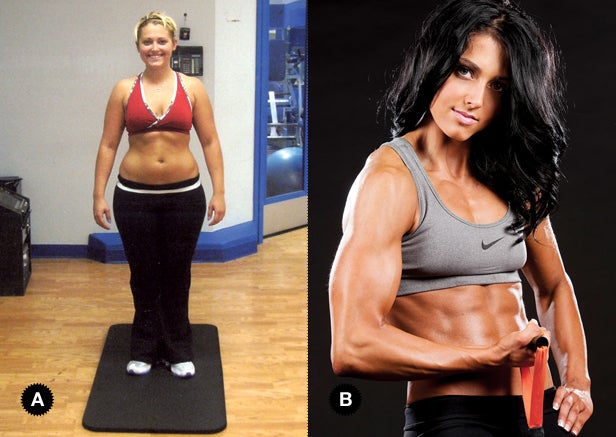 Name: Maria Amantea Age: 21 Height: 5'5″ Weight before: 180 lb Weight now: 130 lb Location: Oakville, Canada Occupation: Student Favorite clean meal: Lean steak with roasted vegetables Favorite move: "Dead lifts — they burn!"
Maria Amantea stood in front of the mirror before taking the stage in her first figure competition: "Wow, I'm actually here right now!" It wasn't just her slammin' body that made her smile; it was her new and improved mental outlook. Maria felt like a winner from the inside out.
The 21-year-old wasn't born a fitness model, but she was a competitor from a young age, playing hockey since she was 12. But growing up, Maria lacked self-assurance, and her low self-esteem continued into high school when her peers called her fat. But all that changed when a trainer at her gym suggested that she compete in a show.
Building Blocks
Maria began by cleaning up her diet, reading nutrition labels and cutting down on sugars, even the ones hiding out in salad dressings, granola bars and protein bars. Six gym sessions a week — a combo of cardio and weights — also sculpted Maria's body and helped melt away school stress. "Going to the gym gives me time to reflect and think about whatever is on my mind," says Maria. Rather than just wandering around the gym, she focused in on individual body parts during strength training, and added interval training to up her calorie burn. The result: the scale tumbled and her confidence soared.
Staying Committed
As a university student, Maria had to make a choice: party or get fit. She chose her health, skipping homecoming keggers and late-night fast food runs. She didn't even cave while on vacation in the Dominican Republic. Maria stuck to clean eating the entire time and worked out on most days — not one piña colada! "I found strength in myself that I didn't even know existed!" she says.
Lesson in Life
Losing 50 pounds and completing five figure shows in one year is a major accomplishment, but nothing compares to Maria's newfound positive attitude and self-confidence, she says. "I have proven to myself that I can accomplish a lot when I work for it, which I carry with me in all aspects of my life."
Maria's Abs Advice
Aiming for a six-pack? Follow Maria's flat-belly rules:
Eat clean: "I've always heard the saying 'abs are made in the kitchen' and I believe it!"
Stabilizers strengthen: "You can do a bunch of crunches, but stabilizing exercises, like weighted planks, will help you through other weight movements."
Core cardio: "A good cardio regimen helps define abdominals."