"I gained a whole new respect for myself!"
Despite her on-the-go lifestyle, Alison Hager lost 86 pounds
Heading out the door? Read this article on the new Outside+ app available now on iOS devices for members! Download the app.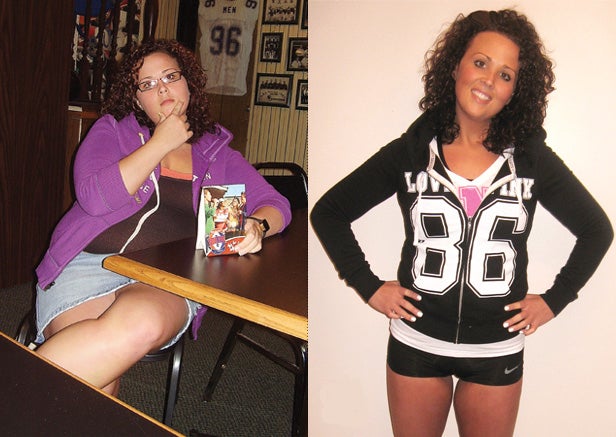 Name: Alison Hager Age: 23 Height: 5'5″ Weight before: 226 lb Weight now: 134 lb Location: Beloit, KS Occupation: Substitute Teacher Favorite exercise: Walking lunges. "At first, I thought I looked awkward. Then my trainer complimented my legs and form. Now I do lunges all the time!"
Before getting fit, Alison Hager had low self-esteem. Weighing 226 pounds in high school, she relied on yo-yo diets to drop and gain back the weight. But she didn't give up on herself. In fact, she made it a point to do things the right way. "When I finally decided I was going to get healthy, I gained a whole new respect for myself," she says.
Race to Health
Recently, Alison completed a half-marathon – a far cry from her college days, when she needed four-hour afternoon naps just to have energy for homework. "Most of the time in college, I was dysfunctional. My mom said I was irritable and cranky." That's before she was diagnosed with hypothyroidism in her senior year and began taking the appropriate medication. Now, Alison trains for her runs with interval cardio that includes sprints, jogs and walks, and she's seen her energy increase!
New Life
Diet was also a big part of her transformation. "It was a huge transition going from comfort foods to healthier eating," she says, but planning her meals ahead of time helped. Now Alison depends on foods that are easy to fix and transport (such as egg whites in cartons, yogurt, dried cranberries, fruit and whole wheat crackers). Lunchtime is also easy. "Brothy soups with lots of vegetables keep me full longer," she says.
Core Values
When she first tried a plank, Alison lasted 15 seconds. She started coupling Oxygen's full-body workouts with fitness classes that use suspension devices, and now nails a two-and-a-half-minute plank with ease. Down to 140 pounds, Alison is also staying committed to a clean diet. "I always thought that once I got down to a certain number, I was 'safe' and I could eat whatever I wanted after that," she laughs. "But I know now that it's a lifestyle change and that I'm not doing it for a number on the scale, but for my health."
Mixing It Up
To keep her body (and her mind) from getting bored, Alison mixes up her workouts with these types of exercises:
Running
Weight training
Circuit training
Plyometrics
Zumba classes
Suspension training classes
Alison's Pizza Makeover
On a small, thin, whole wheat pizza crust, spread marinara sauce. Top with grated provolone cheese and small chunks of cooked chicken. Sprinkle on vegetables of your choice. Alison uses squash, zucchini, broccoli, mushrooms and onion – whatever's on hand. Bake at 450°F for 12 minutes or until crust is crispy.
New Outlook
As her fat-loss journey progressed, Alison developed a whole new outlook on health and fitness. "I gave up weighing and measuring myself for Lent," she says. "I decided to focus instead on eating clean and giving my all in each workout."