"I Knew I Had It In Me!"
With a goal to compete, Jennifer Berg tuned in to the Oxygen lifestyle to drop over 40 pounds and finally set foot on a fitness stage.
Heading out the door? Read this article on the new Outside+ app available now on iOS devices for members! Download the app.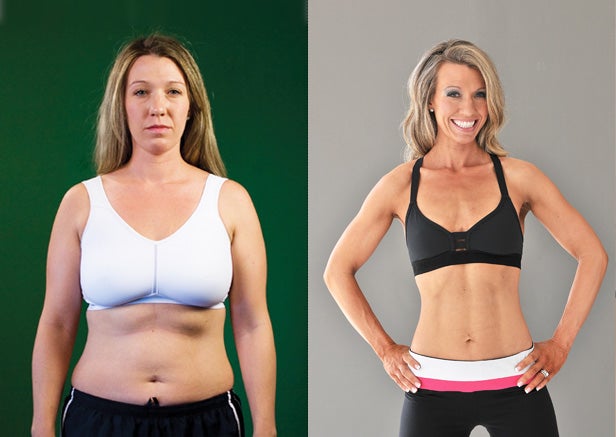 Name: Jennifer Berg Age: 30 Height: 5'4″ Weight before: 168 lb Weight now: 125 lb Location: Denver, CO Occupation: Real estate broker Favorite clean meal: Turkey burger and sweet potato chips Favorite move: Shoulder press Favorite calorie burner: Interval training
Jennifer Berg knows exactly how to keep her swimsuit from going up her rear – butt glue! "When you're in competition, you glue your bikini to your butt so you don't get a wedgie," laughs the 30-year-old real estate agent who lives with her husband, Michael, and daughter, Emmerson, in Denver, Colorado.
Two years ago, "butt glue" wasn't part of Jennifer's glossary. Her weight usually hovered around 150 pounds, but mindless eating paired with pregnancy and the sleepless nights that come with a newborn sent the scale soaring. "I just thought it was normal to be tired all the time and generally feel crummy," confesses Jennifer, whose weight peaked at 168 pounds. "It was time to start looking after me."
No More Skinny Fat
Jennifer shed the first 25 pounds the old fashioned way – she cut her calories and kept a food journal. "Portion control is key," she stresses. But it was her sister-in-law, Tiffany, who dropped 50 pounds and competed in a figure competition, who inspired Jennifer to take her eating and training to the next level. Wanting to look toned, not twiggy, she cleaned up her diet, cutting out processed foods and alcohol in favor of lean meats, whole grains, healthy fats, fruits and vegetables, and hired a personal trainer to whip her into shape for her first figure competition. "Knowing my ultimate goal was to wear that competition suit was a huge motivation!" she says.
Getting Fit with Weights
Jennifer's relationship with weights wasn't love at first sight. "I honestly didn't know if I was going to be able to stick with it," says Jennifer, who committed to personal training sessions three times a week combined with cardio five times a week. But then she began to see results – and not just on the scale. "I had muscles I'd never seen before and it was wonderful!" she says. Her trainer taught her new moves and helped push her through her last set, but Jennifer was her own biggest cheerleader. "I have programmed alerts on my iPhone, little sayings that keep me motivated," she adds.
The payoff? Four months in, Jennifer did her first pullup (she can now do three sets of 10!) and three months after that she bought her first pair of size-four pants. The ultimate reward, though, was when a 120-pound Jennifer stepped onto the stage in her first figure competition and took eighth place – butt glue and all!
Muscle Matters
Jennifer shaped up her body with strength training. Here are her best strategies for getting fit with weights:
Use drop sets: Lift your max weight for 15 reps (or until fatigued), then reduce the poundage and reps for the last set.
Perfect your posture: Pay attention to your form for better results.
Mix it up: Try multiple exercises for the same body part to avoid plateaus.
Get Motivated!
Need some inspiration? Follow Jennifer's suggestions:
Hire a trainer: "I like to be accountable to someone and I knew working out with a trainer would help push and motivate me."
Spread the news: "I told everyone I knew my fat-loss goal and figure-competition goal so I couldn't give up and I'd have a support system to cheer me on."
Shop til you drop: "I just love to shop so being able to fit into all the stuff I could never wear is a big motivation."