"I Lost More Than 100 Pounds!"
After dropping nearly half her body weight, Sherie Miron is fitter, happier and healthier than ever.
Heading out the door? Read this article on the new Outside+ app available now on iOS devices for members! Download the app.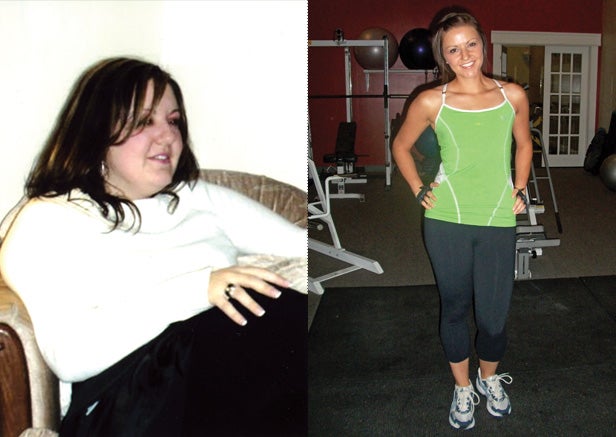 Name: Sherie Miron Age: 28 Height: 5'7″ Weight Before: 245 lb Weight Now: 135 lb Location: Cobalt, ON, Canada Occupation: Account manager Favorite body part: Shoulders/collarbone Favorite move: Squat to row Best compliment after transformation: "I didn't recognize you!"
The first time Sherie Miron fit into a size five, she had a happy cry in the change room. "The size didn't matter, it was knowing how far I'd come," says the 28-year-old whose get-healthy journey started five years and 110 pounds earlier.
A high school athlete, Sherie's scale skyrocketed soon after being diagnosed with polycystic ovarian disease (PCOD). "The more weight I gained (a symptom of the condition), the more depressed I got and the more I ate," says Sherie, who fell into the fast-food habit. When she hit size 18, she stopped looking at the scale altogether. Rock bottom came when she found herself hiding from friends behind a clothing rack at Walmart; she didn't want to be seen. Right then she resolved to get healthy.
Overcoming Intimidation
Rather than a quick-fix approach, Sherie started with small changes she knew she could stick with, such as walking. "Once I met one goal, I'd move on to the next challenge to keep pushing myself." Sherie's next step was joining a gym, but even though she'd shaken a few pounds, she couldn't shake feeling like the "fat girl" in the cardio and weight room. "It was intimidating being the heavy girl at the gym, but I said to myself, 'At least I'm in the gym doing something about this and not just sitting at home throwing a pity party for myself.'" She continued on.
Circuit Queen
As the pounds dropped, Sherie became more comfortable in her skin – and inside the gym – and added new exercises to her routine. One of her favorites: A full body circuit three times a week that combines body-weight moves, plyometrics and weight training. She also came up with a plan of attack for the days when she wasn't feeling at her best. "If I'm having a hard time in the gym pushing through, I crank the tunes and refocus," she says. "I keep in mind that in order to get to where I want to be, I need to sweat!"
No More Hiding
Now a regular at her gym, Sherie is down to 137 pounds and has crossed off many milestones that would once have seemed impossible – from running 10 kilometers to weighing less than she did in high school. No longer hiding in the gym (or inside Walmart!), she feels at the top of her game, and says that anyone can become successful by giving themselves a little recognition at the beginning. "My body and mind are a lot stronger than I gave them credit for!"
Protein-Packed Snacks
Sherie picks snacks with protein to curb cravings and stay full. Here are a few of her faves:
Protein shake
2 Tbsp. almond butter with apple
Homemade protein bar
Cottage cheese
Nuts
Sherie's Secrets
In order to make her new fitness habit stick, Sherie followed these three rules:
Set goals: Start by making small goals like going to the gym at least three times a week.
Keep your body guessing: "I change up my circuit every six to eight weeks to keep things fresh," she says.
Don't overtrain: You can only push for so long until you eventually wear yourself out.
And the one tip Sherie would give to women who are starting a fat loss journey? "Stick to it! Fat loss isn't going to happen overnight, nor is it going to be easy."
Circuit City
Torch fat and calories with Sherie's circuit training moves:
Mountain climbers
Farmer's walk
Medicine ball push-ups
Split jumps
Burpees
Assisted chin-ups
Jump side squats
Squat thrusts
Scissor kicks
Supermans
Wall sit with adductor squeeze