"I love lifting weights!"
Focusing on one small goal at a time helped Kelsey Byers drop 40 pounds and achieve the body of her dreams.
Heading out the door? Read this article on the new Outside+ app available now on iOS devices for members! Download the app.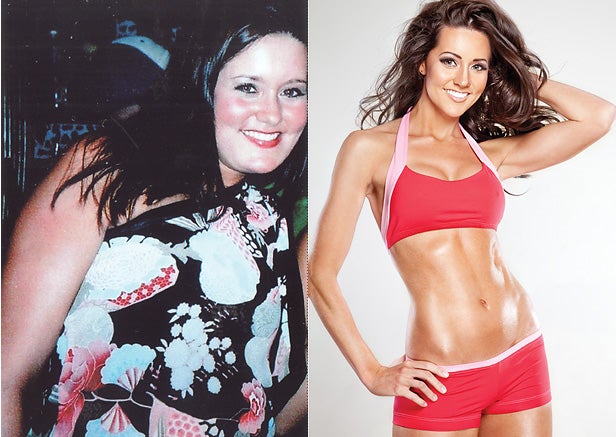 Name: Kelsey Byers Age: 29 Height: 5'10" Weight before: 174 lb Weight now: 134 lb Location: Normangee, TX Occupation: Marketing manager Favorite exercise: Walking lunges Favorite clean snack: Protein pumpkin muffins
Not so long ago, Kelsey exercised and thought she ate healthily. Still, she spent hours hunting for clothes that flattered her figure, with no success. Then, something changed. After putting on 40 pounds in college, Kelsey was motivated to get leaner and sculpt some sexy curves. She visited a nutritionist last spring and learned that she actually wasn't eating enough to fuel her lifestyle. The recommendations: eat more frequently, every two to three hours; pair lean proteins with healthy carbs at every meal; measure out your food. Kelsey turned these rules into small goals and started seeing results.
Making Progress
To slide into smaller jeans, Kelsey revamped her gym workout, emphasizing weight training to build her strength and muscle mass. "I had my husband take progress photos of me each month and I tracked my measurements in a notebook," she says. Kelsey also gave up the scale, deciding to weigh herself only once a month instead of making it the focus of her transformation. "I didn't want to obsess over the scale," she says. In October of last year, Kelsey placed third during her first NPC Bikini competition.
Setting Small Goals
Now weighing in at a healthy 134 pounds, Kelsey sticks to her cardio and weights workouts, and has started a motivational bulletin board in her office to keep her on track. "It contains cutout magazine pictures of my favorite fitness models," she says. "Just walking into that room and seeing their pictures – how fit they look – and seeing my own third-place competition trophy does it every time!" Kelsey continues to be ambitious with her fitness, looking forward to small milestones all the time. "When you look far off at a goal, it can be daunting. But small goals work. Even now, I give myself new ones every week – goals for the weight room or just simple things like cutting out more sodium." One goal at a time, she gets there.
Shoulder Shapers
Kelsey loves to train her shoulders. "When they're developed, they really balance out my hips and lower body," she says. Kelsey's go-to shoulder shapers: dumbbell shoulder presses, dumbbell lateral raises, one-arm cable shoulder presses, Arnold presses.
Kelsey's Top Tips
"Life is too short not to love yourself or your body," says Kelsey. Get motivated to reach all your fitness goals with Kelsey's strategies:
I have my iPod charged and a workout playlist that pumps me up.
I follow my favorite fitness chicks on Facebook.
I have bikinis hanging in my closet that remind me every day to work hard!
I subscribe to Oxygen and for a jump-start, I keep the magazine in my purse!
Morning Makeover
Kelsey starts her days with a clean, delicious breakfast. A recent favorite? A cleaned-up version of French toast! Kelsey makes hers with whole wheat bread, egg whites, cinnamon and a bit of sugar-free syrup. "It's so yummy and so sweet!" she says.