"I love my body!"
Now mentally and physically fit, Slava Abdelrehim fine-tuned her lifestyle to shed 66 pounds.
Heading out the door? Read this article on the new Outside+ app available now on iOS devices for members! Download the app.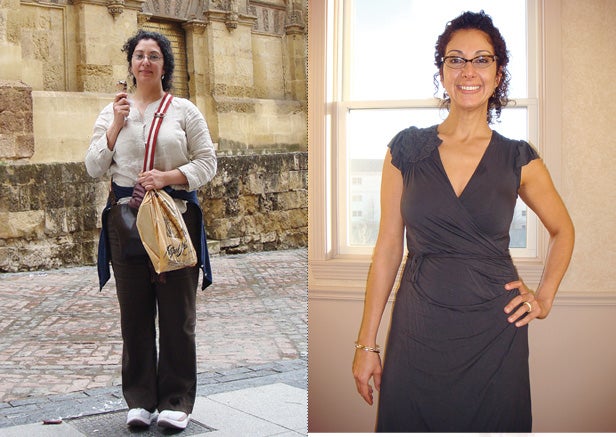 Name: Slava Abdelrehim Age: 42 Height: 5'9″ Weight before: 200 lb Weight now: 134 lb Location: Nashua, NH Occupation: Dentist Favorite exercise: Lat pulldowns Future goal: Run a half-marathon
Slava Abdelrehim doesn't listen to music when she's working hard on the elliptical. "Sometimes, I do 45 minutes in pure silence and it's so meditative," she says. Tuning into her mind and body has helped Slava lose a total of 66 pounds – and she feels better than ever!
Food Facelift
Slava didn't set out to drop 14 dress sizes. Her food and fitness overhaul started as a way to help her husband lose the weight he needed to get off his diabetes medication. After seeing a lifestyle coach and learning the science behind metabolism, the couple overhauled their eating. "I had so much more energy!" says Slava, who purged her house of processed foods in favor of back-to-basics eats like oatmeal, beans, white fish, sweet potatoes and greens.
Moving Meditation
For this dentist, exercise was about more than burning calories. Whether working out on her elliptical or lifting weights with her trainer, Slava used her sweat sessions to decompress and address job-related aches and pains. "I work 10- to 11-hour workdays hunched over and twisted in a way that hurts my hips and shoulders," she says. "Working out helps me maintain regular blood flow to my muscles and joints, and it's a great way to reduce stress." That same focused mindset carries over into the gym: Slava doesn't talk or socialize with other members; she just focuses on taking her time to lift the weight.
Mind Over Matter
Slava's biggest challenge: sweet cravings. "The first month, I was going nuts," she says. By filling up on water and eating every two hours to keep blood sugar levels constant, Slava outsmarted her hunger. "Now, I'm never hungry and I'm never full," she says. In addition, her workouts keep her energized and the excuses she once used to skip the gym – too tired, too hungry, too achy – are now her motivation. "My body needs exercise and actually missing a day or two makes me feel lethargic and fatigued," explains Slava, who is stronger physically, mentally and spiritually. "It is a lifetime commitment to stay healthy and feel great every day!"
Slava's Food Rules
Learning to control hunger was crucial to Slava's success. Follow her three rules for eating for fat loss:
Always eat breakfast. "If you don't feel like eating breakfast, then you ate too much the previous day."
Be carb-conscious. "The lower a food is on the glycemic index, the better. Pick brown rice over white, sprouted bread over wheat, sweet potatoes over white."
Change it up. "I eat out (healthy meals) two to three times a week, which makes this less of a diet and more of an exciting lifestyle."
Weekly Workout
Slava balances her workouts with five sessions of cardio, two sessions of weight training and two rest days per week, proving that a lean body is possible with just a little bit of hard work. Here is a breakdown of her schedule:
Monday: Weights + Cardio
Tuesday: Rest Day
Wednesday: Cardio
Thursday: Rest Day
Friday: Weights + Cardio
Saturday: Cardio
Sunday: Cardio