Paula Hannah Made A Vow To Do Whatever It Takes And Lost 77 Pounds
Faced with lifestyle challenges and "silly" excuses, Paula Hannah got a grip on her health and dropped 77 pounds.
Heading out the door? Read this article on the new Outside+ app available now on iOS devices for members! Download the app.
Name: Paula Hannah Age: 48 Height: 5'91/2″ Weight before: 227 lb Weight now: 150 lb Location: Cincinnati, OH Occupation: Corporate paralegal Eat-clean breakfast: Steel-cut oatmeal with cinnamon, vanilla and a side of egg whites Favorite exercise: Lat pulldowns. "I love my back!"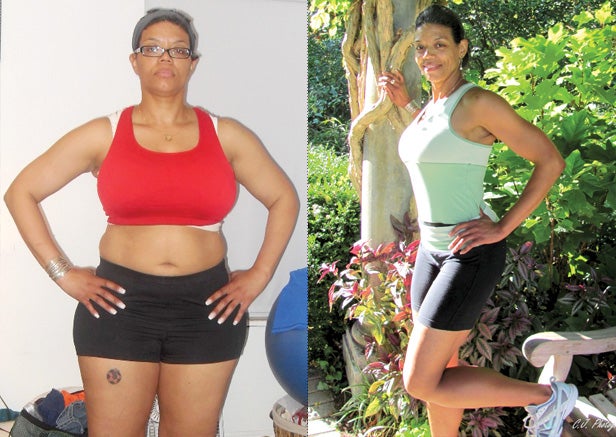 When Paula Hannah used to think about hitting the gym, she came up with every excuse to not do it. "The most ridiculous one was that I didn't want to mess up my hair!" she says. "How silly is that?" But at 227 pounds, Paula suffered with asthma so bad that she required a nebulizer to ease her breathing, and knew the excuses had to stop.
Making the Commitment
Making sure that she had no way to backtrack on her decision, Paula joined the fitness center at work where she could squeeze in a session mid-day, a gym that's a 20-minute walk from home that she loves for its stepmill and a smaller gym on the bus route to work, where she eventually signed a contract agreeing to show up for group training sessions. While having to rely on public transit – learning the schedules, dealing with delays and facing inclement weather – would have stopped her before, this time she was determined to succeed. "I made a vow to myself to do whatever it takes," she says. "If I travelled by bus to get to the gym, then I was going to do the work!"
Armed With a Vision
It was a vision of herself as a healthy woman that fueled her. When asked, "What's your goal?" by the trainer at her free gym sessions, Paula made up her mind to compete in fitness one day. It was a vision that seemed far off, but she decided to trust the process and continued with her gym visits. She knew she'd scaled a mountain when she lasted an entire spin class. "Friends texted me, one by one, to say they weren't coming. My instinct was to leave – I don't like doing things by myself." Instead, Paula stayed, planning to duck out early. "When the instructor yelled, '15 minutes left,' I started to cry. I did it!" It was the beginning of Paula being comfortable with making better choices.
A New Outlook
Tackling another one of her past excuses, Paula also decided to commit to clean eating. Before her journey began, she used to tell herself that eating healthy was too expensive, but that also changed. "I looked at the cost of having to shop in the plus size section and compared it with the cost of buying lean meats, fresh vegetables and whole grains," she says. "It was such simple math!"
Now 77 pounds lighter, Paula says she's celebrating the fact that she's alive. Confident in her own skin, people often tell her that she even walks differently. "They say, 'I didn't know you were that tall!'" As for silly exercise excuses, Paula has a new outlook: "I'd take being fit with bad hair over looking flawless and being unhealthy any day," she says. To the new Paula, nothing is impossible anymore.
Training for Strength
Paula mixes three days of weights with three days of cardio. Some of her favorite strength training exercises include leg extensions, hamstring curls, dumbbell step-ups, seated rows and hamstring curls.
Paula's Tunes
Energizing music keeps Paula motivated while she trains. Her playlist includes:
Ain't No Stoppin' Us Now – McFadden & Whitehead
Brick House – The Commodores
Can You Feel It – The Jacksons
Cardio Mix-Up
Paula likes to mix it up with these one-hour cardio workouts:
30 minutes elliptical/30 minutes step machine
20 minutes treadmill, high incline/40 minutes stepmill
30 to 40 minutes elliptical, high incline/20 to 30 minutes treadmill, high incline, slow speed
Tracking It
Paula loves to journal, and says that writing down her fitness accomplishments helped. "I record the smallest victories, like drinking a gallon of water, lifting a heavier weight or getting to bed on time." At the end of the month, she goes over her successes. "It reminds me to stay on the right track!" she says.
"I have a vision of what my body looks like healthy and whole. It propels me to give 100 percent in the gym!"