"I went from mushy to muscular!"
Overcoming obstacles fueled Nancy Nickel's fitness fire and fed her confidence. She's stronger than ever.
Heading out the door? Read this article on the new Outside+ app available now on iOS devices for members! Download the app.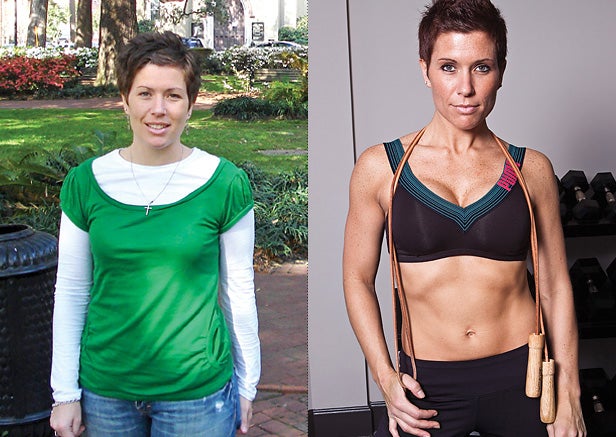 Name: Nancy Nickel Age: 37 Height: 5'5″ Location: Apex, NC Occupation: Contracts manager Weight before: 140 lb Weight now: 120 lb Favorite exercise: Walking lunges with a weighted bar Personal motto: "Mind right, body right."
Nancy Nickel has cut out the word can't. "Saying 'can't' means you've already given up before you've even tried," says the 37-year-old, who lost 20 pounds of skinny fat (10 percent body fat total) and whittled four inches off her waist in 10 short months. Nancy's wake-up call came courtesy of her "before" photo; staring back at her was a flabby, frumpy version of her former self. "I didn't know who I was anymore," says Nancy, who stuck the snapshot on her bathroom mirror for motivation.
Muscle Secrets
To help make exercise a habit, Nancy hired a trainer. "It's like making a doctor's appointment: you have to be there or you'll lose money and your session," says Nancy, who lifts heavy at a low-rep range, focusing on her form. Her other muscle-building secret: "Allow your body to rest properly." Making sure she stays focused in the gym without overdoing it has helped Nancy avoid injuries and has given her more time to run around with her kids.
Eating for Energy
Nancy's been known to walk around her entire office building to avoid a tray of tempting treats. "The out-of-sight-out-of-mind mentality worked for me," says Nancy, who allowed herself just one cheat meal a week — no exceptions. She also canned comfort foods for energizing eats like sweet potatoes, brown rice, hard-boiled eggs and almonds, and switched to six mini-meals a day to stabilize energy. Processed foods weren't forbidden, but Nancy tried to keep the ingredient list to five and under. "Natural foods deliver a lot of energy, which helps me stay leaner and burn body fat," she says.
Reaching Her Goals
Setting goals was a no-brainer — they pushed Nancy and gave her purpose — but setting realistic timeframes was a learning curve. "I naively thought I could run a 5K three weeks after setting foot in the gym," she says. But aiming high has also worked to her advantage: Nancy has crossed pull-ups (she can do eight!), a triathlon and becoming a fitness instructor off her fitness bucket list. "There is nothing in my life that I'm not able to achieve with the right mindset. I am a much happier person now. My workouts help clear my head and give me that alone time everyone deserves."
Pep Talk
Follow Nancy's advice for getting started in fitness: "Don't jump in thinking it's going to happen overnight. Start off by setting your goals and creating a workout program that works with your schedule at that moment. Start small and grow from there. Tell yourself every day that you're strong, focused, committed and that you have the drive you need to make big things happen for yourself."
Nancy's Food Faves
Favorite clean meal: Grilled chicken breast, rice and broccoli
Favorite grab-and-go food: Half a PB&J sandwich (whole-grain bread and natural peanut butter, of course)
Favorite healthy treat: Chocolate-covered soy nuts
Favorite preworkout snack: Protein bar
Favorite preworkout sip: Coconut water
Favorite postworkout snack: Hummus with various vegetables