No More Jiggly Bits!
After life spiraled out of control, Chantal Swart got it together at the gym.
Heading out the door? Read this article on the new Outside+ app available now on iOS devices for members! Download the app.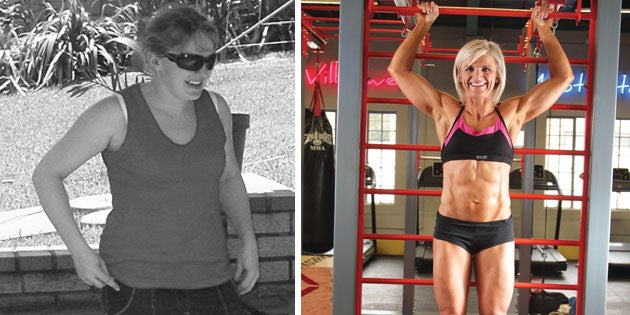 Name: Chantal Swart | Hometown: Pietermaritzburg, South Africa | Age: 45
Height: 5'4" | Old weight: 178 lb | Current weight: 143 lb | Occupation: Makeup artist and fitness coach | Words of wisdom: "Work slowly toward one big goal. And if you fall along the way, as long as you are falling forward, you are still making progress."
A competitive swimmer and water polo player, Chantal Swart was always active and outdoorsy. But after having two miscarriages, her doctor suggested she stop exercising in order to carry her next child to term. Two months later, she was pregnant once more and followed her doctor's orders, ceasing all activity. Thankfully, her son Jaiden was born nine months later, but because of her inactivity, Swart had swelled up to 178 pounds.
"I had to get healthy as an example for my child, and he needed and deserved better than this unhealthy, sad person I had become."
Soon after Jaiden was born, they discovered he had a genetic eye disorder, and Swart was thrown into a hectic world of doctors, tests and baby needs. To throw salt in the wound, her new birth-control medication caused her to overeat, and four years later, she weighed more than she did during her full-term pregnancy. "I ate cake, cookies, chocolate, fried food — I was a walking garbage can," she remembers.
A family holiday was her aha moment, when Swart could barely fit into her clothes and refused to get into her bathing suit. "It was overwhelming and I thought, How could I allow myself to get this way?" she says. "So that day — in tears with a runny nose and jiggly everything — I vowed to do something. I had to get healthy as an example for my child, and he needed and deserved better than this unhealthy, sad person I had become."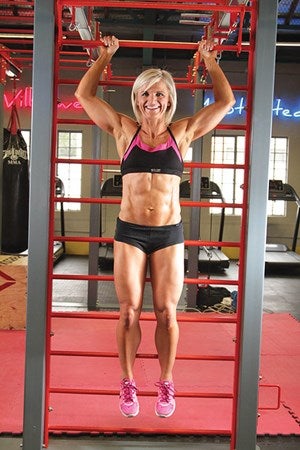 Jiggly bits and all, Swart headed to the gym where she shocked herself by failing miserably at even the simplest things. "I couldn't even do one push-up, and it was a disaster," she says. But instead of giving up, she made every session an adventure, each week trying to better herself, and in the process learning forgiveness of the sins of cheating on her diet or skipping a workout. In the middle of it all, she got divorced, but she refused to spiral downward as a result; rather, she buoyed herself up and used the adversity as fuel for training. Swart also revamped her diet, eating smaller meals throughout the day and cooking without oil.
It took her a year to reach her fighting weight, but she continued to train with the new goal of building lean muscle to one day get onstage. "My brother's girlfriend got me started with that, and now I am competing nationally and internationally in figure competitions," she says. Her most recent showing: the 2015 Arnold Figure International. "I finally found my niche," she says.