Johnna Johnson Stephenson Lost 63 Pounds!
Instead of rushing into fitness, Johnna Johnson Stephenson took the slow-and-steady approach to diet and exercise, and dropped 63 pounds in the process!
Heading out the door? Read this article on the new Outside+ app available now on iOS devices for members! Download the app.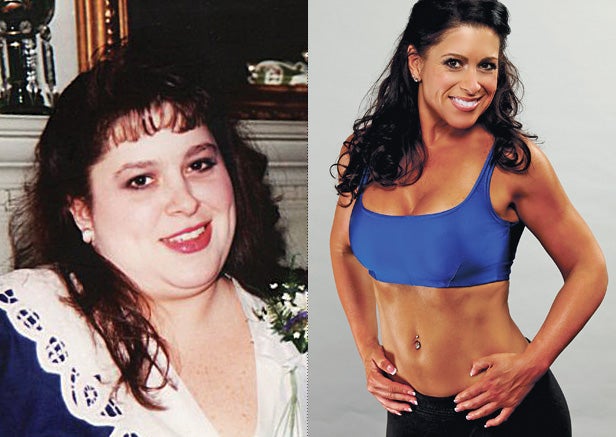 Name: Johnna Johnston Stephenson Age: 41 Height: 5'3″ Weight before: 192 lb Weight now: 129 lb Location: Raleigh, NC Occupation: Human resources analyst Favorite non-cheat food: "Spinach. If I don't feel 100 percent, I'll eat some spinach and I always feel better."
Not long ago, in a gym near Raleigh, North Carolina, a salesperson was giving a prospective female member the tour. Walking into a group fitness class in progress, the woman abruptly pointed at the class teacher and burst out, "I want to look like her!" Just as quickly, the instructor snapped her head behind her to see who the woman could possibly be talking about. "I couldn't believe she meant me," says Johnna Johnson Stephenson.
The Turnaround
At 192 pounds, Johnna told herself that exercise was too hard. And that she'd look stupid if she even tried to work out. Healthy food, she assumed, was tasteless. But, inspired by her sister, who "just lost 30 pounds and looked great!" Johnna decided that she needed to start a journey of her own. She's taught herself how to eat clean, and now makes time to exercise six days a week. These days, people ask her for workout and nutrition advice – which Johnna feels is the best compliment there is. But, she's quick to add, things didn't change overnight. "I took it one day at a time. I concentrated on losing just five pounds, then another five pounds, and then another. That's the only way I made it to 129 pounds."
Picking Up Speed
Initially, Johnna committed to just two gym workouts a week, going directly from work so she wouldn't get derailed at home. Since she's always enjoyed cooking, she started hunting for healthy recipes without any processed ingredients. "I've found that food prepared in a healthy way actually tastes better because you can taste the food!" she says. After getting tested for allergies, Johnna also learned that she was allergic to gluten so she dropped many gluten-containing foods (like some breads and pasta) from her diet, lost the lingering last few pounds and experienced a surge of energy. Her current diet would make any nutritionist proud – from her protein-packed breakfast to her evening snack of berries and raw almonds. Since eating poorly makes her feel horrible and sluggish, she's not often tempted to stray from healthier options.
Cheering Herself On
Now that she's lost more than 60 pounds by living the Oxygen lifestyle, Johnna tells fitness newbies not to put too much pressure on themselves to be perfect. "Just focus on being healthy," she says. Over the years, Johnna has refused to beat herself up over the occasional slip-up or indulgence. "I just remind myself that tomorrow is a new day and I can get back on track."
Loving "Leg Days"
Twice-a-week leg training keeps Johnna's legs tight. She loves to see results after her workouts. Here's how she breaks it down:
Day 1: Machine Day. Leg curl, leg extension, leg press, abductor/adductor
Day 2: Circuit Day. Barbell step-up, barbell squat, barbell stiff-legged deadlift, barbell lunge
Gluten-Free Fave
When asked to give it a name, Johnna laughs and says, "I don't really know what to call it!" of her favorite gluten-free meal. "It's brown rice, quinoa, grilled chicken, chopped cucumbers and tomatoes with grilled corn, onion and red peppers plus fresh basil, balsamic vinegar and a little olive oil. Yum!"
Motto Motivation
When she needs a little inspiration, Johnna taps into the power of words. She has a little "note to self" that she repeats: You're stronger than you think you are! It works every time, she says.
Newbie Advice
Knowing what it feels like to be out-of-shape and overwhelmed, Johnna gives these three tips to women who are just starting out in fitness.
Plan your meals ahead of time.
Educate yourself by reading about nutrition and exercise.
Create small goals so that you can take baby steps toward reaching a bigger one.