Kelly Smith lost over 100 pounds!
Kelly Smith turned flab to muscle by adopting the Oxygen lifestyle.
Heading out the door? Read this article on the new Outside+ app available now on iOS devices for members! Download the app.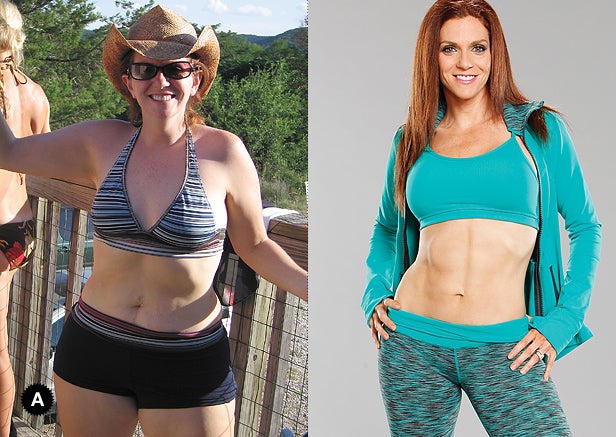 Name: Kelly Smith Age: 34 Height: 5'2″ Weight before: 220 lb Weight now: 112 lb Location: Austin, Texas Occupation: Mom of three boys Favorite clean meal: Bison, brown rice, green beans and salad Favorite body part to train: Legs
Kelly Smith has never loved bra shopping. Weighing in at 220 pounds at her heaviest, the last thing she wanted to do was stand half-naked in front of a full-length mirror. But not anymore. Now more than 100 pounds lighter, she recalls a recent Victoria's Secret shopping spree, where the sales lady complimented her on a strong and "athletic" physique. "No one has ever called me athletic before!" says the excited mother of three.
Fighting Cellulite
For Kelly, losing the weight wasn't the problem. She got down to 125 pounds by tightening up her diet. But what should have been a woohoo! moment was overshadowed by leftover cellulite. "Every time I left the house, I felt as if a giant spotlight was highlighting my legs," says Kelly, who was dimpled down to her calves. Instead of surgery, Kelly took matters into her own hands and signed up for a bikini competition (only six months away) and got down to business in the gym.
Tightening Up
Kelly committed to a mix of cardio and strength sessions each week. She also pulled a 180 with her diet. No longer relying on a low calorie count to see results, she steered toward clean eating and learned an important lesson: "I was shocked to see that in order to maintain a lean body, I had to eat a lot of food – and not just carrots and celery," she says. Kelly also found the secret cellulite weapon: track workouts three times a week and weight lifting with none other than fitness model Monica Brant. "Monica keeps me running strong on the track and coaches me on everything from posing, to nutrition, to dealing with negative people," she says.
Marriage Makeover
No longer the girl with the leg dimples, Kelly's new figure has brought her a new outlook: "I started believing in myself, not just in the gym, but in my everyday life." Less stressed and more patient, she says even her marriage improved. "My husband stood by me while I was having 'carb fits' and crazy cravings," she says, never having felt more supported. To celebrate her figure competition, Kelly threw herself a party. "This was the first time I set a goal and accomplished it," she says. "Plus, how many moms can go from 220 pounds to standing on stage in a tiny suit?"
Kelly's Gym Must-Have
Kelly doesn't leave for the gym without her workout notebook. "I write down my program and what weights I lifted," she says. "I love looking at my progress!" To personalize her journal, she even draws little faces next to each workout, representing her mood.
Daily Diet
Eating clean muscle foods was key to tightening up Kelly's body. Here's a sample of what's inside her fridge:
Oatmeal
Cottage cheese
Chicken breast
Sweet potatoes
Steak
Brown rice
Asparagus
Protein shakes