It's Never too Late to Become Healthy and Fit
Unhappy with her weight and frustrated with her lack of progress, Alex Janish turned to resistance training and watched the fat melt off!
Heading out the door? Read this article on the new Outside+ app available now on iOS devices for members! Download the app.
For years, I struggled to lose weight. I was never extremely overweight, but I was unhappy with my body and desperately wanted to lose belly fat. I tried it all — CrossFit, two-hour Spin classes, detox teas, compression weight trainers, no-carb diets and juice cleanses. You name it, I tried it.
This attempt to lose weight led me down a dark path, and I formed an unhealthy relationship with food. I restricted carbs all week in an effort to lose weight, but starving my body during the week led me to binge eating on the weekends. I would sneak food in the middle of the night or when no one was around. There were days when I would eat half a jar of peanut butter and an entire package of tortilla shells just as a starter.
My guilt from my binge eventually led into purging. My heart would start to race after a binging episode, which lead to an immediate shameful feeling. I would purge to try to "fix" what I just did. In reality, I was hurting myself and my body. It was a vicious cycle I thought I would never overcome.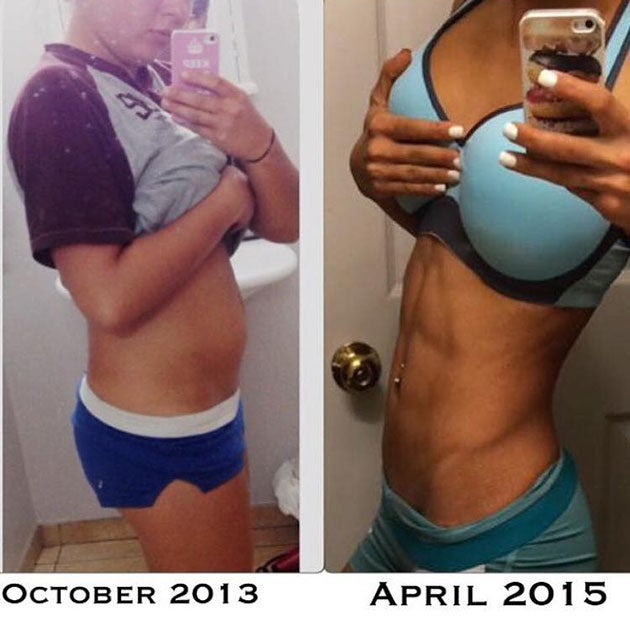 In April 2014, I discovered weightlifting and it changed everything for me. In the beginning, it was just another attempt to lose weight. I was clueless. I had to search for all the exercises on Google and watch hundreds of YouTube videos to learn what exactly to do in the gym. But what I discovered is that weightlifting, along with having the proper nutrition intake, was the key to success. I learned how to track my macronutrients and was able to eat anything I wanted as long as it fit into my daily macros.
My binge eating improved, but it didn't just disappear. I still struggled with my disorder. But tracking my macros allowed me to have control over my food, and slowly the binges became less frequent. I knew that if I was craving something (donuts, Pop-Tarts), I could work it into my daily macros and eat it guilt-free. That gave me a sense of freedom. I could finally look in the mirror and love the girl looking back at me.
As the weight started falling off, I was building muscle, eating more than I ever had before while doing limited amounts of high-intensity interval training cardio and losing weight each week! I was finally seeing the results I craved for so long.
I admired the fitness competitors I saw in magazines and on social media, but I never thought I could achieve that level of conditioning or that look. However, after months of training and tracking my food intake, I realized my body was changing drastically. I saw muscles I didn't even know existed, so I decided to prep for my very first bikini competition. This is when the binge eating stopped completely. I stopped consuming alcohol and was dedicated to my prep 100 percent. In my first year, I competed in four shows and won my WNBF pro card! After stepping on that stage, I knew I was hooked on this lifestyle.
Then I took a leap of faith and left my 9-to-5 marketing job to dedicate my life to fitness. I was hired by APS Nutrition to be the 2016 spokesmodel, and they are sending me to Las Vegas for the Olympia. It's been such an incredible experience, and I feel blessed for the opportunity.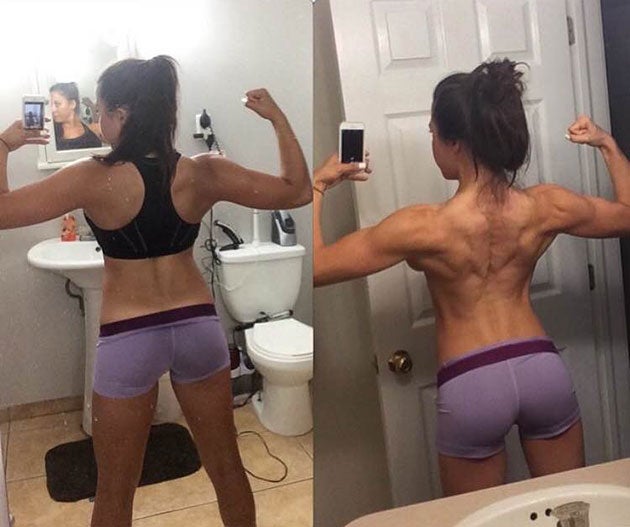 From that singular moment, I knew this is what I was meant to do. I enrolled in school again and am now an online coach offering nutrition and training programs. I also created an Instagram account and YouTube channel to tell my story, inspire others and help as many people as I can. I want people to see that you can struggle, mess up on your diet, feel as if you failed and come back stronger. It's never too late to make a change and get healthy and fit. You just need to start now.
When trying to lose weight, the most important piece of advice I can give anyone is to start by having a plan. While hiring a coach is a great way to stay accountable and weightlifting and building muscle allows for your metabolism to speed up, there is no substitute for a plan of action. Tracking your macros is the next step to seeing amazing results.
Proper supplementation can help promote maximum results. I love all of APS Nutrition's products. My favorite being Mesomorph Pre-Workout Complex, which gives you the energy you need to have an awesome workout without the jitters. After training, APS Chain'd Reaction is full of BCAAs, which aid in muscle recovery.
Combine a solid plan with hard work, dedication, education, rest and proper supplements and you will be on the fast road to success.