"I lost 165 pounds!"
Gina Canakis is half the woman she used to be — in a good way.
Heading out the door? Read this article on the new Outside+ app available now on iOS devices for members! Download the app.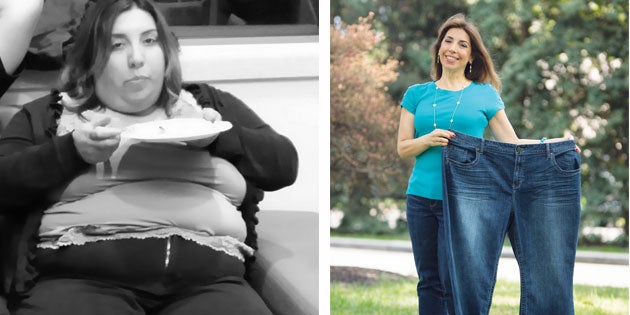 Name: Gina Canakis | Hometown: Springfield, Pennsylvania | Age: 38
Height: 5'1" | Old weight: 298 lb | Current Weight: 133 lb | Occupation: Blogger
Take-away tidbit: "Keep a diary of your achievements: Write down the positive differences you see in your transformation. That will give you an immense sense of achievement and will empower you to do more!"
Imagine not being able to bend over to pick up a box from the floor, or getting winded walking from your office to the restroom, or having to wear an oxygen mask at night because of obesity-related sleep apnea. This was the reality for Gina Canakis, who, under the pressure of working two jobs, attending real estate school and caring for her disabled father, turned to food for comfort.
"Even when I was not in the mood to work out, I visualized myself as an active lady who looked fabulous and motivated myself to go."
Not helping matters one bit was the free food offered literally all day long at her job with Merrill Lynch. Canakis took full advantage of the never-ending buffet, indulging in candy, cake, pizza, hoagies, pasta — nothing was off-limits. "I was comforted by food because of the worries in my life," she says. "My spirit began to evaporate as I got bigger and bigger. I gave up and thought about myself last." Her list of ailments slowly expanded to include acid reflux, eczema and high cholesterol.
Canakis had never been a small girl and had constantly struggled with her weight, but over the course of five years, she gained an incredible 150 pounds. Desperate, she sought the advice of a bariatric surgeon. He instructed her to lose 10 percent of her bodyweight naturally first before they could even talk about the procedure. In the meantime, Canakis was laid off from her job, which was possibly the best thing that could have happened to her: no more free buffet and no more excuses not to eat right.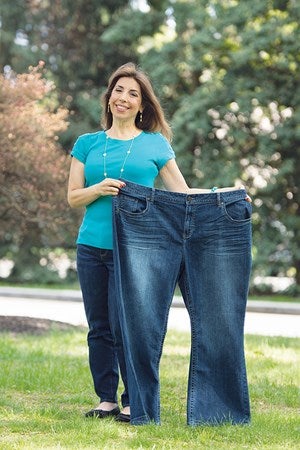 Soon afterward, her father passed away because of obesity-related issues. "This was a huge turning point for me and motivated me to move forward," she says. "I wanted to take charge of my life and began to put my weight-loss puzzle together."
With the help of the counselors at Jenny Craig, Canakis changed her eating habits one day at a time, and she slowly eased her way out of fast food and pasta to healthy organic meals and whole foods. She lost 64 pounds with diet alone, then was ready to try the gym. "I had a good experience doing cardio — my speed increased as I got healthier, and my confidence increased as I worked out more," she says. "Even when I was not in the mood to work out, I visualized myself as an active lady who looked fabulous and motivated myself to go." Ultimately, she decided against the bariatric surgery because she was having such success losing weight on her own.
Two years later, she lost an incredible 165 pounds — more than half her bodyweight. She now trains five days a week doing cardio and is ready to try her hand at lifting weights to shape up. "My advice is to be positive, patient and consistent," she says. "Learn as much as you can every day and figure out what works best for you."