Making Friends With the Enemy
After struggling with low self-esteem and weight issues for most of her life, Kristin Tacktikos decided enough was enough.
Heading out the door? Read this article on the new Outside+ app available now on iOS devices for members! Download the app.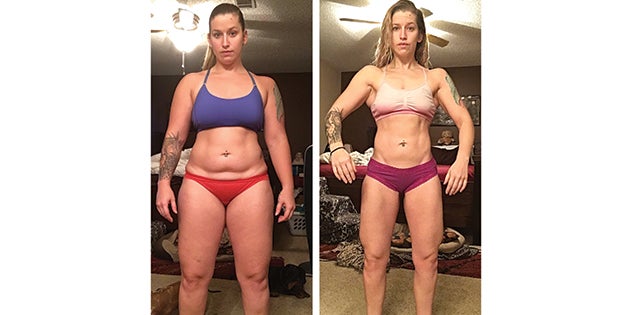 Name: Kristin Tacktikos | Age: 24
Old Weight: 170 | Current weight: 132
Occupation: Customer service consultant
OXYGEN: What was your life like before your transformation?
Kristin Tacktikos: I've struggled with my weight and body dysmorphia most of my life. Self-esteem and self-love was never something I could grasp. I spent a lot of time bullying myself in my own head and tearing myself apart in front of a mirror. I also had a horrible relationship with food. Food has always been the "enemy."
OXYGEN: Have you had any significant life experiences that set you down that path?
KT: My parents divorced when I was young. After that, I watched my mom settle in relationships where she wasn't treated right or appreciated. I couldn't understand how the strongest, most amazing woman I know couldn't just walk away from these situations and people who weren't good enough for her. She felt like that was all she deserved, and I adopted some of those traits from her for a while. Not feeling like I was enough, or worthy, settling for the comfort of what "is" because the what "could be" was too scary.
OXYGEN: What was the turning point? How did you make the change?
KT: A few years ago, I fell in love with fitness. I started with CrossFit and transitioned to bodybuilding. I started to finally get a taste of what it was like to actually like myself and what it was like to feel strong — both physically and mentally. It very quickly became my biggest priority and outlet. While I felt great being in the gym, I still struggled with nutrition. Once I met Brooke Walker, I was able to totally transform my relationship with food.
OXYGEN: What is your current training/nutrition regimen? How has this helped you? Any favorite exercises?
KT: I currently train six days a week and incorporate HIIT cardio with my weight training. The diet I followed for most of my transformation was strict but flexible. Brooke provided me with a colorful meal plan that I could play with and move around as I pleased. Over the last few weeks, we've been experimenting with a ketogenic diet and my body is responding very well.
I finally look at food as fuel for my body rather than the enemy that it used to be. My favorite exercise is the dumbbell lateral raise. Shoulders are my favorite muscle group to train right now.
OXYGEN: What would you impart on someone reading about your journey?
KT: Don't give up and trust the process. There have been so many times throughout my fitness and weight-loss journey when I felt discouraged or that I wanted to quit. Slow progress is still progress, and one day you're going to look in the mirror or look at your progress pictures and be blown away by how far you've come. You have to be consistent and fight for it — know you are worth the time and effort it takes to reach your goals.
OXYGEN: How do you stay motivated to stay on track?
KT: Well that's an easy one — I have a great coach who inspires me with her own journey. I have an amazing boyfriend who motivates me and supports me. And lastly, I just want it more than anything. I want to reach my goals so badly that nothing else gets in the way of that, and I do what it takes every single day to get there.