Postworkout Nutrition to Max Out Your Gains
What you consume after your workout is just as important as what you consume before and during your session.
Heading out the door? Read this article on the new Outside+ app available now on iOS devices for members! Download the app.
You work hard when you hit the gym, so naturally you want to maximize your efforts. To that end, you hydrate, sip your branched-chain amino acids and make sure to take your performance supplements. But what you consume after your workout is just as important as what you consume before and during your session.
Here's why: When you exercise, you use up your glycogen stores to fuel your working muscles. Your muscles also experience microscopic damage. After your workout, your body tries to replenish its glycogen stores and repair damaged muscles. Giving your body the nutrients it needs soon after your workout can enhance this process — and your gains.
Does Timing Matter?
Your body wants to repair muscle and rebuild glycogen stores immediately after your workout. That's why it's important to include a postworkout meal in your fitness plan. But do you really need to rush to replenish? According to research in the Journal of the International Society of Sports Nutrition, you have up to 90 minutes after re-racking that last weight or completing that last burpee. During this window, your muscles are biochemically primed to accept nutrients that can stimulate muscle repair, muscle growth and muscle strength. It's also the perfect opportunity to restore your glycogen stores, which will enhance your recovery.
What to Eat
The ultimate goal of your postworkout meal is to promote recovery and repair while setting the stage for muscle growth. A meal that provides a 2:1 ratio of carbs to protein with 20 to 30 grams coming from protein can help restore glycogen levels and shuttle protein into damaged muscles. While a protein shake that provides the right ratio of protein to carbs is a convenient way to replenish your nutrient needs, you can get the same effects with these quick and easy postworkout meals:
Cottage cheese and peaches or pears
Rice crackers and hummus
Greek yogurt, berries and granola
Banana with almond butter
Tuna on whole-grain bread
Grilled chicken and sweet potato
Deviled eggs and crackers
Oatmeal mixed with protein powder and topped with bananas
Do Try This!
Are you in a rut with your postworkout nutrition? Try the following recipes for a tasty change of pace.
Perfect Protein Pancakes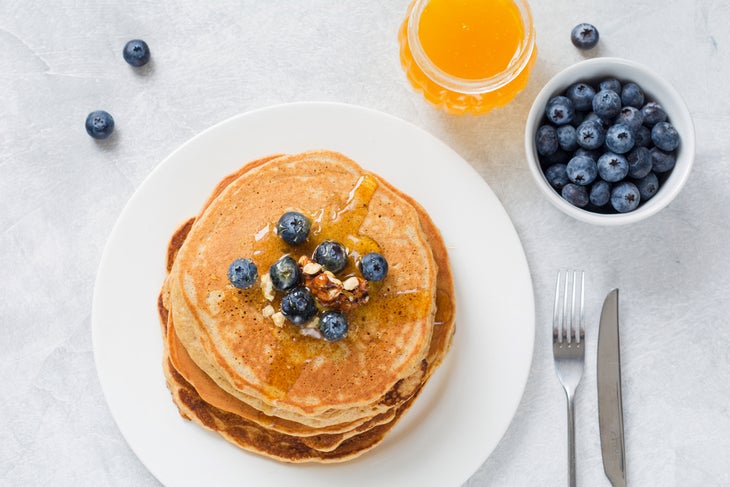 Serves 8
Perfect after an early-morning workout, these pancakes are low-fat and low-carb with the nutrients your muscles need — and all less than 200 calories!
Ingredients
2 large eggs
2 scoops vanilla protein powder
1 large, very ripe banana
¼ tsp cinnamon
¼ tsp baking powder
¼ tsp salt
Directions
Using two bowls, separate eggs into yolks and whites. Beat egg whites on high until soft peaks are formed. Set aside.
Add remaining ingredients to egg yolks and beat until smooth. Gently fold one-third of egg whites into yolk mixture. Fold half of remaining egg whites into mixture. Then fold in rest of egg whites, gently mixing until well-combined.
Spray frying pan with thin layer of oil and heat over a low temperature. Pour ¼ cup pancake mixture into pan. Cook 60 to 90 seconds, then carefully flip pancake. Cook until golden brown on other side.
Repeat with remaining batter.
Serve with fresh berries or 2 tablespoons plain Greek yogurt mixed with honey or stevia (to taste).
Nutrition Facts (per serving): calories 198, total fat 5 g, carbs 18 g, protein 22 g, sodium 577 mg, sugar 8 g
Sweet Potato Bites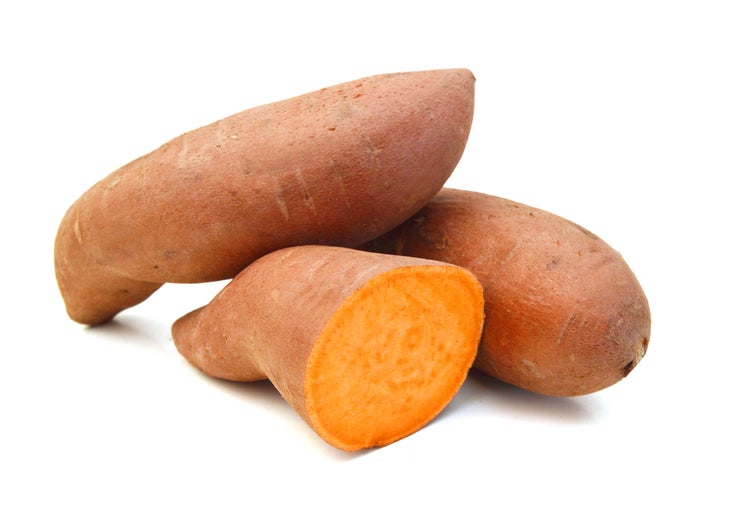 Makes 18 bites
Pair several "bites" with 2 ounces of grilled chicken and a few whole-grain crackers for a light yet satisfying on-the-go postworkout snack.
Ingredients
1 cup mashed, cooked sweet potato
8 egg whites
1 tsp cinnamon
Directions
Preheat oven to 375 degrees. Combine all ingredients in bowl and, using whisk or immersion blender, blend until very smooth.
Spoon into lightly greased mini-muffin tin, filling each compartment about two-thirds full.
Bake 20 to 25 minutes, or until a toothpick inserted into center comes out clean.
Allow bites to cool completely before removing from tin. Store in refrigerator.
Nutrition Facts (per bit): calories 22, total fat 0 g, carbs 4 g, protein 2 g, sodium 34 mg, sugar 1 g