Rachel Sachtleben Lost 115 Pounds
With support from her husband, Rachel Sachtleben went from obese to fit. Now she's running road races.
Heading out the door? Read this article on the new Outside+ app available now on iOS devices for members! Download the app.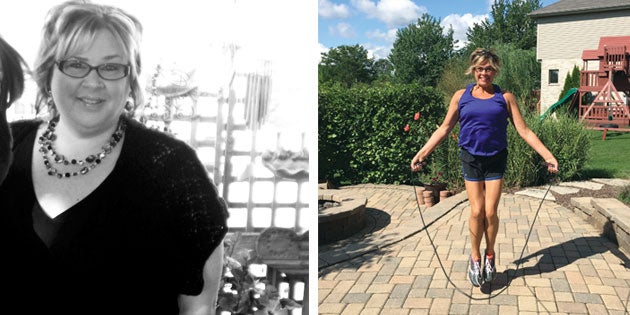 Name: Rachel Sachtleben | Hometown: Lockport, Illinois | Age: 48
Height: 5'7" | Old weight: 273 lb | Current weight: 158 lb
Occupation: Emergency-room nurse | Next goal: "Building muscle. Lifting is my new passion!"
For some people, their "aha" moment is a sudden, jolting revelation, but for Rachel Sachtleben, "aha" happens all the time. "I work in an emergency room as a nurse and see the ill effects of obesity every single day," she says. "But I was in denial as to how overweight I was myself, and I put myself last all the time trying to be a good wife and mother."
Sachtleben hit her heaviest weight 16 years after the death of her father. "My father was very fit, and we used to work out together playing racquetball," she says. "He used to encourage me to diet and get in shape and always praised me for how 'stunning' (his words) I was when I was fit. He died suddenly when I was 29, and I lost all drive to be stunning again."
Sachtleben lived on cheeseburgers and fast food, and she regularly ate half a bag of cookies before bed to soothe her soul. Heavy and unhappy, Sachtleben watched her daughter run a 5K, and instead of feeling proud, she felt envy: She herself wanted to be healthy and mobile and knew then she had to change her lifestyle.
Sachtleben simply started by walking her dogs around the block. Day by day, she extended that walk and eventually began walking some local trails. "Before I knew it, I was walking 5 miles three times a week," she says. Then she was ready to try the gym. "The minute I walked in and smelled the chlorine from the pool it brought back memories of my dad," she says. "I knew then that it was OK for me to take this journey without him and that I was ready to define my own version of 'stunning.'"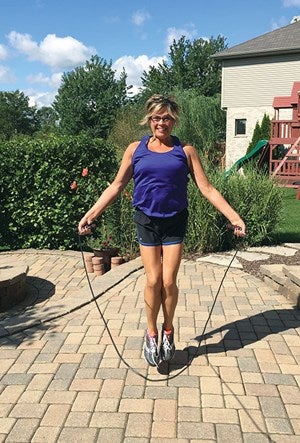 Sachtleben took water aerobics, walked on the treadmill and tracked her food with MyFitnessPal, focusing on her macros. The weight began to drop off, and soon she had lost 75 pounds. "I kept my journey to myself until people started noticing the weight loss," she says. "And even then I never ever called it a diet — I called it a life change."
One of the hardest parts of her life change was social. "My husband and I mainly went out to eat for our social life and time together," she says. "I explained my goals, and he supported me. We went to the few places I could eat and went for walks instead of to restaurants. He even built a full gym in our basement for me!"
Two years after beginning her journey, Sachtleben ran her first 5K with her daughter and cried as she crossed the finish line. She has since become an avid road racer and recently ran her fifth 5K, placing ninth in her age group out of 100-plus people. "Two years ago, I could not have run 30 seconds, and this year, I'm training for a half marathon," she says. "I am 48 and have three kids and a busy career. For all you women out here like me, change is possible at any age, any stage, once you set your mind to it."
Were you always overweight?
Yes most of my life. I was brought up on homemade pastries and tons of butter in everything. Our focus was what we were having for dinner every day, and most of my childhood memories are focused on food.
You say your diet was your biggest issue in gaining so much weight as an adult. Did you believe you were eating healthfully?
Being a nurse, I knew better. Part of my education is in nutrition, so I understood the difference between healthy and unhealthy eating. That's why I think that changing my eating wasn't such a big deal for me. I was a pretty easy life change.
When you started exercising, what were your goals?
I originally set a goal of walking 2 miles 3 times a week, slowly increasing my mileage. Then I joined a gym. The first two weeks in the gym I would walk on the track above the gym because I was too scared and intimidated to even step foot onto the floor. And I didn't even know how to turn on a treadmill. Once I was comfortable with that I did water aerobics, then a year into my journey started doing Body Pump classes.
What can you do now physically that you could not do before?
The biggest change I notice is that I'm not always tired any more. I have fallen in love with running I have run 3 5k runs and one 8k and I medaled 3rd in my age group for one of them.
Did your family support your transformation?
Totally. If it wasn't for my husband's support I would never have made it. When you completely change your life with a journey like mine, you change on the inside as well as the outside.
Did your husband have a transformation of his own?
My husband has lost about 35 pounds himself and he has learned to love healthy food. In fact our daily food consumption has completely changed. There are no potato chips, soda, bratwurst, fast food or sweets in our house any more. Now we have fruit, yogurt, vegetables, ground turkey and whole grain bread.
When you now go out to eat what do you order?
I most often have salads with dressing on the side. Sometimes I have broiled fish with steamed veggies and my husband orders grilled chicken now instead of beef sandwiches like he used to order.
What is one of your new favorite healthy recipes?
Kale chips with my dehydrator!
Do you have any mantras you'd like to share?
Life begins outside your comfort zone.
What is your favorite bodypart to train and your favorite move for that part?
I love all-over weight lifting, but I really love training back. I'm learning to love deadlifts!
Anything else you'd like to add?
During this journey about I had to have major surgery — a hysterectomy. During my recovery I stayed on track nutritionally, even though it was devastating that I could not do the heavy workouts I was used to. It took me a good 12 weeks to rebound back to where I was, but I am proud to say that I did not gain a pound. In fact, I lost weight.