Sick and Tired of Being Sick and Tired
Read how this former military member lost more than 50 pounds and got her health back on track.
Heading out the door? Read this article on the new Outside+ app available now on iOS devices for members! Download the app.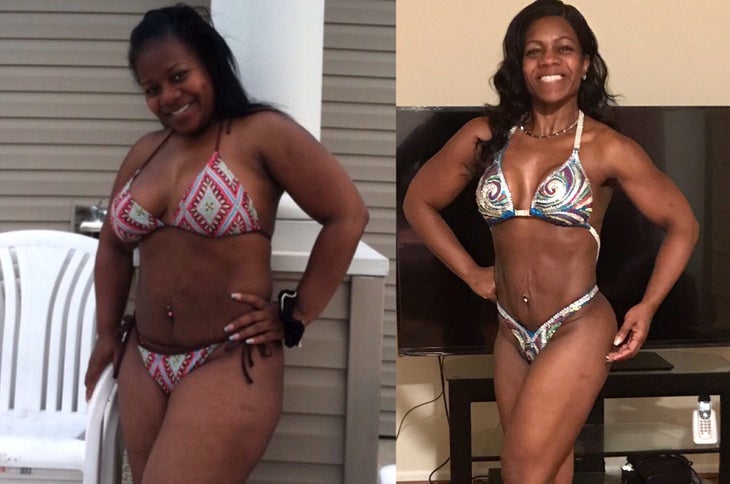 Name: Tia Myers | Age: 43
Old weight: 184 | Current weight: 130
Occupation: Owner and CEO of Milvetsource
OXYGEN: What was your life like before your transformation?
Tia Myers: I was a contractor and traveled overseas with multiple companies. I was always eating out, not working out and depressed from being away from my children while deployed overseas. I was always on the go, not realizing how much weight I was gaining because people always told me I looked good. I never paid attention to my weight and just bought new clothes that fit nice. I always was a shapely woman and had curves, so it wasn't a priority to lose the weight at first.
OXYGEN: Have you had any significant life experiences that set you down that path?
TM: I felt like I couldn't breathe. I would pray that if I ever had a heart attack, I wouldn't be alone. I use to work out when I was in the military, but when I got out, I just let life pass me by. While traveling, I was eating exotic foods and not working out.
OXYGEN: What was the turning point?
TM: I was in a wedding, and I went to try on the dress and the lady told me I needed a size 14. I had never been a 14 in my life. Not only was it a wake-up call, but when I saw the pictures, I knew it was time for a change.
OXYGEN: How did you make the change?
TM: I was on social media and always saw Renée Jones (@iamnayfit) — she looked really good and was always promoting fitness and working out. She also had before and after pictures. I reached out to her and she said, "You look good, but I want you to look amazing." From there, I asked her to coach me and help me because I wanted to do a bodybuilding show.
OXYGEN: What is your current training/nutrition regimen? How has this helped you?
TM: I currently work out seven days a week, unless my body tells me different. I go to the gym in the morning for an hour of cardio, then I go back in the evening for another hour of cardio and two or three hours of strength training afterward. I eat five to six times a day and drink 2 gallons of water. I do not eat beef or pork, so my meals are strict — chicken breast, tilapia or ground turkey, veggies, sweet potatoes, rice, avocado and unsalted almonds. This workout and exercise program has helped me lose 54 pounds.
OXYGEN: What impact has Renée Jones had on your training and results?
TM: Renée Jones is my coach and now longtime friend. She has not only encouraged me physically but mentally, as well. She never made me feel like I was fat, and she was so encouraging and motivational. She never sugarcoated where I needed to be, but she never made me feel like I couldn't do it.
She kept saying, "Keep working — looking good but you can look better." She made sure to FaceTime me and call to check on me often — no matter what, she always responded when I needed her! It was a pleasure to have her as a coach and fitness mentor.
OXYGEN: What would you impart on someone reading about your journey?
TM: Stick to your goals and never give up! I did the work because I was sick and tired of being sick and tired. Being a mother of two, I wanted my kids to know there is nothing impossible. I try to be the best example for them. The words from my children and the words from all the people who responded to my weight loss with excitement (sending me messages that they are now going to the gym because of me) encourage me. It is absolutely amazing!
OXYGEN: How do you stay motivated and on track?
TM: I am currently working toward my certification as a group fitness instructor. I love teaching and motivating others. What motivates me is being able to help someone else get to where they want to be on their weight-loss journey. I am overjoyed by my transformation. Even though I did the work — I still feel my body and say to myself, "Is this me?"
The impact I have made on others motivates me. I want to be a fitness model, and I'm looking at things to do that I never imagined. This is only the beginning! My body will look better tomorrow, and I will keep progressing. I am grateful to see another year and look better now than I did in my 30s. Age is truly just a number. I feel like I look the best I have ever looked in my adult life, and I feel amazing!