5 Women Who've Got the Fit Factor
Meet five inspiring women who have transformed their lives through fitness.
Heading out the door? Read this article on the new Outside+ app available now on iOS devices for members! Download the app.
Andrea Cladis Hodge
Chicago, Illinois
Stats: 30 • 120 lb • 5'5"
Gig: Group fitness trainer
Running on Empty
When Andrea Cladis Hodge was 17, her school nurse posed the question: "Are you running to or running from?" The nurse recognized that Hodge was starving herself while obsessively doing cardio workouts, and at her lowest point, she weighed less than 60 pounds. Hodge retreated from friends, quit sports and music, and focused on maintaining perfect grades — all while her health spiraled.
Sustainable Success
At 18, Hodge finally got the help she needed with a yearlong outpatient treatment program. Within two years, Hodge had returned to a sustainable weight, but what she considered "full" recovery took longer. "I don't think I was fully healed — as in not possessing thoughts, tendencies or habits of the disease — for at least seven years [after]," she says.
Fitness Forward
Post-recovery, Hodge began a fitness career training clients and teaching group exercise classes. As for her own workouts, Hodge rotates through a list of favorites like high-intensity interval training, boxing, running and heavy weight training. "I do my best to listen to my body and respect its limits," she explains.
Road Runner
Now 30, Hodge is still running — this time literally. She loves to compete in triathlons and marathons, and she has her sights set on qualifying for the New York City Marathon. "Our bodies have an incredible aptitude for transformation, and if we take care of them, we see unbelievable changes," she says.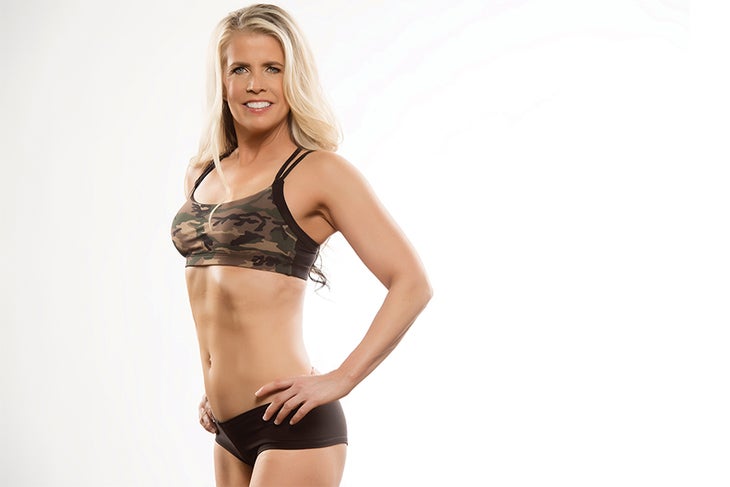 Hilary Jean Collmer
Concord, Massachusetts
Stats: 56 • 132 lb • 5'6"
Gig: Software sales
Mastering Fitness
It really is never too late to pursue your dreams. Case in point, Hilary Jean Collmer first stepped onstage for a physique contest when she turned 50. Since then, she's finished top five in the Fitness Universe model division three times and top five in the masters bikini division twice. "Stop using age as an excuse," she says. "Anything is possible with the right drive and guidance."
Family Fit
Collmer has been active since she was 6 years old. "My dad required my sister, my three brothers and I to join three sports a year," Collmer says. And while her mom coaxed her toward activities like gymnastics and ballet, the self-described tomboy gravitated toward soccer and track, the former of which earned her a college scholarship.
Meditative Muscle
Collmer lifts an average of six nights per week. "I like to lift alone and actually meditate when I work out," she says. She also does five 30-minute cardio sessions, alternating between HIIT and steady-state. "Often, I'll do cardio outside with friends, since it's a great way for us to connect," she says. Collmer has also been eating clean since she was 12, and today her favorites are eggs, fish, organic poultry and colorful veggies. "I have five meals a day and try to stay as balanced in my macros as possible," she says.
Fit Future
With plans to continue training — and competing — in the years to come, Collmer intends to prove that age should never hold you back. "I'm a lifelong athlete who has never focused on how old I am," she says. "I still literally shock myself when cardio equipment asks my age and I have to type in '56.'"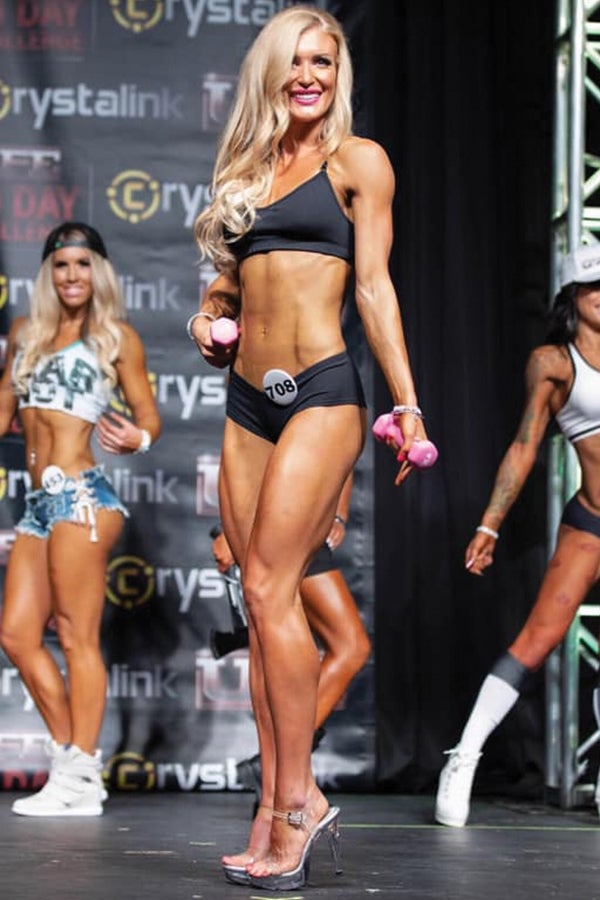 Katie Brown
Invermere, British Columbia, Canada
Stats: 29 • 108 lb • 5'4"
Gig: Child/youth counselor for children with autism
Winning With Weights
Katie Brown has always been passionate about fitness and was an admitted cardio queen until she hit a plateau. "Three years ago, I stopped seeing results, so I hired a coach who had me focus solely on developing strength with weight training," she says. Embracing the iron quickly led to results, and in 2019, Brown entered her first competition in the Ultimate Fitness Events organization and won the bikini novice, fitness open, fitness novice and fitness model novice divisions. She also took second in the bikini open class and third in the fitness model open categories.
Train Gains
Brown lifts six days a week and has cut her cardio habit to 30 minutes of low-intensity steady-state work four days a week. "I also love hitting the trails on my mountain bike and going on hikes with my dog," she says.
Brown's Best Breakfast
To start her morning, Brown loves to make pancakes with egg whites, white rice and oatmeal, and she pairs it with a snickerdoodle-flavored shake made with half a frozen banana, unsweetened almond milk and a tablespoon of peanut butter. "Seriously, it tastes like heaven," she affirms.
Autism Activist
Outside the gym, Brown is a child and youth counselor specializing in autism. "Over the next year, I hope to expand my practice to more families impacted by autism," she says. "My husband Billy and I are also expecting our first child, but I love my career as a counselor and I love fitness. When you love what you're doing, it becomes a lifestyle."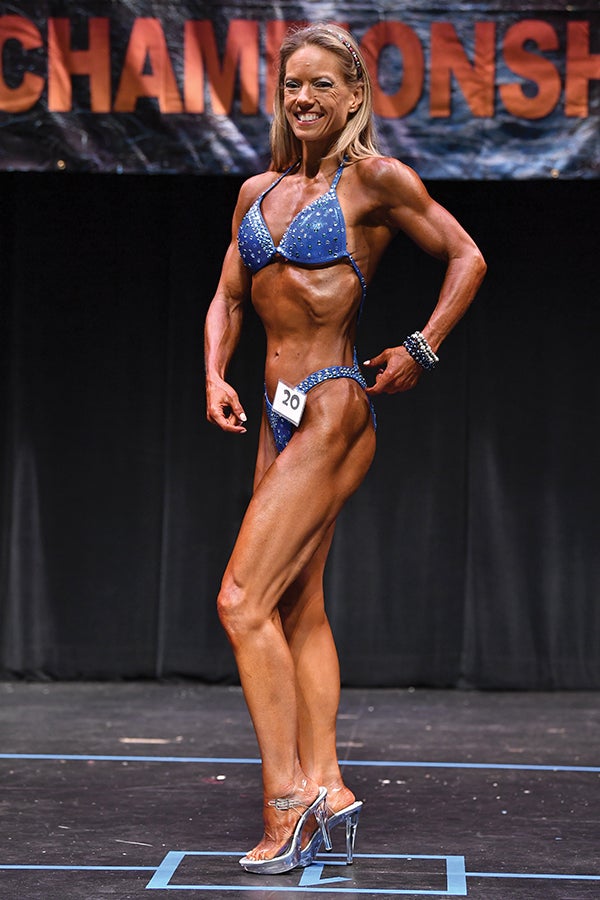 Laurie Foote
Doylestown, Pennsylvania
Stats: 50 • 120 lb (112 lb contest) • 5'3"
Gig: Co-owner of an organic fair-trade food company
Arnold's Advice
When Laurie Foote decided to start lifting, she cracked open a famous book for instruction. "I read Arnold Schwarzenegger's Encyclopedia of Modern Bodybuilding and followed it to the letter for my first few years of training," she says. Three decades later, Foote still heads to the gym six days a week, and she has added HIIT, barre class and yoga to her routine over the years for variety.
Figuratively 50
With her 50th birthday looming, Foote set a goal to compete in a natural figure competition — her first since 2011. "I wanted to look and feel great for my birthday and experience the fun, hard work and accomplishment that comes with competing," she says. In May 2019, Foote entered two figure competitions and won the masters class — the first of which earned her a pro card. In August, she did two more shows and finished first in masters over 45 and true novice and second in her open figure class.
Cheat Busters
Foote spends a few hours every weekend prepping raw veggies, cutting them up and putting them into reusable containers. "Whenever I want something decadent, I'll tell myself, Eat a container of veggies and then you can have it," she says. "Nine times out of 10, I'm full and satisfied after the veggies and will forgo the indulgence."
Overcoming Obstacles
Throughout her life, Foote has faced challenges such as a thyroid condition, depression and a divorce, and she credits her lifelong fitness habit for her ability to bounce back. "The more active I am, the better I feel," Foote says. "I'm always evolving and trying to live my life in a more conscious, caring and intentional way."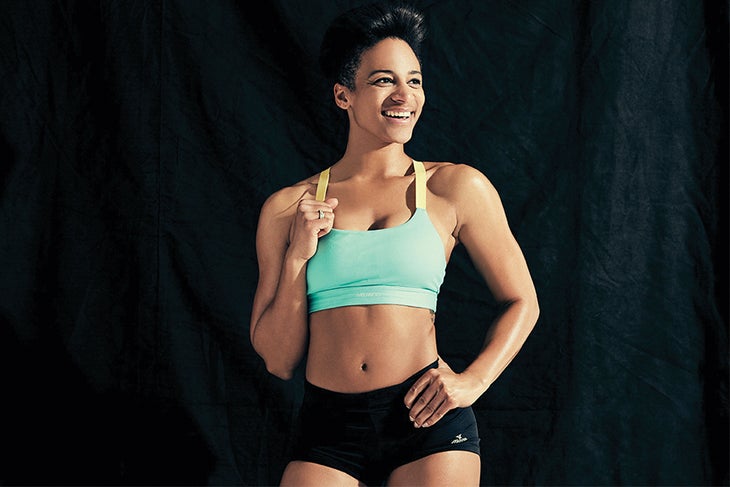 Sarah A. Hipps
Denver, Colorado
Stats: 33 • 127 lb • 5'5"
Gig: Personal trainer
Social Support
While social media is vilified for its negative impact, trainer and aspiring influencer Sarah A. Hipps (@sahipps) finds it uplifting. "Honestly, my followers are my biggest motivation," she says. "I'm always taken aback when I honestly and openly share my struggles and receive comments and messages filled with support and love. It truly keeps me going."
Training Trajectory
Hipps started weight training in high school to build strength and stamina for volleyball, which earned her a Division 1 starting setter role at George Mason University. These days, a typical week for her involves a four-day bodypart split and two cardio sessions. "My training varies between high-volume and low-volume supersets and tri-sets," Hipps explains. "I love weightlifting. I get to feel powerful, like I take up space in the world, and the aesthetic results aren't too bad, either!"
Plead the Fifth
To help her find balance between enjoying life and meeting her fitness goals, Hipps developed a unique nutritional approach. "I call it 'every fifth food," which means that every fifth thing I eat can be nutritionally superficial," she says. "If I wake up and want a donut, I'll decide when — not if — I want to have it that day. Or if I'm going out with friends later, I will eat [clean] during the day so I'm not the odd man out at happy hour."
Radical Rut Buster
Hipps is a big believer in pushing the limits of your comfort zone. "In 2015, while recovering from meniscus surgery, I decided on a whim to move to Denver from Alexandria, Virginia," she admits. "It took me a minute, but after I [settled in], I found my best physique and the most balance I've ever experienced."
Calling All Fit Women:
Think you have what it takes? Send your story to futureoffitness@oxygenmag.com.