Christina Bryant: The Incredible Shrinking Woman
Christina Bryant went from sickly to strong with consistent training, healthy eating and a promise about a bikini.
Heading out the door? Read this article on the new Outside+ app available now on iOS devices for members! Download the app.
When I come face to face with my old vices … I find ways to keep myself busy and active.
Christina Bryant grew up in the South with a single parent, and in her world, unhealthy food was normalized and fresh fruits and vegetables were financially unavailable. Food became a sign of comfort for her, an issue that persisted into adulthood. But one day when she was 28 years old, Bryant went for a yearly checkup and life as she knew it imploded. Tests revealed that she had high blood pressure, was morbidly obese and was borderline diabetic. "I was given two options — workout and save my life or become another female African-American statistic," she says.
The Road Back
Bryant decided not to resort to medication (her doctor's suggestion) and wanted to get healthy the natural way. She was afraid to go to a gym, so she started to walk on a nearby trail every day for 30 minutes. After six months, Bryant had shed 50 pounds and set her next goal: to "comfortably fit" into a bikini.
Bryant's friends encouraged her to give weight training a try, so she took a leap of faith and joined a local gym. She enlisted the help of a personal trainer and nutritionist and got to work. "The first exercise I learned to do was a pull-up," she says. Twice a week, Bryant would begin and end her training session with assisted band pull-ups. "I struggled at first, but I practiced as much as I could until I was able to do 10 without assistance."
Changing her eating habits was the next hurdle, and her nutritionist provided a step-by-step plan that took the guesswork out of healthy eating. "I stopped looking for comfort from food and instead found comfort in knowing that if I did eat something outside of my meal plan, it was OK and sometimes necessary for mental balance," she says.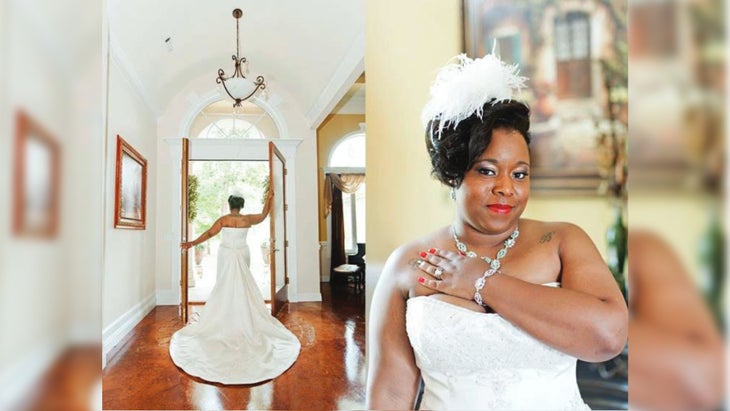 Bikini-Bound
In 2016, almost three years after her unspeakable doctor's visit, Bryant and her friends went on a girl's trip to a beach resort. She was officially down 100 pounds from the day she started, and as soon as she got to the beach, she had the breakthrough moment she had been waiting for.
"My confidence came out of nowhere," she says. "I slid my coverup off and strutted my stuff in a bikini as soon as my feet hit the boardwalk." Once home, Bryant was training one day when she saw a video playing at the gym of iconic bodybuilder Lenda Murray doing a posing routine. "I had never seen a woman so electrifying and unapologetically confident," she says. "I told myself if she could do it, so could I."
Just like that, Bryant began preparing for a competition. She lost her remaining 40 pounds to reach her goal weight of 130, and in October 2020, she took to the stage at the Chicago Pro, making her debut as a women's physique competitor. She placed third and earned an invitation to the prestigious Arnold Classic in 2021.
Fundraising and Family
Today, Bryant is a personal trainer and motivational speaker and is passionate about helping others reach their weight-loss goals, including those in her community. Every year, she spearheads a back-to-school fundraiser focused on gathering school supplies and providing healthy food for local children and their families.
Bryant credits her mentors, friends and family for her success, including her father, who now refers to her as "the shrinking woman." She believes the people you hold close are not only there to celebrate your wins but also to hold you accountable and help you succeed.
Stats
Location: Warner Robins, Georgia
Age: 35
Height: 5'2"
Weight before: 270
Weight after: 126
Occupation: Personal trainer, motivational speaker and philanthropist
Fast Facts
Favorite body Parts to train: hamstrings and glutes.
Favorite exercises: dumbbell deadlifts and hyperextensions.
Did you lose a ton of weight? Overcome insurmountable obstacles and come out the other side fit and healthy? Then we want to hear from you! The Oxygen Transform section is dedicated to giving women a chance to share their journeys with others who may also be struggling with weight loss, and give them the hope and motivation to continue forward and succeed as well. Apply here.