Today Is A New Day
Jessica Crow ended a lifetime cycle of abuse and lost 160 pounds!
Heading out the door? Read this article on the new Outside+ app available now on iOS devices for members! Download the app.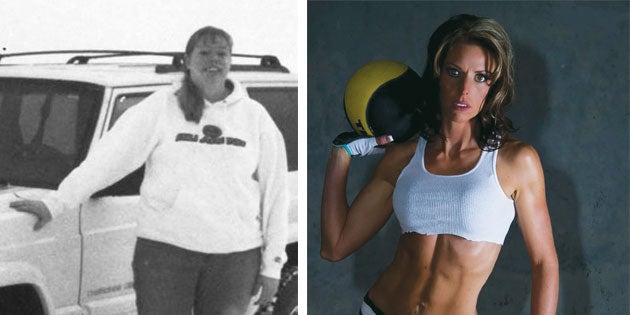 Name: Jessica Crow | Hometown: Salt Lake City | Age: 36
Height: 6' | Old weight: 298 lb | Current weight: 137 lb
Occupation: Human resources benefits/wellness manager
Nugget of nutritional advice: "Don't buy junk food at the store if you have a craving. Instead, if you want something like ice cream, go to the ice-cream parlor, have one little scoop and be done."
You've read the statistics: Abused children often marry into abusive relationships, and Jessica Crow fell into that pattern. "I had been abused in many ways from the time I was born throughout my life, and in my 30s, I entered into an abusive marriage," Crow says. "I have endured hell in most definitions of the term, and food was my piece of heaven within the walls of fire. I had become numb to life, and gaining weight allowed me to hide as well as have 'control' of the situation, as I had no control over what others had done to me."
When she finally ended her marriage, she also decided to end her struggle with food and weight. "I started dieting but was very uneducated in the realm of nutrition and exercise and couldn't really afford to hire someone to teach me the ways," she says. "I decided to restrict calories by eating cereal for three meals a day and began 'running' outside, which was really a shuffle because that was all I could manage."
Eventually, she did some research on nutrition and metabolism and decided to eat according to the glycemic index, which proved highly successful for her. She also purchased a treadmill and some dumbbells and started training in her basement. "I did everything I could to remove excuses from my world," she says. "I followed the routines I found in Oxygen magazine and bought some workout videos."
As the weight peeled away, Crow discovered that everything she had been told about her physical person during her lifetime had been false. "I realized I truly was not, nor ever had been, 'big boned,'" she says. "It was a label I had been given as a child as an excuse to why I was not thin. I had always been 20 to 40 pounds overweight, so when I started to diet, I was worried that I would never be successful or beat that label. Boy, was I wrong."
With consistent work, Crow shed 161 pounds in three years — more than half her starting weight. "Now I don't have to strategize about how to get off the couch, how to buckle an airplane seat belt or even walk up the stairs," she says. "I sleep better, my joints are healthier and, most of all, I don't feel like I'm worthless."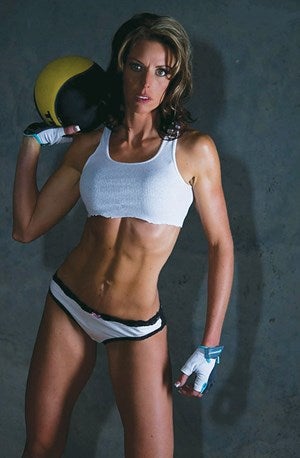 And — just to prove that she could — Crow entered a figure competition in 2012 and placed fourth in the tall division. "What a proud moment in my life," she says. "Anything really is possible."
Crow hopes to compete again soon, this time with more added muscle. Her advice to those struggling as she did: "Today is a new day with new opportunities and new chances to be your best. I lost the weight without a trainer, nutritionist or even a gym membership. The light at the end of the tunnel will get closer. Just don't give up and be proud to be you."
What was your 'aha' moment?
My grandfather fought a brutal battle with congestive heart failure. Before he passed, he said he wanted me to be happy and healthy. I truly took that to heart and decided it was time to change my life, my lifestyle and what actions surrounded my everyday world.
Once you decided to make a change, did you set any goals?
I just wanted to feel good about myself. I wasn't focused on a number as I knew I would become obsessed with it, and if I didn't hit it number would only be disappointed and depressed.
Did you join a gym?
Not until after I had lost some weight. I was embarrassed to be around people that I thought would judge me. I didn't want to feel powerless in a place that people might look at me sideways for trying to better myself.
What was the hardest part about changing your eating habits?
Erasing all of the bad habits, such as low-calorie eating, from my mind. It was against everything I was ever taught. Learning that I needed to fuel my metabolism and eat more food versus starving was difficult to believe and do at first. After I saw the fat melting off, I started to believe it.
Do you have any mantras you'd like to share?
I am always trying to be better than my best. Today is a new day, with new opportunities and new chances to be your best. You don't know if you don't try and failure is always a part of success. It's the long term goal to keep in mind, not the stumbles you make today.
What is your favorite bodypart to train and your favorite move for that part?
Shoulders. I love isolated dumbbell lateral raises to get my fire burning. To see the changes take place in my shoulders over the years has been incredible.
What is your weekly training split?
Monday: back and shoulders
Tuesday: Legs
Wednesday: Off
Thursday: Arms, abs and calves
Friday: Back and a mini-leg session
I do cardio everyday (it helps to wake me up) and I do yoga three times per week.
What do you do for cardio – how long and how often?
I incline walk or do HIIT sprint intervals. I do 30 minutes 4 days per week and 45 minutes 3 days per week.