10 Winter Fruits and Vegetables to Add to Your Plate
Don't forget to stop by your market's produce patch to pick up these seasonal winter fruits and vegetables.
Heading out the door? Read this article on the new Outside+ app available now on iOS devices for members! Download the app.
It's the time of year when immune health is a trending topic. Whether you're turning to nutrition for disease prevention or treatment, the good news is that the Center for Disease Control and Prevention (CDC) agrees you can't go wrong adding more of the bountiful produce selection available this time of year to your diet.
While it may be surprising, citrus fruits actually come into season this time of year. Yes, vibrant oranges, lemons, limes and grapefruits can be found in almost every market, providing your body a hefty dose of vitamin C — a potent antioxidant that helps rid your body of free radicals. Free radicals are the "bad guys" that build up in your body over time through things like environmental exposures and can damage cells. For example, even if you yourself don't smoke but you're exposed to secondhand smoke, this may put you at risk for inviting these free radicals that wreak havoc on your immune system into your body. 
Diet can have a big impact on your immune health and your body's ability to kick those free radicals to the curb. Foods that are high in vitamin C go in and act as antioxidants, meaning they scavenge free radicals and rid your body of them. 
With 70 percent of your immune system housed in your gut, it's important to incorporate a variety of produce picks into your daily routine. Consider adding these 10 varieties of winter fruits and vegetables into your diet to feed your gut and, in turn, support your immune health this season! 
1. Oranges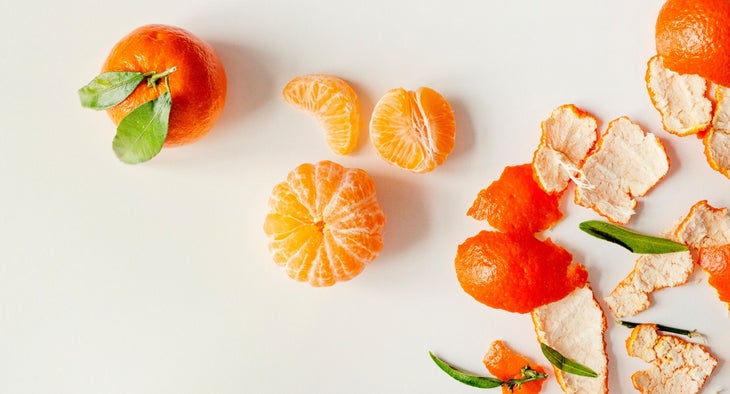 Whether you're munching on a clementine, mandarin or tangerine, you're still eating an orange. They come in a variety of shapes and flavors, meaning you can find the one that suits your palate and reap the benefits of all the nutrients they offer. 
For ease, let's take a standard Valencia orange that is widely available in many markets. One medium orange contains nearly 3 grams of filling fiber for just 60 calories, while packing nearly 58 mg of vitamin C. 
If you're curious if the juice of the orange is OK to swap for the fruit, the answer is it depends on your health and specific needs. While orange juice (and other citrus juices) have been found to play a powerful role in inflammation and immune health, they lack the fiber component that the whole fruit offers.  Consider getting the benefits of the whole orange by tossing it into a smoothie, like this Creamy Orange one.
2. Cabbage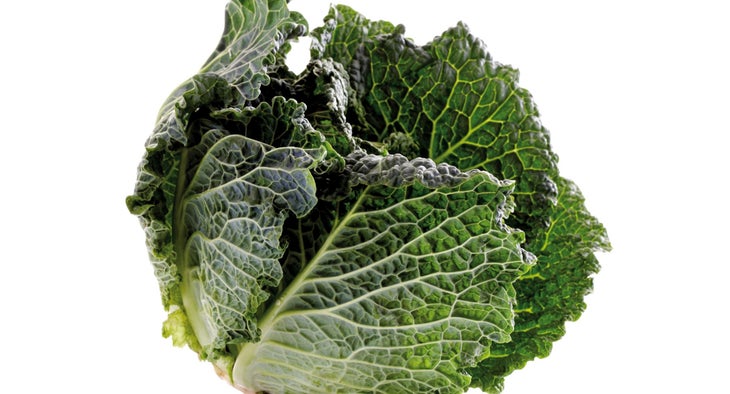 Where are my fellow cruciferous vegetable fans? If you've jumped on the cauliflower train, then you're likely going to love its cousin, cabbage. Filled with fiber at 2 grams for just one cup of its shredded leaves, it's a low-calorie and low-carbohydrate vegetable that is delicious raw and cooked. Plus, it packs about 25 mg of vitamin C, which puts you at nearly 33% of the recommended daily allowance (RDA) if you're an adult female. 
You'll often find cabbage raw and pickled in fermented foods like kimchi and sauerkraut, but it's also delicious cooked with seasonal classics like corned beef during March to celebrate St. Patrick's Day. To get familiar with it in your kitchen, start with this Coconut-Crusted Cod with Potato-Cabbage Sauté. 
3. Collard Greens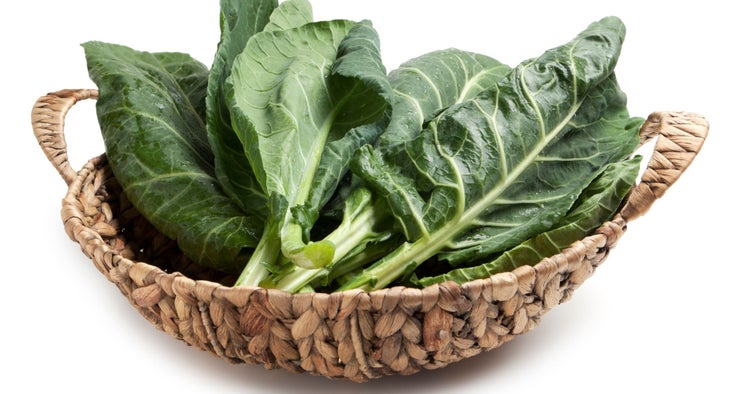 If you like kale, collard greens aren't too far off. Collard greens are a bit larger than kale, yet pack a similar nutrient punch.
Fun fact: just one cup of raw collard greens provides over 100% of the daily recommended amounts of vitamin K for all life stages. Vitamin K is important not only for bone health but is essential (in a good way) for blood clotting. Collard greens also contain vitamin A, fiber, iron, folate and antioxidants!
To get you started on trying out collards in your kitchen, checkout this article: 5 Delicious Ways to Eat Collard Greens. 
4. Medjool Dates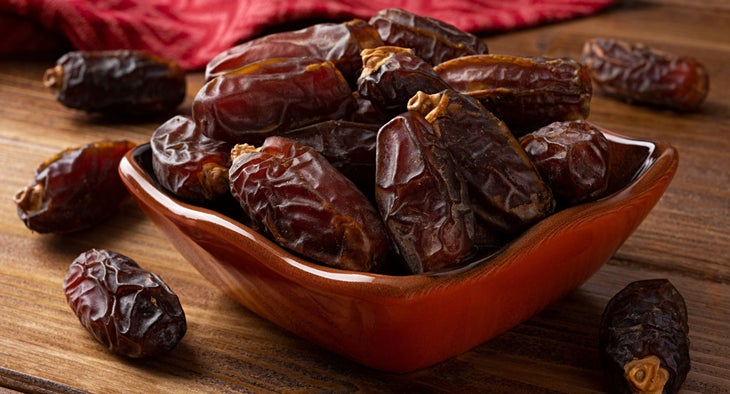 Deliciously sweet, Medjool dates are a great whole food source of carbohydrates that work well as a pre-workout snack! While they're great on their own, they also work really well in recipes to impart that naturally sweet taste. 
Medjool dates are considered a stone fruit, thus have a single pit that is surrounded by that rich, deliciously caramel-like flesh. Just one Medjool date provides nearly 2 grams of dietary fiber in addition to 18 grams of carbohydrates. Medjool dates also offer antioxidants, in which one study found them to be the most potent when compared to other dried fruits such as prunes and figs. 
You can certainly pair them with your favorite nut or seed butter and enjoy them pitted on their own, but I highly recommend making these almond butter protein bars! Making your own energy bars will help save you money while providing your body a wholesome source of nutrition. 
5. Grapefruit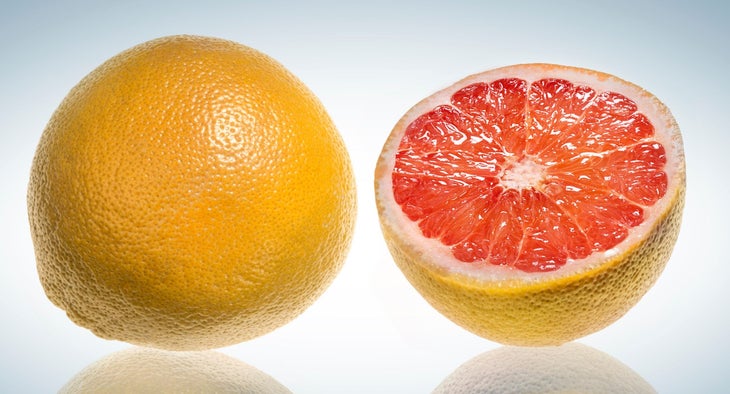 White, red or pink, grapefruits, like other citrus fruits, come in a variety of options. While the nutrients may vary slightly depending on which type you pick up, it packs a powerful punch of vitamin C regardless! Just one half of a pink grapefruit provides 45 mg of vitamin C, nearly 60% of an adult female's recommended daily needs. Plus, half a grapefruit also contains 1.35 grams of dietary fiber to help you feel fuller for longer while aiding in weight loss, too. 
Readers take note: grapefruit is making a comeback! It's not the old-school fruit that your grandma ate, we pinky promise. While you may find it showing off it's beautiful flesh in a trendy cocktail, it's actually really great broiled with a little cottage cheese and cinnamon. You can also try it in a smoothie, like this banana citrus shake. 
If you are on specific medications for your health, be sure to talk with your medical team before consuming grapefruit as there is a potential for medication interactions with this specific citrus fruit.
6. Kiwifruit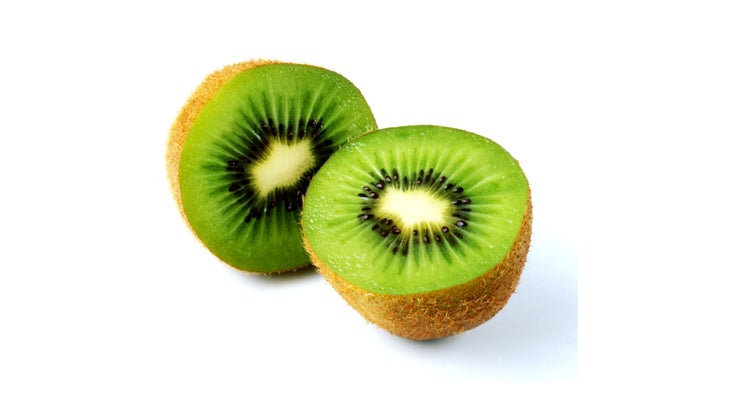 Kiwifruit is not just pretty to look at, it's also a solid source of nutrients. Just one 2-inch green kiwifruit packs 2 filling grams of dietary fiber and 64 mg of vitamin C for just 40 calories. Plus, kiwifruit is a great way to get more vitamin E in your diet, an important nutrient for skin health.
But you need to eat the skin of the kiwifruit to really reap all the skin health benefits this fruit offers. Research has found that the skin of kiwifruit specifically contains a beneficial antioxidant that helps rid your body of the free radicals that can do damage to your entire body, including your skin, over time.
Enjoy the whole kiwifruit sliced or tossed into a bigger meal like this smoothie bowl as a wholesome, delicious snack this season. 
7. Leeks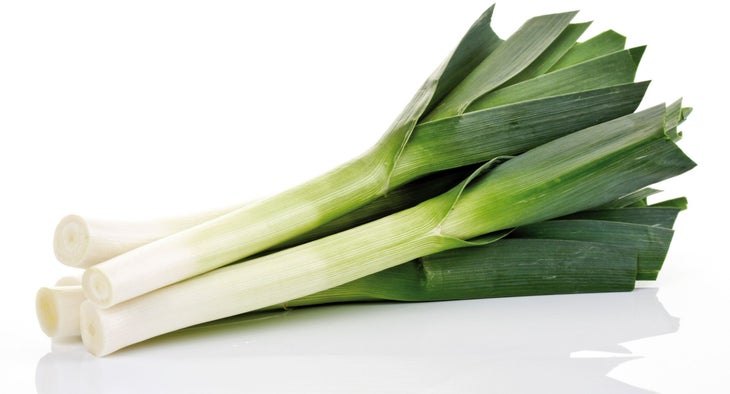 If this vegetable sounds new to you, don't worry. It's actually from the same family as onions and garlic — two produce picks you're likely more familiar with. Its long, sturdy green structure sort of resembles a green onion, yet it has a slightly different nutrient profile. 
One raw leek, about 89 grams, has roughly 50 calories, 2 grams of dietary fiber, and 11 mg of vitamin C. While not as high as some of the citrus fruits in vitamin C, leeks do belong to the allium family of vegetables that have been shown to benefit heart health. 
Try them out for dinner with a recipe like these seared pork chops with apples and leeks. 
8. Lemons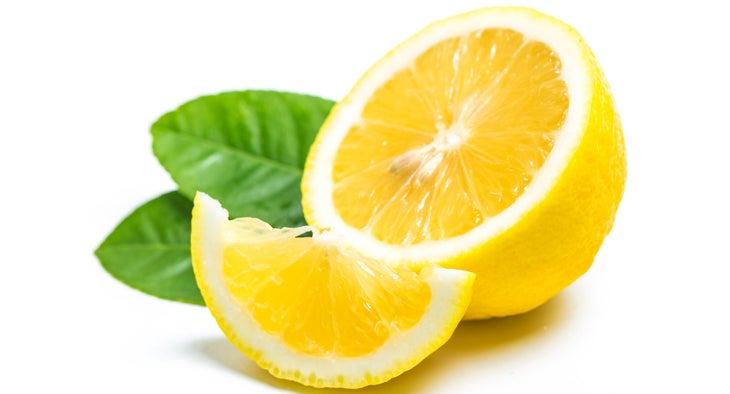 Lemons are quite possibly the most common and versatile of the citrus fruits. Used in numerous recipes yet infrequently consumed on their own (unless of course in water), lemons are filled with vitamin C. The juice of one lemon provides 19 mg (or roughly 30% of the daily recommended amounts for adult females) of vitamin C. 
While lemons also offer smaller amounts of other nutrients, like iron, calcium, zinc and folate, to name a few, they aren't necessarily the food in which I would recommend you to get those nutrients from. Instead, focus on incorporating lemons into your meals for their added flavor profile and what they can bring to your dish. For instance, the powerful flavor of lemon can alter a dish so you don't have to use as much salt or sugar, meaning you're improving that particular recipe's health profile given those two nutrients are typically over-consumed in the standard American diet. 
Try them in a savory recipe like this sausage-tomato flatbread with apricots and grilled lemons, or lean into their sweet side in these lemon yogurt cheesecake bars.
9. Passion Fruit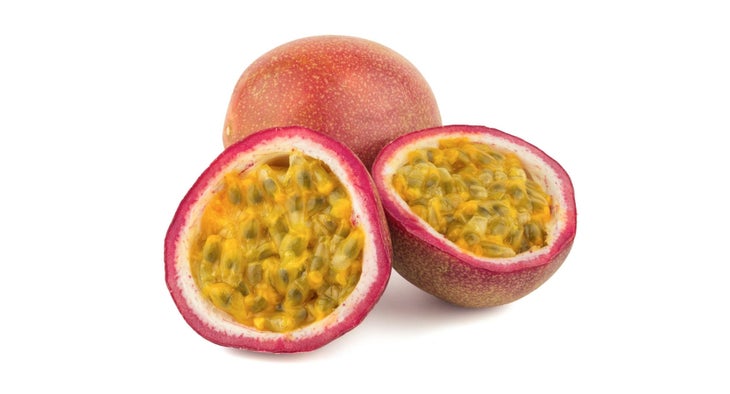 While a tropical fruit at heart, passion fruit can actually be found in subtropical climates across the globe (one of which just happens to be my hometown of San Diego, California!) Passion fruit may be smaller in size (depending on the variety) but don't let that fool you — it's big on nutrition. 
Surrounded by a tough, protective skin, the juicy, seedy flesh is packed with fiber, antioxidants, and a small amount of iron and vitamin C. For instance, an 18 gram by weight passion fruit, raw, packs 2 grams of dietary fiber while providing your body important antioxidants known as polyphenols that help keep your cells in tip top shape. 
For your next gathering, try making these adorable Cheesecake Cups with Passion Fruit Coulis!
10. Parsnips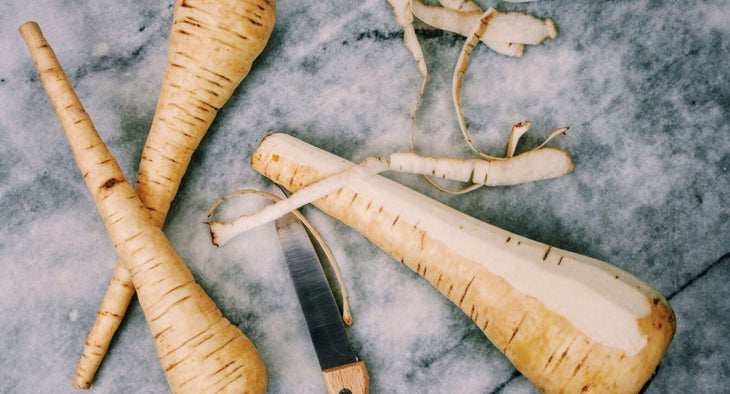 Parsnips are a root vegetable that sneaks into menus this season, and for good reason. Parsnips pack 6.5 grams of dietary fiber in a 1-cup raw serving, meaning they'll fill you up while feeding your gut (again, the powerhouse that keeps your immune system in good shape). That same serving size also yields nearly 500 mg of potassium, an important electrolyte, and 23 mg of vitamin C. 
While you can enjoy them raw on their own or tossed into a salad, they're also wonderful roasted, boiled and creamed into soups, stews and other side dishes. Check out this recipe for a fun twist on chicken soup using parsnips in place of noodles!