7 Protein-Packed Soups for Cozy Nights
Try one of these recipes if you're looking for a comforting, protein-rich option for your next meal.
Heading out the door? Read this article on the new Outside+ app available now on iOS devices for members! Download the app.
Ready for cooler weather? Us, too! And there's nothing like celebrating the changing seasons with a comforting bowl of soup. From classic chicken noodle to kid-friendly tomato soup pasta, the possibilities are endless when it comes to soup recipes.
We know what you're thinking: Soup isn't a typically a "protein-packed" meal. But the seven we've rounded up for you here have over 19 grams of protein per bowl, making them a filling and delicious way to meet your daily nutrition needs.
Plus, soups offer an easy vehicle to add more vegetables to your diet. From tossing in that garden produce that's a little past its prime to a handful of freezer broccoli, there are a variety of ways to increase your total nutrient intake when you add some soups into your meal plan.
Try one of the recipes below for a filling, comforting meal.
7 Protein-Packed Soup Recipes
1. Tomato Soup Pasta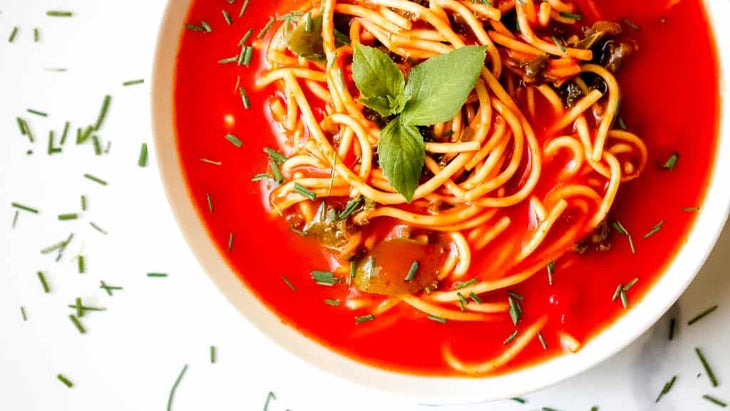 A childhood classic gets an upgrade when you combine the best of both worlds: tomato soup and pasta! Swap your traditional pasta with a chickpea-based alternative to increase the protein and add a hearty dose of filling fiber.
Nutrition Per Bowl
Calories: 252 | Protein: 19g | Carbohydrates: 44g | Fat: 6g | Saturated Fat: 1g | Sodium: 372mg | Fiber: 4g
2. Easy Rotisserie Chicken Noodle Soup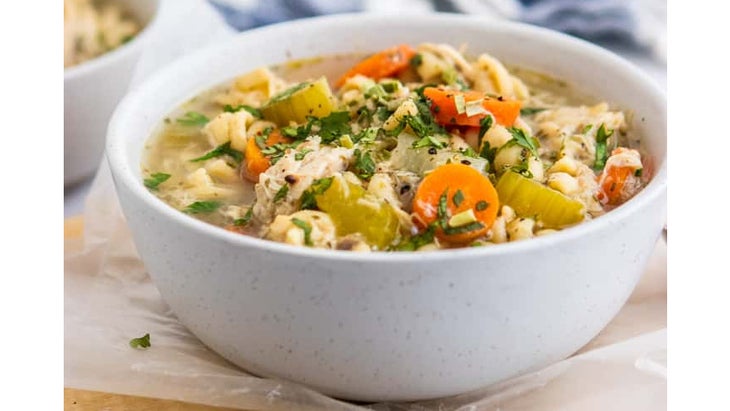 No time? No problem. Grab that rotisserie chicken as you head out of the market and you've got yourself a quick, time-saving hack to make this soup come to life. Packed with 43 grams of protein, it's a delicious way to refuel with a slice of bread after a tough workout.
Nutrition Per Bowl
Calories: 316 | Protein: 43g | Carbohydrates: 24g | Fat: 6g | Saturated Fat: 2g | Cholesterol: 101mg | Sodium: 663mg | Fiber: 2g
3. Chicken Meatball and Barley Soup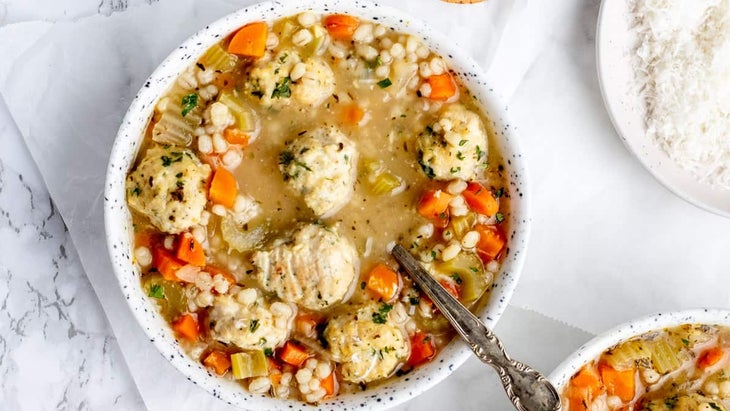 Dive into this comforting bowl of soup that not only packs 30 grams of protein, but also 8 grams of fiber! In addition to the traditional celery, carrots, and onion, there's an unexpected but delightful twist: barley. This unique spin on meatball soup is certainly one you'll want to try out this season.
Nutrition Per Bowl
Calories: 316 | Protein: 30g | Carbohydrates: 35g | Fat: 9g | Saturated Fat: 3g | Sodium: 270mg | Fiber: 8g
4.  Taco Soup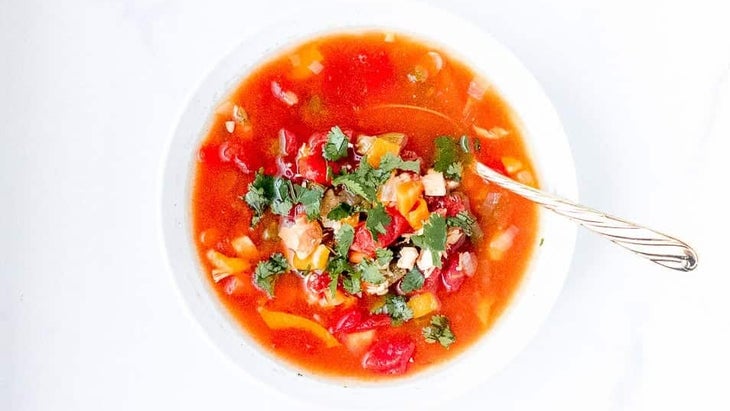 Change up Taco Tuesday by adding this to the menu. With 35 grams of hearty protein and 4 grams of filling fiber, it's an easy way to satisfy and satiate your entire crew. Have some fun with it and pair flaxseed tortilla chips with a guacamole bar to serve on the side.
Nutrition Per Bowl
Calories: 252 | Protein: 35g | Carbohydrates: 16g | Fat: 4g | Saturated Fat: 1g | Cholesterol: 89mg | Sodium: 679mg | Fiber: 4g
5. Hearty Wedding Soup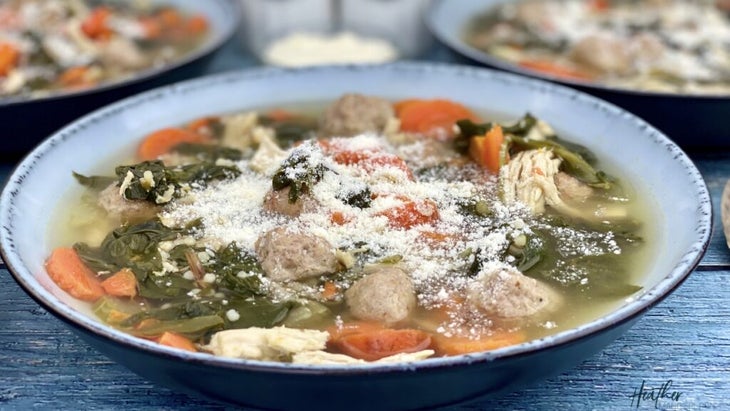 This take on classic Italian wedding soup combines classic meatball flavor with a heart-healthy swap using lean ground turkey. Plus, boneless chicken breast brings the protein per bowl up to 34 grams.
Nutrition Per Bowl
Calories: 280 | Protein: 34g | Carbohydrates: 27g | Fat: 4g | Saturated Fat: 2g | Cholesterol: 90mg | Sodium: 360mg | Fiber: 3g
6. Creamy Crockpot Chicken Wild Rice Soup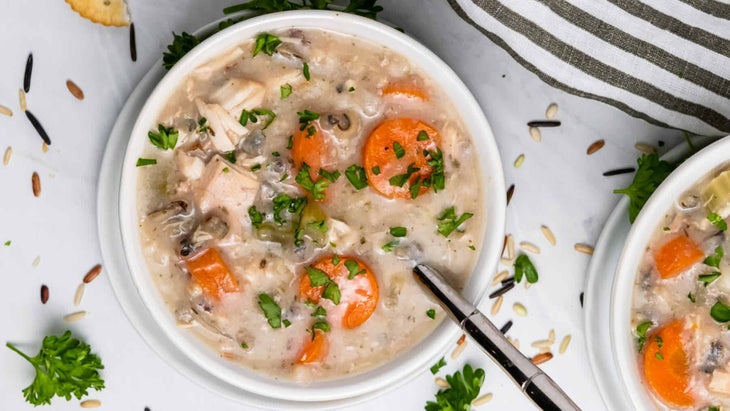 Where are my slow cooker fans? This recipe is for you! This creamy soup combines the wonderful flavors of wild rice, chicken, herbs and spices to create a slow-cooked masterpiece that's ready in about six hours. It's the kind of soup you'll want to start in the morning so you can relish the tasty smell that's taken over your home when you walk in that afternoon. Plus, it packs 28 grams of protein per bowl.
Nutrition Per Bowl
Calories: 272 | Protein: 28g | Carbohydrates: 27g | Fat: 6g | Saturated Fat: 2g | Cholesterol: 62mg | Sodium: 352mg | Fiber: 3g
7. Beef Barley Soup with Sweet Potatoes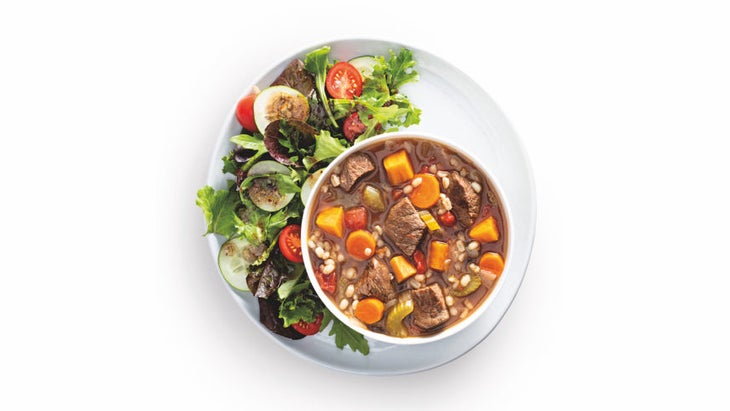 Seasonal sweet potatoes are nestled into classic beef barley soup to create a nutritious and delicious bowl of goodness. With 29 grams of filling protein and 9 grams of dietary fiber, this combination of flavor and nutrients is a wonderful way to nourish your body this season.
Nutrition Per Bowl
Calories: 380 | Protein: 29g | Carbohydrates: 38g | Fat: 12g | Saturated Fat: 3g | Cholesterol: 60mg | Sodium: 400mg | Fiber: 8g