High-Protein Vegan Dishes for Athletes
Embrace the plant-based eating trend — without sacrificing nutrition — with these delicious vegan meals.
Heading out the door? Read this article on the new Outside+ app available now on iOS devices for members! Download the app.
Plant-based eating is all the rage, but to be honest, vegetarian and vegan meals are often inadequate in the protein department. Stay on track with your goals while also embracing a plant-based life with these high-protein plant-based dishes, courtesy of Ella Magers, fitness and wellness coach and author of The Six Weeks to Sexy Abs Meal Plan.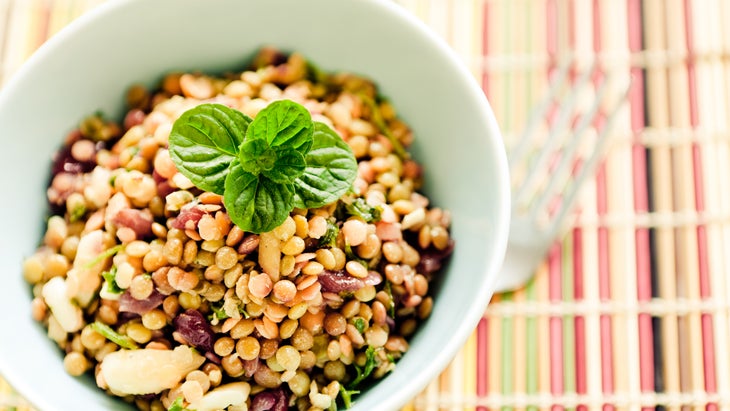 Lusty Lentil Mint Salad
Makes: 2 Servings
Full of tasty greens and textures and packed full of highly nutritious lentils, this plant-based salad is a clean and refreshing choice. 
INGREDIENTS
2 cups lacinato kale (not curly), stems removed, finely chopped

2 tbsp extra-virgin olive oil, divided

1 can (15 oz) lentils, drained and rinsed

1 green onion, diced

½ red bell pepper, diced

15 grape or cherry tomatoes, quartered

⅓ medium cucumber, diced

¼ cup loosely packed mint leaves, chopped

¼ cup loosely packed curly parsley, chopped

½ large lemon, juiced

¼ tsp sea salt
DIRECTIONS
Place kale in a large bowl and add 1 tablespoon olive oil. Using your hands, massage kale to coat and tenderize. Add remaining ingredients and toss thoroughly. Refrigerate 2 hours or overnight.
Nutrition Facts (per serving): calories 487, fat 15 g, protein 27 g, carbs 66 g, fiber 25 g, sodium 260 mg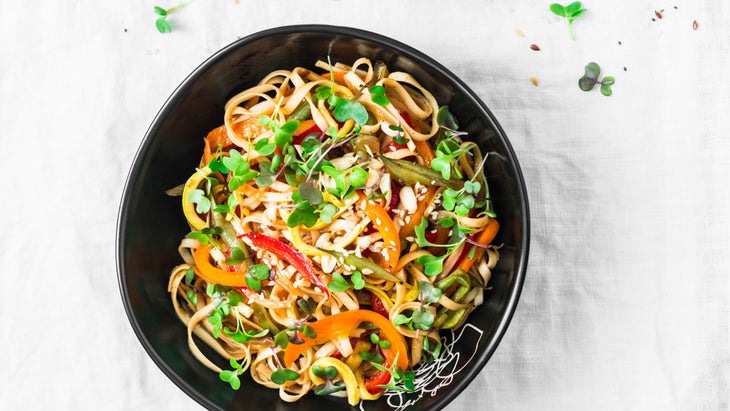 Thai Peanut Zucchini Noodles
Makes: 2 Servings 
This low-carb meal uses spiralized veggies to create a flavorful, fat-fighting plant-based dish. The Thai peanut sauce is rich and satisfying, and the edamame adds a ton of complete protein. 
INGREDIENTS
1 cup frozen, shelled edamame 

2 large zucchini, spiralized

2 large summer squash, spiralized

1 red bell pepper, seeded and finely sliced 

1 large carrot, shredded 

¼ cup dry-roasted peanuts or cashews

1 tbsp black sesame seeds

black pepper, to taste
Peanut Sauce
2-4 tbsp sodium-free vegetable broth 

4 tbsp all-natural peanut butter 

2 tbsp tamari

1 clove garlic, minced

2-4 tsp hot sauce 

2 tsp sesame oil

2 tsp fresh ginger, grated

2 tbsp apple cider vinegar
DIRECTIONS
Bring a medium-size pot of water to a boil. Add edamame and cook 5 minutes, or until slightly tender. Drain and set aside. Spread veggie noodles, red bell peppers and carrots on paper towels and pat dry. In a small bowl, whisk together sauce ingredients, starting with 2 tablespoons vegetable broth and adding more as needed if a thinner sauce is preferred. In a large bowl, combine veggies, edamame and sauce and toss to coat. Divide into 2 plates and sprinkle with peanuts, sesame seeds and black pepper (to taste). 
Nutrition Facts (per serving): calories 513, fat 37 g, protein 21 g, carbs 46 g, fiber 17 g, sodium 1,124 mg
Flirty Farro Soup and Baby Bok Choy
Makes: 4 Servings
This soup is packed with protein, vitamins and minerals, and the high-fiber content will fill you up while improving digestion. 
Flirty Farro Soup 
INGREDIENTS
1 cup farro, rinsed

8 cups vegetable broth

2 cups kale, chopped

1 (14 oz) can diced tomatoes

1 tbsp Italian seasoning

½ cup fresh parsley leaves, chopped

½ yellow onion, chopped

½ large lemon, juiced

½ tsp sea salt

black pepper, to taste 

1 (15 oz) can cannellini beans, drained and rinsed
DIRECTIONS
Place all ingredients except cannellini beans in a slow cooker. Cook on low for 8 to 10 hours. Then add beans and cook 30 minutes more.
Baby Bok Choy
INGREDIENTS
Sauce
2 tbsp tamari

1½ tbsp lemon juice

½ tsp garlic powder

½ tsp cornstarch 

1 tsp sesame oil 

2 stalks baby bok choy, chopped, stalks and leaves separated

1 tsp black sesame seeds, optional
DIRECTIONS
In a small bowl, whisk together sauce ingredients and set aside. Add sesame oil to a skillet and heat over medium-high. Add bok choy stalks and cook 1 minute. Add leaves and saute until tender, about 5 to 8 minutes. Add sauce and cook 2 minutes, or until bok choy is fork tender. Add sesame seeds and serve with soup.
Nutrition Facts (per serving): calories 162, fat 1 g, protein 7 g, carbs 33 g, fiber 6 g, sodium 358 mg
We independently source all of the products that we feature on oxygenmag.com. If you buy from the links on our site, we may receive an affiliate commission, which in turn supports our work.