8 Ways to Stress Less
Say "No" to weight gain by stopping it before it starts.
Heading out the door? Read this article on the new Outside+ app available now on iOS devices for members! Download the app.
A hectic work schedule, indulgent meals not enough workouts and me-time and you've got yourself a recipe for stress and weight gain. "Stress is a negative emotional reaction, but it's to something very specific — an actual threat, danger or challenge," says Daniel Kirschenbaum, PhD, clinical director of Wellspring, a company providing therapeutic weight-loss camps. "If suddenly your demands at work go way up, that's a stressor, and you can handle that perfectly well, or you can handle that by being upset."
What's more, a six-year study published in the Journal of Endocrinology and Metabolism found that people over 65 with the highest levels of the stress hormone cortisol were five times more at risk of dying from cardiovascular disease. But worry not — with Oxygen's guide to stressing less, you can reclaim your good physical and mental health. Are you too stressed? Read on for eight ways to stop stress dead in its tracks.
1. Sleep to control hunger
A no-brainer that goes beyond looking bright-eyed, getting in some extra ZZZs each night can help you avoid weight gain. Here's why: The appetite-stimulating hormone ghrelin increases when you're fatigued, making you crave more of the sweet stuff. In fact, a recent study in San Diego found that injecting subjects who skipped breakfast with ghrelin (as opposed to a placebo) prior to mealtime led them to rank images of calorie-dense foods like chocolate and pizza higher than the lower calorie foods, like salads and fish. And the science doesn't stop there: Studies show that when you are not getting enough sleep, your levels of cortisol rise. This increase can lead to glucose insensitivity and consequent weight gain — particularly around your belly.
>> Do it today: Rearrange your schedule to allow for seven to eight hours of sleep each night.
2. Exercise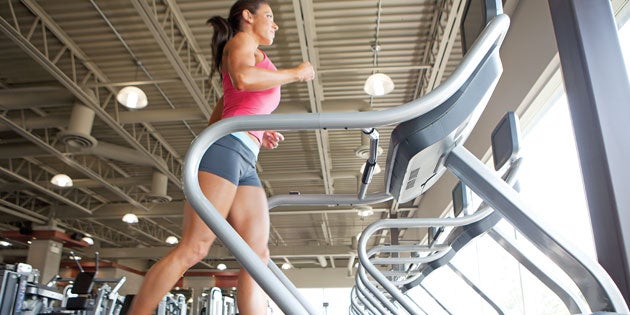 Just 10 minutes of exercise is enough to get your endorphins pumping, says Marjorie Nolan, RD, national spokesperson for the American Dietetic Association. "I think a lot of people feel that if they can't get to the gym for the full hour then it's not worth it. And that's simply not true."
A consistent exercise regimen can get you back on track too, especially if you struggle with emotional eating. "It will help with your sleep patterns and all of those things will help you control your eating, so you eat more mindfully and moderately," Nolan says.
Try starting off your day with a mini-workout to get into the habit of exercise. Denise Austin, fitness expert and author of Get Energy! (Center Street, 2011), says that in order to ward off holiday weight gain and stay energized, it's key to do even something little. "Keep it to 15 minutes, but do something. It could be walking, it could be abs and arms toning – anything to keep your muscles working."
>> Do it today: Bundle up and go for a brisk walk before your workday begins.
3. Learn to manage your time
Say no to that last-minute bake sale you were asked to pull together, and don't be afraid to ask for help. And if you're going through a particularly stressful period, Kirschenbaum recommends asking for a hand to help with the load. "If you do most of the cooking at home, for example, then ask your significant other to pitch in and do a little bit of cooking," he says. "Have someone take care of some of your chores to reduce your stress while you handle a particular challenge."
>> Do it today: Take one chore off your plate: Hand over laundry duty!
4. Breathe deeply
You don't have to be a yogi or meditation expert to reap the benefits of meditation, Nolan says. "Putting both feet on the floor, turning out the lights, giving yourself 10 minutes in a quiet place where you just deeply breathe is meditation." No matter what the form – taking a slow, peaceful walk, listening to soothing music, having a cup of tea – actually taking the time to slow down is key. Even a few deep breathes at your desk can help.
>> Do it today: Run a warm bath, turn down the lights and soak.
10 minutes of exercise is all it takes to get your endorphins pumping, according to marjorie nolan, RD, ADA spokesperson. Start with short bouts of exercise, and build up your time.
5. Abolish stress-related cravings
Sure we all have those ravenous "I need a box of cookies now" moments, but you can ward off cravings and unnecessary calories by getting to know what your body really needs. "Stress can have a huge effect on your hunger and fullness," Nolan says. "Typically people who are fatigued are more hungry; they perceive that fatigue as low-blood sugar and tend to eat a lot more, especially in the winter months when it's dark out and colder out." Your first step: Drink enough water, and nix excess caffeine. "If you're stressed and working a lot more, it's natural to drink more coffee, which is going to dehydrate you more. And when you're dehydrated, your body craves sweets — drinking enough water will help you get in touch with your hunger and fullness."
>> Do it today: Start by drinking two glasses of water with your breakfast and at meals.
6. Eat mindfully
Don't eat your lunch while working — really! "When we're eating on the go and rushing around, it's natural to feel like you didn't eat because you didn't take the time to have the experience of eating," Nolan says. "Put everything aside and just eat and be in the meal."
>> Do it today: Recruit a couple of colleagues to eat with you in the lunchroom and put a ban on work-related discussions.
7. Log it
All those "pick-me-ups" — M&M's, sugary coffee drinks — can easily add 500 calories to your day. To avert those extra calories, Kirschenbaum says to keep track of what you're eating by jotting it down – all the details in terms of calories and fat grams – which will help you stay committed to your goals. This also works for those people who undereat – yes, we're talking to you, breakfast skippers. Committing to balanced meals and snacks will keep you from bingeing at the end of a stressful day.
>> Do it today: Buy a notebook at the dollar store and write down everything you eat and drink (Yes, even those extra jelly beans you snatched up during your meeting!).
8. Reposition your thinking
Have a glass half-full instead of a glass half-empty mentality — it works. Every day when stressors inevitably come up — all the treadmills are taken at the gym, your car breaks down – try to change your thinking.
>> Do it today: Instead of saying: "I will never lose these 10 pounds," say: "I can easily lose 10 pounds by exercising a little each day and eating more healthfully."