Athlete Spotlight: Amber Dawn Orton
Baby-on-board new mom Amber Dawn Orton finds new ways to stay fit while cutting herself some slack.
Heading out the door? Read this article on the new Outside+ app available now on iOS devices for members! Download the app.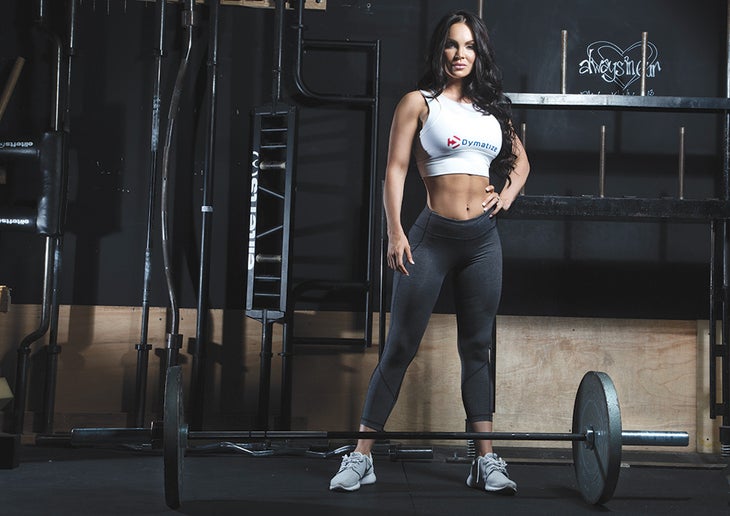 Amber Dawn Orton wears many hats to fulfill her desire of helping others reach their health and fitness goals: National Physique Committee judge and fitness model, endorsed athlete, posing instructor, personal trainer and owner of ADOFitness. But it's her latest role — mother to a 5-month-old boy — that is her newest passion. "I absolutely love being a mom," she says. "However, it definitely makes health and fitness even more of a challenge."
As many new moms quickly learn, your personal routine is no longer the priority. And with that acceptance comes a new way of doing things. "Being a mom has taught me patience and balance in all aspects of my life," says Orton, who is sponsored by Dymatize. "Now I don't get down on myself if I miss a workout; I just focus harder on my nutrition. And I find ways to work in exercise with the baby now. Even if I have to strap him to a front pack and walk on the treadmill, I just find a way to move!"
With her newfound respect for realistic options, Orton doesn't believe there is just one path to reach your health and fitness goals: "I have an open-minded diet philosophy that creates sustainability for the individual, meaning I customize programs for what's maintainable over the long term, in everyday life."
Amber's workout schedule:
Monday: Glute-focused leg day + HIIT cardio
Tuesday: Shoulders and abs
Wednesday: Rest
Thursday: Back and shoulders + HIIT cardio
Friday: Lower-body plyo and abs
Saturday: Rest
Sunday: Arms and chest + HIIT cardio
Amber's Playground-Inspired Circuit
Want to work out at the park while your children burn off their own energy? It's easy to keep an eye on your little ones while doing this full-body circuit:*
60 jumping jacks
1-minute wall sit (or tree or any surface you can sit up against)
20 push-ups on a bench
50 crunches
40 step-ups (Use a chair or bench.)
45 air squats
20 triceps dips (Use a chair or bench.)
1-minute high plank on wrists
45 seconds high knees in place
45 walking lunges
20 push-ups on ground
20 hanging knee-ups for abs (Find something to hang off of at the playground and bring your knees to your chest.)
*Repeat three times through as fast as possible, with three to five minutes of rest between rounds.
Why Amber's Staple Product Is Dymatize's Glutamine Micronized
"Glutamine is amazing for recovery, but it's also great for digestive health — which a lot of people don't realize. So I take 5 to 10 grams postworkout and before bed to maintain gastrointestinal health because it's a vital nutrient for the intestines."