No Excuses
IFBB Figure Pro Tara Ramos shares her tips for making time to get (and stay) in shape.
Heading out the door? Read this article on the new Outside+ app available now on iOS devices for members! Download the app.
Everyone always asks me, "How do you do it? How do you have the time to workout? How do you have the time to eat healthy? How do you find the motivation?" As a busy mom of two, wife, Pediatric RN, owner of Fit Mom Personal Training, and IFBB Figure Professional, my answer is simple, I make time.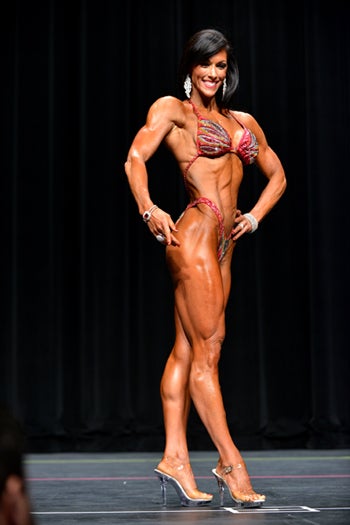 I wake up very early every morning, before the rest of my family is awake to get my workout in. I sacrifice one hour of sleep so that I can make time to workout. Every Sunday, I prepare our meals in advance, so we don't make poor decisions when we're starving. I always keep Divine Natural Blend Protein on hand in case I don't have time to eat a meal.
My motivation comes from many different sources. For one, after having my second child I wanted to show other moms that it is possible to get in the best shape of your life, even after having children. I did just that, I entering my first NPC competition just 12 months after my daughter was born. Little did I know I would fall in love with the sport, and one year later become an IFBB Figure Pro. My past battle with anorexia is another source of motivation. In high school and college, I whittled away and became overly obsessed with losing weight. I want to inspire other women who are battling these debilitating disorders to get healthy and get help. My number one motivation, though, is my children. I want to be a healthy role model and educate my kids to have a healthy relationship with food and teach them the benefits of a physically fit lifestyle.
Day in and day out, I hear excuses from both men and women that they don't have time. Well for me, that's just not good enough. You CAN make time and you CAN achieve your goals. Here are my tips for making NO Excuses:
1. Plan. I always plan my week on Sunday. I have an old-fashioned planner that I keep out on the counter, and I write everything down for the week. From appointments, to workouts, to kids activities. That way with a quick glance, I can see what I have going on that day, and I don't have to stress.
2. Prepare. Every night before I go to bed, I set out my workout clothes, headphones, Divine Nutrition Protein, towel and gym bag. And I set my alarm clock.
3. Meal Prep. On Sunday afternoon prep all your meals for the week. Cook everything, measure it, put it in bags or containers, and store it. I place my food for Monday and Tuesdays it in the refrigerator, and the Wednesday thru Saturday food goes in the freezer. Then as the week goes on, I just take out the day's food 24 hours in advance.
4. Set Goals. As a competitor, setting goals is part of the game. But even as a non-competitor, you should be making goals that you can strive for. Make them measurable and attainable.
5. Relax. Take a deep breath. Life is a juggling act. And we are not all perfect. Make sure you take some time to relax and enjoy the moment. It's too easy to get caught up in the checks and balances of each day. Visualize your success and think positive.
This post was presented in partnership with Divine Nutrition.