A Fit Female's Guide to Heart Disease
You're already exercising and eating right. Here's advice for the gym-going crowd to keep this devastating disease away.
Heading out the door? Read this article on the new Outside+ app available now on iOS devices for members! Download the app.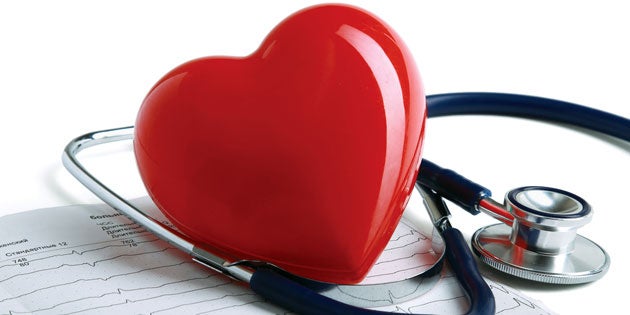 Think that cardiovascular disease — the number one killer of women — can't touch a four-day-a-week, clean eating female like you, right? Think again.
Heart disease is the short name for coronary heart disease — a disorder of the blood vessels of the heart that can lead to heart attack. It is one of several cardiovascular diseases, which are diseases of the heart and blood vessel system and include stroke, high blood pressure, angina (chest pain), and rheumatic heart disease — to name a few.
According to the Centers for Disease Control, heart disease is the leading cause of death for women in the U.S., contributing to 1 in every 4 female deaths. Almost two-thirds of those who die of coronary heart disease experienced no symptoms, which means that you could have heart disease and not even know it. So despite your fit lifestyle, it can still affect you.
However, your lifestyle also changes how you should approach preventing the disease. You are already exercising. Hopefully, there's some heart-pounding cardio or intervals in the mix since they help strengthen the heart muscle and keep the blood flowing through the blood vessels. But what other things should a fit female do to keep her risk of heart disease low? Read on to find out.
Know Your Family History
"It is important to know if there is a family history of sudden cardiac death or heart attack," says Mary Ann McLaughlin, MD, Medical Director of the Cardiac Health Program and Co-Director of the Women's Cardiac Assessment and Risk Evaluation Program at The Mount Sinai Hospital in New York City.
The other thing about a family history is that sometimes you don't know what someone may have died from. For instance, you may know that a family member died of a heart attack, but you might not know that it was caused by an arrhythmia, which is an irregular heartbeat. The distinction is important. "There are certain genetic dispositions that can cause arrhythmias that lead to cardiac arrest," says Dr. McLaughlin. "If there is more than one person in your family dying suddenly of a heart attack, it is important for you to get checked with an echocardiogram to make sure that your heart is strong, because sometimes it is not noted until something like an arrhythmia happens to them."
Talk to Your Doctor About Tests
The first tests to chat up your doctor about are cholesterol and lipo protein a. "Once we know that someone has a family history, I pay special attention not only to someone's lipid levels, but what is called lipo protein a, because it is a lipid particle that is similar to LDL cholesterol, and it can create a higher risk for heart disease and heart attack. And if she does have it then she really will have to keep her LDL cholesterol well controlled," Dr. Laughlin says.
And the second is C-reactive protein (CRP), which Dr. Laughlin says doctors test in people who have cardiovascular risk factors, such as family history, high cholesterol and high blood pressure. "We know that having a low number [of CRP] is associated with a low risk of heart disease; but just because it is low it isn't the end all be all. We know that people who have an increased number of CRP —whether it is caused from rheumatoid arthritis, valve disease, or any other inflammatory process in the body — that it increases the risk of heart disease in the body," she says.
Control What You Can Control
There are things that you can control that will lessen your heart disease risk. Don't smoke. Make sure your blood sugar is stable. Watch your salt consumption, as in don't eat too much. You will want to do all of these things, especially if you cannot manage the amount of inflammation in your body. One thing you can do about inflammation is allowing your body to recover from your workouts. For tips on how to do that, see these 3 Simple Steps for Recovery.
Avoid High Blood Pressure
Talking about things that you can control: blood pressure. Recently, the first scientific statement from the American Heart Association on heart attacks in women was released, and it states that high blood pressure is more strongly associated with heart attacks in women. If your blood pressure is elevated, work with your doctor to find ways to lower it.
Manage Stress
We already know that you're driven. You have to be to maintain your workout and nutrition schedule. So how do you manage your stress? Do you have a plan for that? You should, and the sooner the better. The tendency to become easily stressed during early adulthood is linked to a heightened risk of developing high blood pressure in later life, suggests an observational study of published online in the journal Heart.
Spend as Much Time Socializing as Exercising
Social connections have long been associated with improved heart health. In fact, it is one of the corner stones of Dean Ornish's "Reversal" Plan, a scientifically proven program that undoes heart disease.
A recent study in the Proceedings of the National Academy of Sciences linked social relationships with measures of physical well-being such as abdominal fat, inflammation, and high blood pressure, all of which can lead to heart disease and stroke if not managed.
The researchers at the University of North Carolina at Chapel Hill found that a person's social network has varying effects depending on where they are in life. Specifically,
• Social isolation increases risk of inflammation by the same amount as being sedentary while social integration has a protective effect during adolescence.
• The number of social connections isn't important in adulthood, but what those connections provide in terms of social support or strain is.
• In old age, social isolation is actually more harmful to health than diabetes when it comes to developing and controlling hypertension.
Keep Your Fit Lifestyle
Exercise and diet are strong preventive measures to take against heart disease. Keep it up and the disease will need to work harder to claim you as a victim.