Fit Retreat Review: Brooke Burke Body Transformation
Fitness model, TV personality and entrepreneur Brooke Burke takes women on a three-day mind/body/spirit journey through self-discovery.
Heading out the door? Read this article on the new Outside+ app available now on iOS devices for members! Download the app.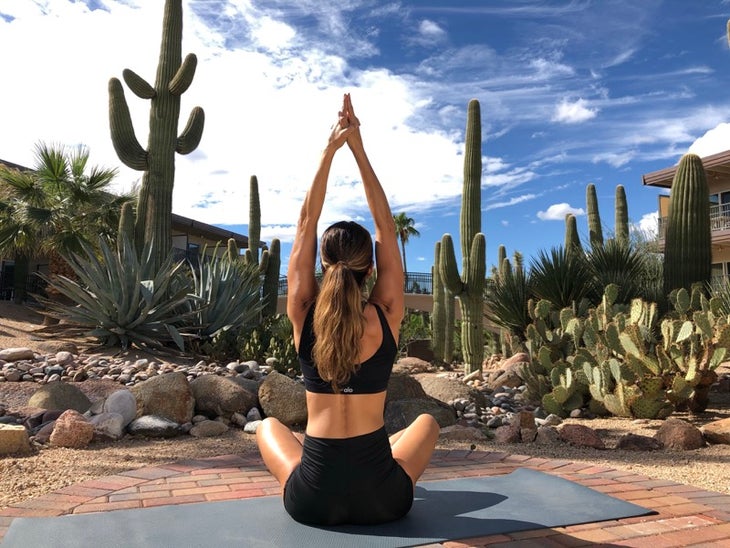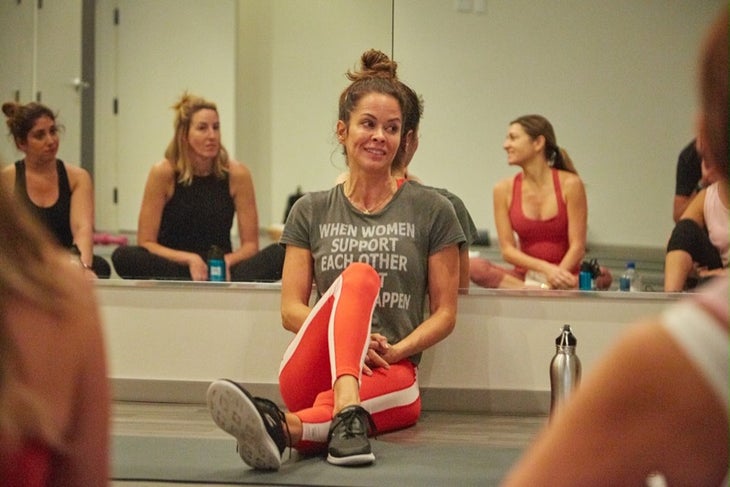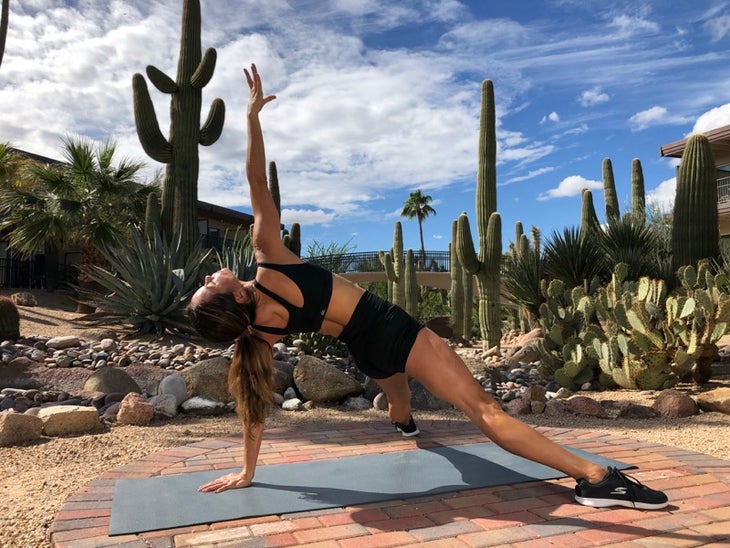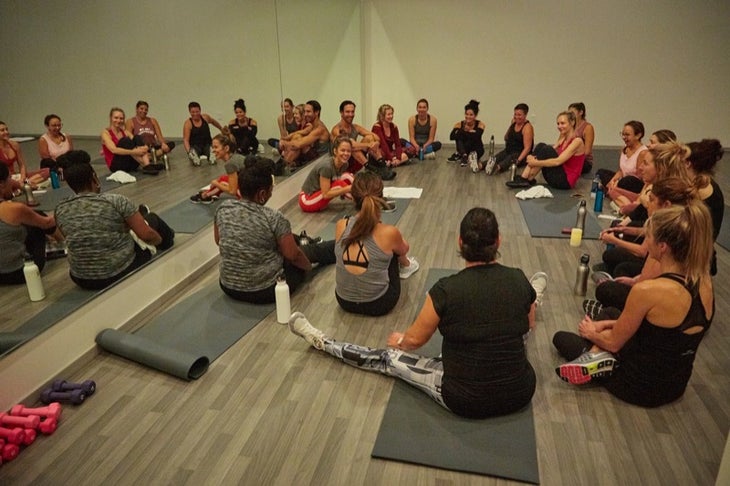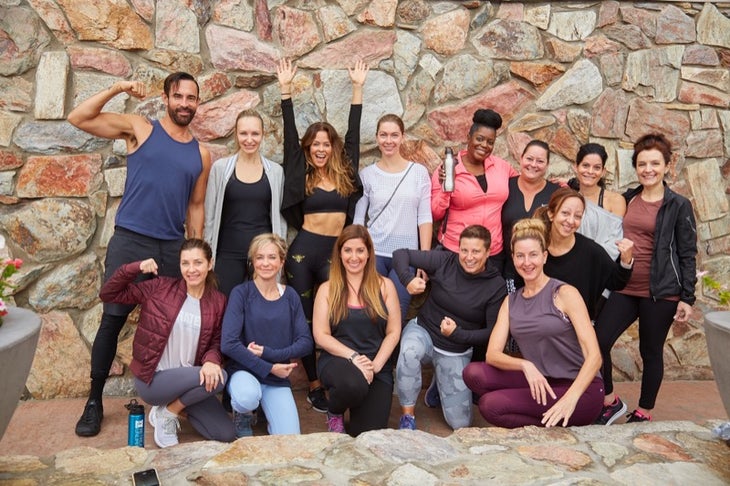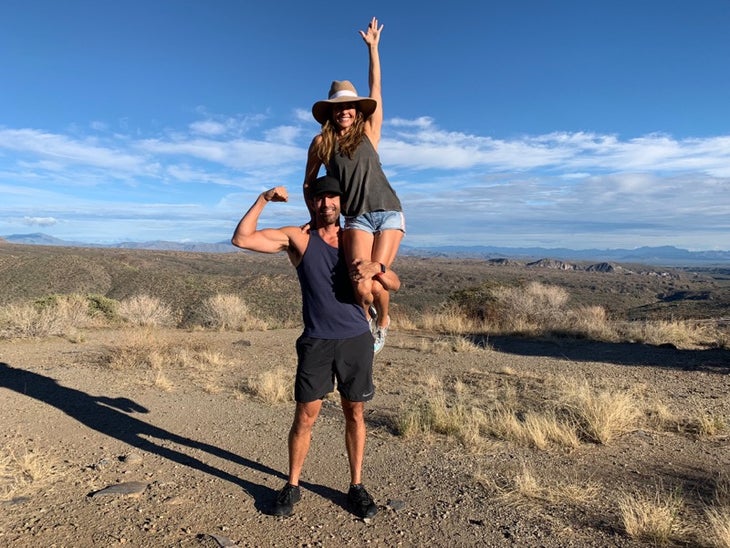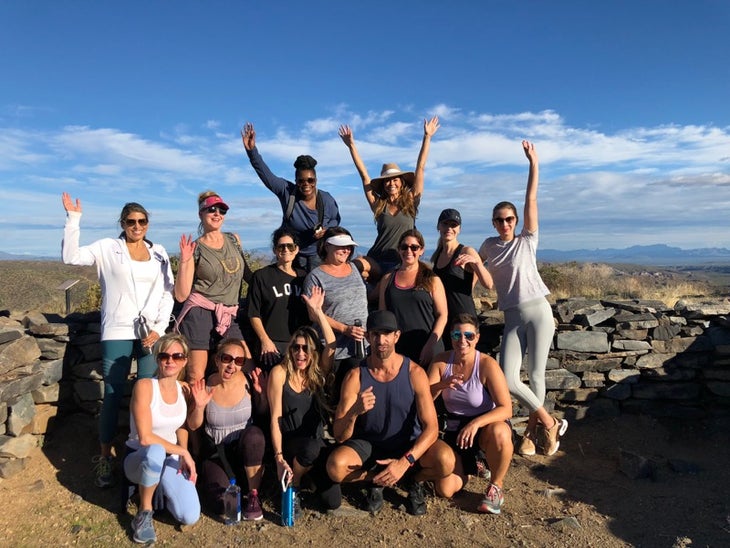 A couple of months ago, I hired a personal trainer at my local gym in an effort to tighten and tone the areas that have grown squishy now that I'm in my early 40s. The experience has been less than ideal, to say the least.
My first trainer no-showed to our first three appointments (next!). The second trainer quit working at the gym after our third session (sigh!). And my third trainer had the audacity to look me up and down and remark on how "hypocritical" I am for writing fitness articles when I clearly have 15 pounds to lose myself. Ouch.
So when I was invited to attend the three-day Brooke Burke Body Transformation Retreat, hosted by Retreats Unlimited at the Civana Carefree Resort in Arizona this month, let's just say I was terrified of accepting the assignment. I mean, Burke is a fitness icon I have admired since the '90s, and I was already feeling a bit defeated.
Frankly, I was worried that the other attendees would be super buff and possibly a bit judgmental — and I just wasn't interested in subjecting myself to further humiliation. But I pushed my ego aside and made up my mind to go into the long weekend with an open mind.
Day One: Morning
As I wandered into the resort's lobby at 7:30 a.m., I couldn't help but feel apprehensive. I'd arrived much later than anticipated the night before, missing the welcome dinner and discussion on how to "crush your goals" with Burke and all the other attendees.
I sat down at the communal-style table in the main dining room, a place I'd soon grow very fond of because it's where we'd spend all our meals together. The first item on the agenda was "Cruise Control Coffee Time," and intermittent fasting (IF) was encouraged. OK, sounds doable.
A friendly group of women, who presumably had all met the night before, greeted me as I sat down. On the table were pats of butter, cups of coffee and an assortment of MCT oils, ghee, pink Himalayan sea salts and sweeteners. Before I could make heads or tails of the options, in walked larger-than-life Jorge Cruise — a gregarious personal trainer and author of The New York Times' best-selling book The Belly Fat Cure. Cruise was serving as our nutrition guru for the weekend, and he jumped right into a lecture on the ins and outs of IF. He and Burke are big fans of fattening up their morning coffee to help stay satiated while in a fasting state for at least 16 hours a day, and the salts help balance electrolytes.
Next, we headed down to a fitness studio for a "Total-Body Burn" class, where I got my first glimpse of Burke — naturally beautiful with very little makeup, a high-energy vibe, an adorable workout outfit and the bangin' bod you'd expect. As we each grabbed a mat, she got mic'd up, blasted her favorite tunes over the speakers and led us through her workout. The ladies who were already familiar with using the Brooke Burke Body app knew what to expect and quickly caught onto the moves. A few others, myself included, fumbled around a bit until we found our groove in this full-body high-intensity interval training workout.
Burke is a big fan of using bodyweight and compound moves. "I want us to sweat smart and get very specific in our moves," she said. "I'm not reinventing fitness but rather reorganizing it. I like to use old-school moves and draw inspiration from Pilates and yoga to tone, tighten, lift and shred."
Throughout the workout, she encouraged us to "let it burn like hell" while focusing on a particular bodypart and to "fight through this" when things got tough. I definitely needed to hear that, as my brain was urging me to give up.
After the cool-down, Burke led a community chat about the power of inner dialogue and self-compassion when it comes to crushing our goals. She's a big proponent of self-care — which is why she hosts these retreats — and checking in with your body to assess the mind/body/spirit connection.
"We all deserve some time to check out of our lives to check in with ourselves," she said. "You need to hit the pause button and take a moment for yourself to be still and check in."
Day One: Afternoon
Finally, it was time to eat! And so we went back to our communal table for our first meal of the day. I chose the avocado toast with poached eggs. Afterward, Cruise gave another nutrition lecture on tips and tricks for IF, explaining that fitness begins in the kitchen. He also included information on why movement is the most important tool to prevent aging.
Next, the group went for a short hike in the beautiful Sonoran Desert. Burke explained that she wanted the experience to be meditative, so she asked us to hike silently. Having lived in the desert for 15 years, I'd hiked this landscape before — but hiking it silently helped me better connect to the surrounding nature. Suddenly, I noticed the sound of the gravel crunching beneath my sneakers, felt the sun shining down on my shoulders, and observed more rock formations and plants. We took a few group photos at the top before heading back down.
After dinner — I chose scallops, veggies and chocolate avocado mousse for dessert — we moved outside and sat around a fire pit, as Burke dove into a discussion about finding your "why" and how knowing your purpose will help set you on the right path. As people began chiming in with their own stories of life's trials and triumphs, I realized that every woman here was entrenched in her own physical, emotional or spiritual journey. In a matter of 24 hours, we had developed a trusted sisterhood. And that's exactly why Burke limits her retreats to women: She creates a safe environment in which like-minded females can feel comfortable being vulnerable and can connect in the special way only we can. Even though we came from all walks of life, there were tears, there was laughter and bonds were cemented.
Day Two
After our morning coffee, and a few complaints about how sore our muscles were from the previous day's activities, it was time to get the party started — the Cardio Party, that is. As the music pumped through the studio speakers and into our veins, we geared up for another high-energy workout with Burke. This time around, I felt more confident in the moves. Yes, I still had to take some breaks to catch my breath, but I never once felt judged for not keeping up. The entire time we were sweating, Burke kept up a motivating dialogue. I've honestly never felt so determined during a workout before and silently vowed to give her my all.
Our postworkout chat centered around personal promises and how to hold yourself to a higher standard. Burke explained that women often put themselves last on the totem pole because of the guilt we carry to care for our children and husbands first.
"We are worthy of carving time out to care for ourselves," she said. "It's powerful to deepen your self-care. We don't have time to not take care of our bodies. We show up for our best friends, we show up for our meetings and appointments, we show up for our families — we need to learn how to be our own best friends and show up for ourselves."
Burke urged each of us to make a personal promise to ourselves and to never settle for anything less than what we are capable of. Her energy is contagious, her understanding of the complexities of being a woman in today's high-pressure society is deep, and her passion for empowering women to design a healthy lifestyle is clear. It's why she offers free "Booty Burn" fitness classes in Malibu, California — she insists she gets just as much out of teaching as she gives.
After lunch, we had some free time for spa treatments, journaling or relaxing. A few hours later, we met back up for a "Mindful Meditation," during which Burke guided us on what turned out to be an emotional musical journey. As we laid on our yoga mats and closed our eyes in the candle-lit room, she read poems, played powerful songs she had carefully chosen about self-love and inner strength, and she shared uplifting thoughts and stories. By the time it was over, there wasn't a dry eye in the room — for some women, it had unblocked energy that had been stuck, while other women experienced various visions and epiphanies. There's something to be said for a group of women who have gathered together while on a path to self-improvement — and it was deep and magical.
During dinner, we began to follow each other on social media, join the private Facebook group so we could stay in touch after the retreat, and snap pics with Burke and our fellow attendees. After all, we'd spent two days sweating, talking, cursing, crying and laughing.
Day Three
On our last morning, we met for coffee and one last "Bye Bye Burn" fitness session. Despite our sore muscles and exhausted emotions, Burke easily managed to squeeze every last ounce of effort out of us. The workout was possibly the most intense yet, and we were all dripping with sweat mere minutes into the warm-up. She continued to pump us full of motivational messages and loving thoughts, and we eagerly soaked it all in.
As we said goodbye over breakfast and began to head our separate ways, I realized that while we all wished we could stay in this bubble forever, she'd given us the tools we need to continue our journeys at home. The retreat was over, but the memories would truly last a lifetime.
The next Brooke Burke Body Transformation Retreat will take place in Florida in January. Or check the Retreats Unlimited lineup of other upcoming health and wellness retreats around the world.