Fit Retreat Review: Cal-a-Vie Health Spa
Renew your commitment to health with a wellness weekend in Southern California.
Heading out the door? Read this article on the new Outside+ app available now on iOS devices for members! Download the app.
For many, the thought of escaping to France for a long weekend of R & R in wine country is but a dream. In reality, you can recreate a surprisingly similar experience simply by visiting the award-winning Cal-a-Vie Health Spa in Vista, California. This intimate spa, nestled on 500 private acres in northern San Diego County, allows guests to feel as if they've been transported to a tranquil French village.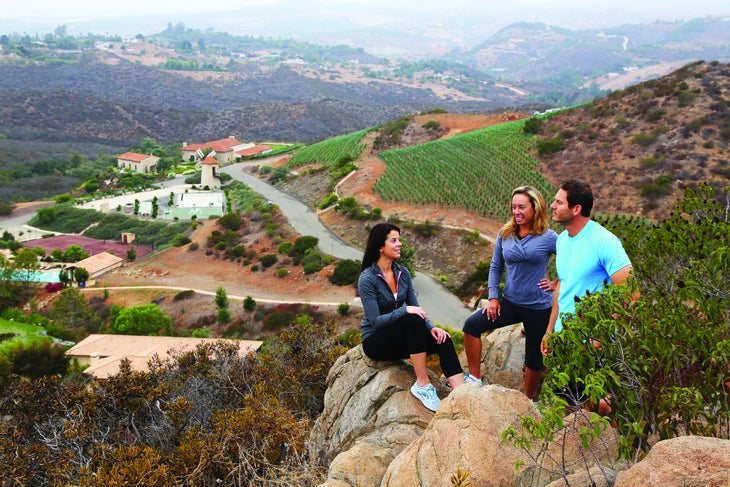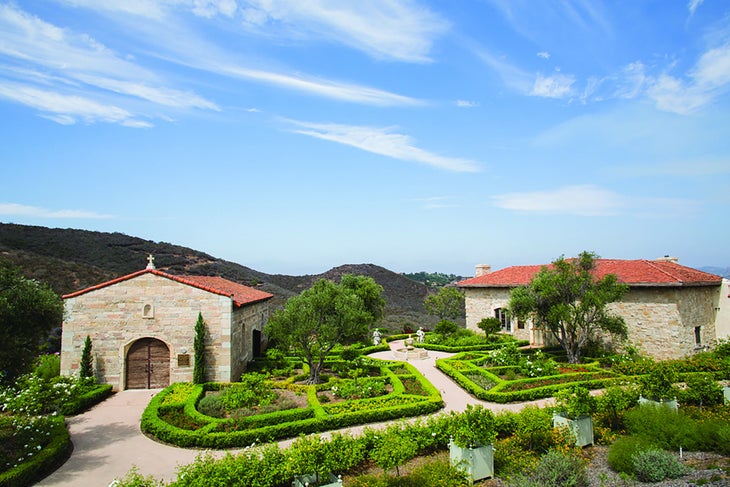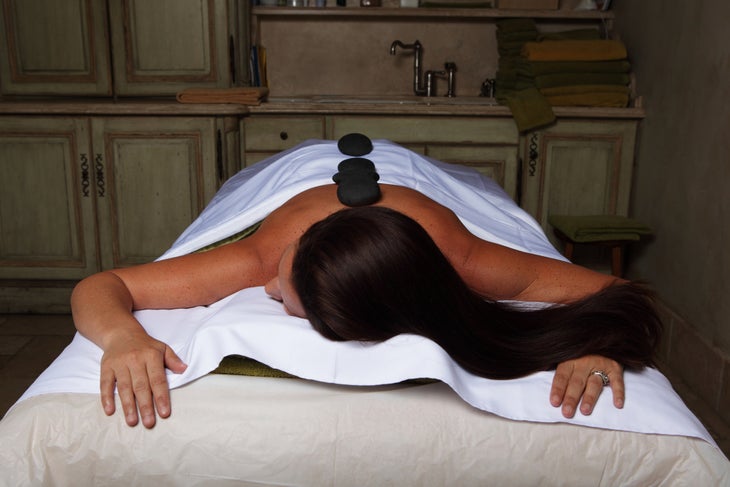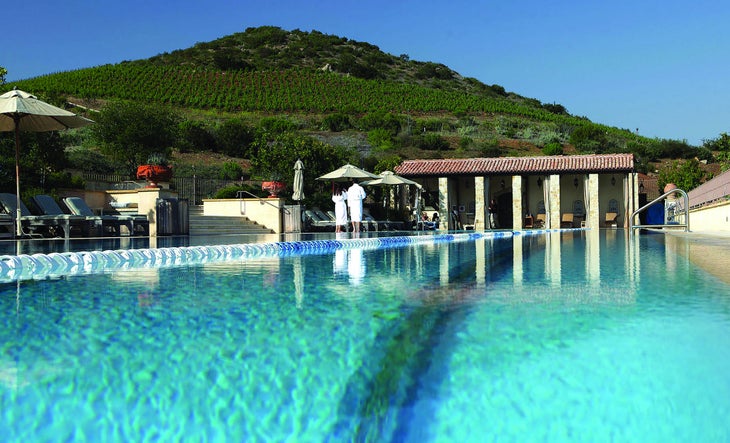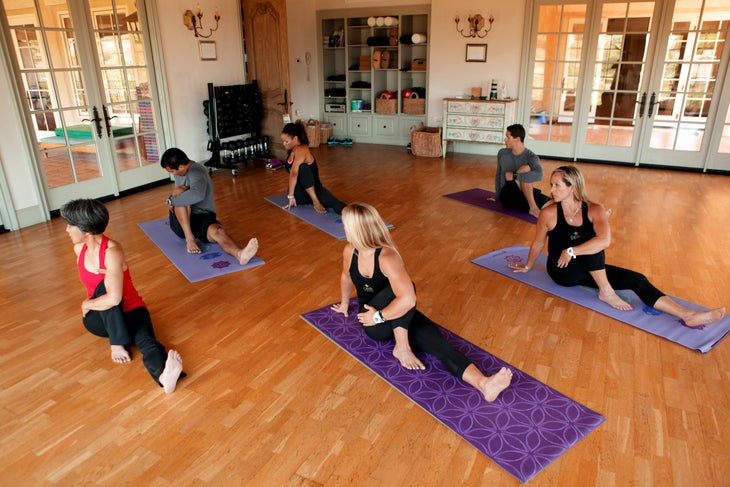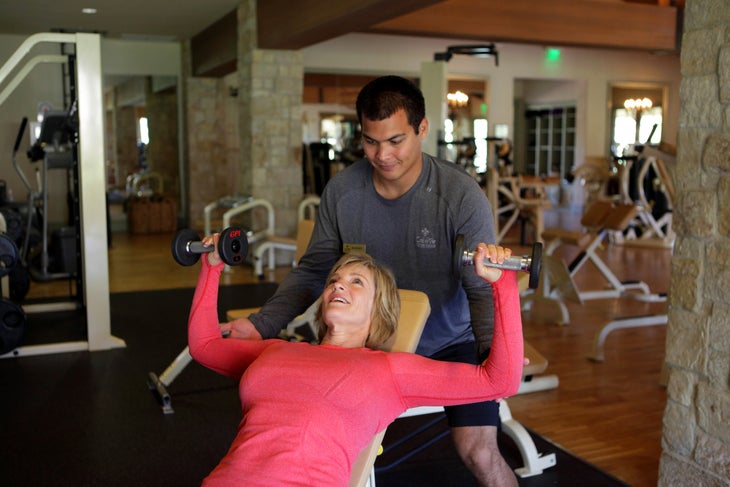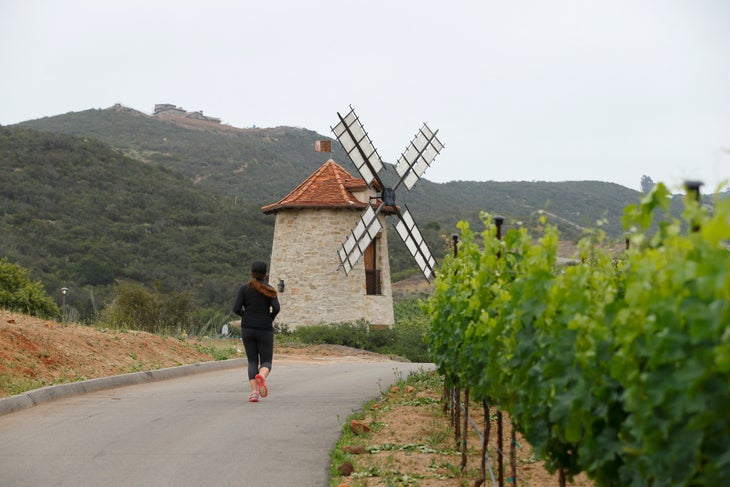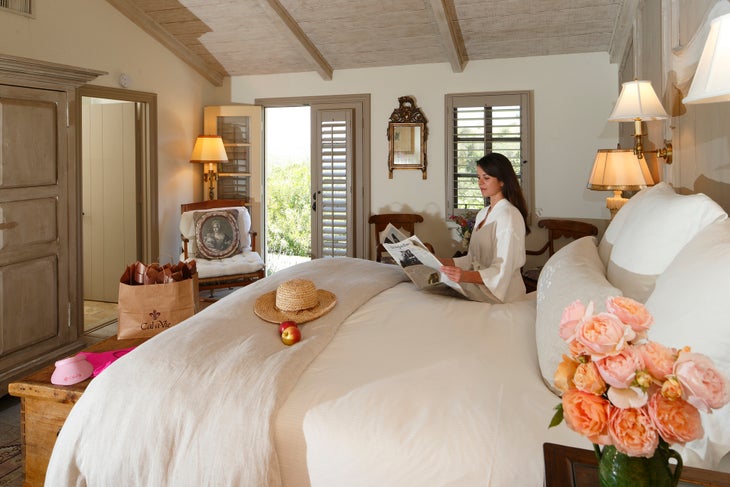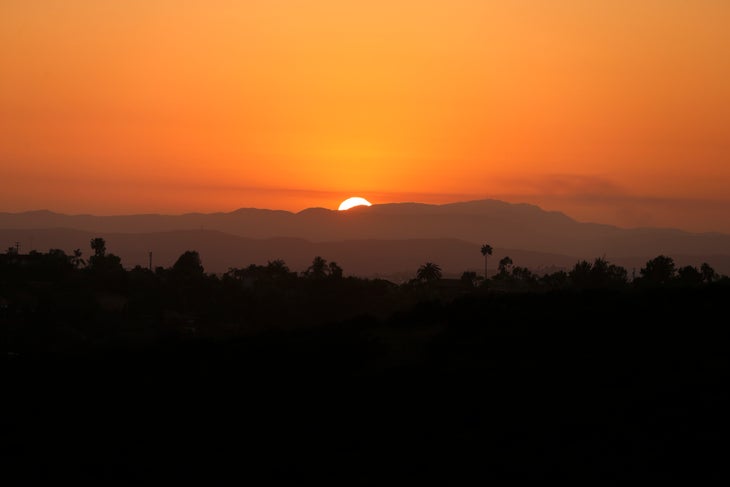 As I approached the spa, I couldn't help but notice the gentle rolling hills of this rural area, located just 7 miles inland from the Pacific Ocean. Cal-a-Vie exudes an unmistakable Mediterranean-like feel, from the Tuscan-inspired architecture and furnishings to its on-site vineyards, windmill and lush gardens.
Day One
I arrived in time for hors d'oeuvres, which were held in the Garden Room. Here, the resident registered dietician gave a short lecture on the spa's nutrition philosophy, including tips on how to eat mindfully, healthy preparation for at-home cooking and what to expect from our meals during our stay. Guests can personalize their calories, macronutrient distribution (for instance, replacing starches with vegetables or more protein) and snack options, as needed.
Afterward, we meandered to the dining room, where we sat at a communal-style table. Over a leisurely three-course dinner of garden greens salad, herb-roasted salmon with baby carrots and parsley-chive polenta, and a vanilla cake with lemon cream, we got to know the other guests.
The stay-at-home mom to my left was gifted by her husband this weekend to recharge her batteries, the couple across from me were no strangers to traveling the world for new experiences, and a cardiac surgeon to my right was taking a few personal days before she attended a nearby conference. The conversation was lively, shifting from recent travels to goals for their time at the spa to excitement about the next day's activities.
After retiring to my villa for the night — a well-appointed room with thoughtful touches, ample seating both inside and on my private patio, and luxurious bedding — I consulted the next day's fitness and activities schedule left on my bed during turndown service. Alongside it was a notecard that read, "Accept the challenges so that you may feel the exhilaration of victory." All signs pointed to an exciting day ahead!
Day Two
At 6 a.m., my alarm woke me from a peaceful slumber and alerted me to our hike in 30 minutes. I briefly wondered what I'd gotten myself into — I'm not a morning person, and that bed was awfully cozy, but I forced myself to brush my teeth and pull on my hiking boots.
As I met up with the other guests, I was relieved to see that the spa's trainers would be serving as our guides. (There's a 5:1 staff-to-guest ratio at Cal-a-Vie.) We set out on the trail, and quickly the fastest guests disappeared up the steep hills. Soon, the middle group also disappeared out of sight. In worse cardio shape than I realized, I was left with one guide and another guest bringing up the rear of the pack.
To my relief, nobody made me feel rushed or urged me to move faster, which allowed me to take breaks to catch my breath. The guide assured me we could take as long as needed or take shortcuts if we preferred to skip some of the steeper portions. I pushed on, determined to feel the "exhilaration of victory" that bedtime notecard promised when I reached the finish line. I made it and felt really proud of myself. I also decided I wouldn't be doing that again tomorrow.
During breakfast, we were handed our itineraries for the day, which were chosen by the staff based on our preferences. For each hour of the day, there are roughly eight different activities to choose from, all hosted by a dedicated trainer — including belly dancing, yoga and meditation, interval weight-training circuits, Spin, TRX, barre classes, water-based circuits, Pilates, boxing and cardio blasts.
Still reeling from that hike, I decided to skip the treadmill shred class they had chosen for me and went to a vinyasa yoga class in the chapel instead. The stretching was just what I needed. Plus, it was a beautiful day and the windows and doors to the chapel were open — I listened to the birds chirping and the water flowing from the nearby fountains, and I promptly wondered why all yoga classes aren't held outdoors. What a superior way to experience yoga practice rather than in a stuffy studio!
From there, I attended a stability-ball class (who knew you could do so many exercises with a stability ball?) and enjoyed a relaxing lunch. Next up? Three hours of spa services. Finally, my reward! First, I had a reflexology session, which was the perfect choice for my sore legs and feet. Afterward, I had a full-body massage, followed by a facial. Both the bath house and salon were serene environments, where I was happy to discover that I could fully relax and focus on receiving these high-end treatments.
After hors d'oeuvres and a delicious duck breast dinner, our group visited the on-site observatory. Here, an astronomer presented an interesting lecture on the various constellations we can see with the naked eye and also an explanation of the numerous galaxies. My bedtime notecard read, "You miss 100% of the shots you don't take." OK, I'd continue to keep an open mind and push past my boundaries. I slept soundly that night, both out of sheer exhaustion and also with a better understanding of my place in our vast universe.
Day Three
At peace with my decision to skip the morning hike, I slept in and met the group for breakfast (eggs Benedict on a bed of veggies instead of an English muffin) at 7:30 a.m. After receiving my schedule, I discovered I had been signed up for LaBlast Dance, a workout developed by Dancing With the Stars pro Louis Van Amstel. Since I'd never been blessed with rhythm, I was tempted to skip what was sure to be an embarrassing hour of my life — but the two other guests assigned to this class insisted they were going to be clumsy, too. Reluctantly, and mostly because of that Wayne Gretzky bedtime quote, I agreed to go.
Confession: I had a total blast. The moves were relatively easy to follow, our instructor was super energetic and encouraging, and I quickly noticed the other two guests were indeed far too busy focusing on their own dance moves to notice mine. The hour went by so quickly, I was stunned when we got to the cool-down.
Next was a Hydrorider class, where they put Spin bikes in the larger of their two swimming pools. It's a refreshing way to enjoy class because the water keeps you cool and it's easy on the joints. My final morning class was a cooking demonstration, led by the head chef and registered dietician, who shared cooking tips we could take back home. Each guest was given his or her own cooking station, and we prepared our own portions of a delightful lentil soup.
After a shrimp and kale salad lunch, I had three more spa treatments: a hair and scalp treatment, another massage, and a "legs renewed" buffing and massaging session. Once I was done being pampered, I spent a little free time at the smaller pool, reading a book and enjoying the sunshine.
Hors d'oeuvres were held at the top of the hill at the Parish House, which was originally located 30 miles from the center of Dijon, France, in the heart of the Burgundy countryside. The owners of Cal-a-Vie, the Havens, are proud Francophiles and had it shipped from France and reconstructed on-site, surrounded by the panoramic vistas of their property. Here, we enjoyed a tasting of the estate's wine, Chateau Cal-a-Vie, before the filet mignon dinner.
The spa's life coach presented our evening program, which was centered on the law of attraction and a reminder of the power within our own minds to heal ourselves. Back at my villa, I was greeted by one last inspirational message: "There's always room at the top."
Day Four
As I packed up my belongings, I enjoyed a final meal with my fellow guests. I think it's safe to say that we all learned a lot about ourselves during the long weekend — physically, emotionally and spiritually. We tried workouts that were foreign to our bodies, pushed ourselves beyond our comfort zones and were reminded that healthy living can happen anywhere. We just have to make it a priority.
If you'd like to jump-start your journey to health or reinvigorate your stale fitness routine, visit https://www.cal-a-vie.com/reservations.