Guilt-Free Workouts
Do you seek more balance in your busy life? Keep going to the gym.
Heading out the door? Read this article on the new Outside+ app available now on iOS devices for members! Download the app.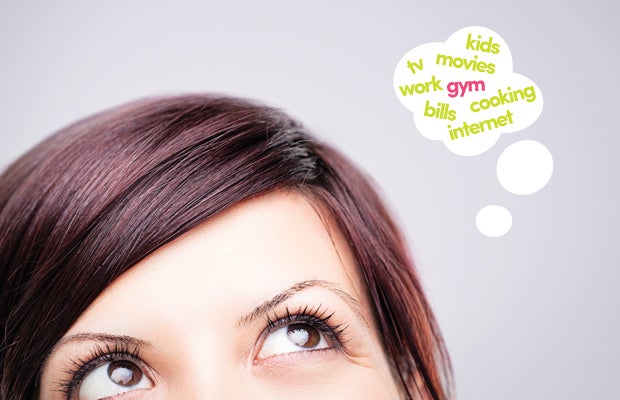 No matter how healthy you know exercise is, you might still feel a little guilty about the time you spend working out. Managing the demands of both work and personal life — without one interfering with the other — is pretty tough. In fact, 56 percent of working women surveyed say they're stressed because of all the juggling in their lives, says a recent Pew Research Center report.
If this rings true for you (and who isn't just a little frazzled?), the findings of a new study in Human Resource Management will help make you feel whole again: Researchers found that women who exercised regularly handled the interaction of work and home lives better and were less likely to feel strain. Of the 476 participants (55 percent of whom were women with an average age of 41) those who were the most emotionally drained from work did not adhere to any form of exercise. Conversely, those who exercised three times a week (or more) were not as fatigued and felt able to meet the responsibilities of both work and home.
Exercise Expands Your Possibilities
Previous studies have shown that physical activity is a powerful stress reducer. But this is the first to examine the role exercise plays in how women can find that elusive "balance" we all want to achieve. And, oh, do we want it: A recent survey by Accenture, an international management consultant firm, revealed that work/life balance — ahead of money — is the key determinant for more than 50 percent of women on whether or not they have a successful career.
Problem is, how do we find time for exercise? "It's counterintuitive and almost a slap in face to say, 'Add something to your plate,'" admits the study's lead author, Russell Clayton, Ph.D., an assistant professor in the school of business at Saint Leo University in Saint Leo, Florida. "But exercise also gives you a feeling of self-efficacy." Meaning, you'll feel more capable and more able to achieve goals when you add exercise to the mix. Your workout not only diminishes stress but also creates a feeling of accomplishment that lasts well beyond the time you spend in the gym.
Workouts And The Office Woman
We asked Jacqueline Ratliff, MS, CSCS, an exercise physiologist and education specialist at the American Council on Exercise in San Diego, for tips on how to integrate more physical activity into your busy day:
Plan it. "Think of exercise like you do an appointment," Ratliff says. "Put it on your schedule."
Implement walking meetings at work. Instead of booking the conference room, head outdoors for a walking meeting. You'll burn calories, stimulate the brain and promote bonding with co-workers. "Remember to keep an extra pair of sneakers under your desk," Ratliff advises.
Request a standing desk. The average American sits for more than nine hours a day, which slows metabolism and raises the risk for heart disease and diabetes. Ask your boss for a treadmill or a podium-height desk.
Create family play dates. Choose an activity that everyone will enjoy and you'll be more likely to stick to it on a regular basis. Some options: hiking, cycling or badminton in your yard.
Exercise in stolen moments. On your off-gym days, incorporate physical activity into your daily life by climbing stairs in your building for 10 minutes, doing jumping jacks in one-to-two-minute spurts, getting off at an earlier bus/train stop and walking the rest of the way (or parking farther away) and walking while talking on the phone.