Look Out Below!
Feet are important (just try doing cardio without them!), and women are incredibly hard on theirs. Here's how to treat five common foot issues that can afflict athletic women.
Heading out the door? Read this article on the new Outside+ app available now on iOS devices for members! Download the app.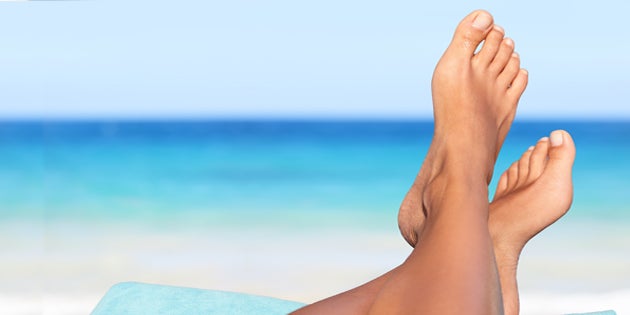 Admit it: You abuse your feet. Whether you're smashing them into stilettos for a night on the town or are pounding them into the turf on your nightly run, your dogs are definitely barking. Check out these five foot conditions faced by athletic women and learn how to keep your feet playing footsie for years to come.
Blister
This small pocket of fluid (serum) forms between the upper layers of your skin as a result of excessive rubbing or friction from repetitive motions — think walking, running or dancing for hours. Blisters can be very painful and, perhaps because of their resemblance to a pimple, are tempting to pop. But seriously: Leave them be. A closed blister will heal in a few days on its own, whereas one that is popped opens you up to infection and might even refill with more fluid. In the meantime, wear a moleskin patch or blister pad, and trade your Pradas for Ugg boots until it heals up. Check your athletic shoes for hot spots that might be irritating your feet, and buy some synthetic moisture-wicking socks to reduce friction.
Plantar Fasciitis
The long, wide ligament that runs from the heel to just underneath your toes is called the plantar fascia. It's responsible for supporting the arch and muscles of the foot, and usually it does its job very well without complaint. But when irritated, it bites back hard, giving you a sharp pain near your heel the minute you step out of bed in the morning and an ache throughout the day. Its most common cause is overuse, but it also can result from over-pronation (feet rolling inward), rapid weight gain or poorly fitting shoes. It might take a while to heal, so be patient. Massage your feet and stretch them gently before getting out of bed, cut out your explosive training movements and ice your feet several times a day. Make sure your athletic shoes are still in good shape with plenty of support, and consider buying orthotics or arch supports to improve cushioning.
Athlete's Foot
What the yuck! Athlete's foot is pretty gross, as anyone who has ever had it can vehemently attest. This fungal infection, characterized by redness, itching, scaling and burning, can come about as a result of sweaty footwear, as well as from walking around barefoot in public areas. Fortunately, an over-the-counter anti-fungal medication as well as some moisture-wicking socks can usually cure your case of the uglies. But for heaven's sake, stop going commando in the locker room and get some shower shoes.
Morton's Neuroma
Balls on fire. That's what it feels like when you have Morton's neuroma, a thickening of the nerve that runs between the long bones of the third and fourth toes. It also can feel like sharp pain and numbness as well as a burning in the ball of your foot, and it's caused by sports that put a lot of pressure on the forefoot, such as running, sprinting and jumping (and of course wearing high heels!). Take a break from your tiptoeing activities and give your feet a chance to heal for several weeks. In the meantime, get relief by padding or taping your toes, taking an anti-inflammatory or by purchasing shoes with a wider toe box. If that doesn't work and the pain persists, a cortisone shot might be in order.
Achilles Tendinitis
Just like Achilles, you, too, are vulnerable in this area, and you don't need to get shot with a poison arrow to feel the pain, either. Your Achilles tendon, which runs from the calf to the heel, can become inflamed as the result of overtraining. You'll feel pain and stiffness first thing in the morning as well as postworkout. A combination of RICE (rest, ice, compression and elevation) and anti-inflammatories usually clears this up over the course of several weeks, but heel lifts and orthotics can help with more severe cases. Stretch your calves and ankles well after every workout to improve your range of motion and prevent it from coming back.