Mindfulness Over Matter
Starting the day with a moment of Zen can clear your head, but what can it do for your body?
Heading out the door? Read this article on the new Outside+ app available now on iOS devices for members! Download the app.
If you've ever dealt with mental health issues — anxiety, depression, inability to focus — you've probably been advised to try meditation, or maybe you've been the one offering this advice to others. Meditation, once reserved for yogis and the experimental set, is how many people now center themselves and clear their heads, but this cranial activity also offers a host of benefits for your body. Here's how.
The Science of Meditation
"There's a lot of research out there on mindfulness and physical health," says Sarah Romotsky, RD, health strategist at Headspace, a meditation app with more than 20 million users. And indeed, meditation has been shown to help with a range of issues, including obesity, chronic disease, pain management and even the flu: One study compared the incidence of acute respiratory infections (ARI) among three groups of adults — a control group, a group that performed moderate-intensity exercise and a group that received mindfulness meditation training. After eight weeks, the control group experienced 40 ARI episodes, while both the exercise and meditation groups reported 26 and 27 ARIs, respectively, thereby validating the efficacy of both modalities as a way to combat illness.
But the positive impact of meditation doesn't stop at the sniffles: A systematic study review published in the Journal of Alzheimer's Disease found a correlation between meditation and neurodegeneration, with significant increases in gray matter volume in those who meditated. Another report in the Annals of Behavioral Medicine found that meditation was associated with a decrease in chronic pain, and a study published in the International Journal of Exercise Science showed that college students who received six weeks of meditation training experienced a significant decrease in blood pressure and resting heart rate.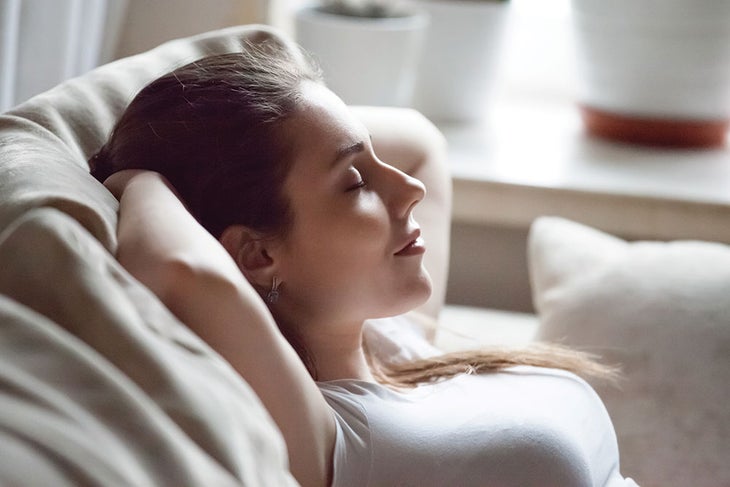 Fight the Fight or Flight
So why does the decidedly cerebral practice of meditation translate into physical health? The answer lies in our modern lifestyle. The amygdala, a cluster of neurons in the brain, reacts to stress — traffic, a work deadline, an argument with a friend — by triggering the body's "fight or flight" response. "Our brains have been reprogrammed to react to everyday stressors the same way we would an attack," Romotsky says. Hormones, including epinephrine and cortisol, are released into the bloodstream, causing an increase in heart rate, blood pressure and glucose levels — great if you need to fight off an attacker but not so ideal in day-to-day life. "[Over time], this response also puts us at higher risk for chronic diseases such as obesity, hypertension and diabetes," Romotsky adds.
By practicing mindfulness — the state of being aware and focused on the present moment — you can train your brain to respond and react better to stressors, which can have a profound impact on both your mental and physical health. One study published in Psychiatry Research monitored the hormone levels of patients as they underwent a social stress test. Afterward, one group was enrolled in a stress management course while another group — made up of people suffering from anxiety disorder — received eight weeks of meditation training. When asked to repeat the stress test, the meditation group experienced a significant drop in stress hormones while the control group actually demonstrated an increase. The meditation group had trained their brains to better handle stress.
Doctor's Orders
Stress management through meditation also can lead to better surgical outcomes, according to Dr. Rex Marco, an orthopedic oncologist at Houston Methodist Hospital in Texas. Many of Marco's patients have undergone multiple spine surgeries and deal with chronic pain, and he discovered that the use of meditation apps such as Stop, Breathe & Think have allowed some of them to wean off their medications.
"Neck and back pain trigger a stress response in the body, which in turn leads to more pain, more stress and more pain," he explains. "Interrupting this cycle with activities like meditation and yoga allows the higher brain — the prefrontal cortex — to make dopamine, which in turn calms the stress response created by the amygdala, making the pain more manageable."
Dr. Ruth Lerman, an internist specializing in breast health and disease at Beaumont Health in Michigan, has also seen the positive impact of a regular meditation practice in her patients' lives — as well as her own: A three-time cancer survivor, Lerman needed to feel "a sense of safety" after her second diagnosis. She discovered a mindfulness-based stress reduction (MBSR) curriculum, which proved a turning point in her treatment and ultimately altered her approach to patient care. Lerman became a certified MBSR instructor and began offering mindfulness programming for both patients and physicians. "I can now recognize when I am getting stressed and can immediately implement techniques to manage it and alter how I am dealing with the situation for the better," says one of Lerman's patients.
It is necessary to point out, however, that meditation isn't a replacement for doctor-supervised care, and you can't "meditate away" a diagnosis such as breast cancer. But incorporating meditation into your treatment and daily life can certainly help manage your stress, which ultimately can help you heal.
Just like any habit, establishing a meditation practice takes time and patience. Some sessions may seem less focused than others, and you may not feel the benefits immediately. That's OK, as long as you keep it up, Romotsky explains: "With a little training and a kind, friendly, guiding hand, the mind will come to a place of rest."
Serenity Now!
Use these tips from Sarah Romotsky to cultivate a successful meditation practice.
Meditating first thing in the morning sets the tone for the rest of your day. However, consistency is paramount, so find a time that works for you if morning is not your jam.
Quality is more important than quantity. Start with a shorter meditation and slowly increase the duration.
Daily meditation is not necessary to reap the benefits. Set a goal that feels reasonable — maybe 10 minutes a day, three times a week — and build from there.
Meditation isn't about the absence of thinking, so don't be frustrated by distracting thoughts. Learn to step back and witness those thoughts more clearly from a place of calm.
There's an App for That
Interested in meditation but need a little direction? These apps offer a variety of guided meditation tracks for beginners, dabblers and advanced practitioners.
Headspace
Andy Puddicombe, a former Buddhist monk, narrates Headspace's hundreds of guided meditations and mindfulness exercises. The approach is friendly and agnostic, and the app offers specialized "packs" for everything from work performance to pregnancy. Subscribers also can access programming for kids, sleepcasts and specific tracks for mindful running, commuting, cooking and eating.
headspace.com, 10-day free trial, $12.99/month
Insight Timer
This app offers more than 12,000 free guided meditations, as well as reasonably priced 10-day courses such as "How to Beat Digital Distraction" and "Your Guide to Deeper Sleep." Subscribers can set notifications, track their activity and connect with other users.
insighttimer.com, free with optional in-app purchases
Stop, Breathe & Think
The basic subscription grants you access to 20 guided meditations, while premium members can unlock more than 100 activities. Users begin each session by reporting how they're feeling physically, mentally and emotionally, which the app then uses to curate a handful of recommended activities specific to the individual.
stopbreathethink.com, free basic subscription, $9.99/month premium subscription