Mood Booster
Boost your mood and your mojo (and burn more calories!) by taking your workout outdoors.
Heading out the door? Read this article on the new Outside+ app available now on iOS devices for members! Download the app.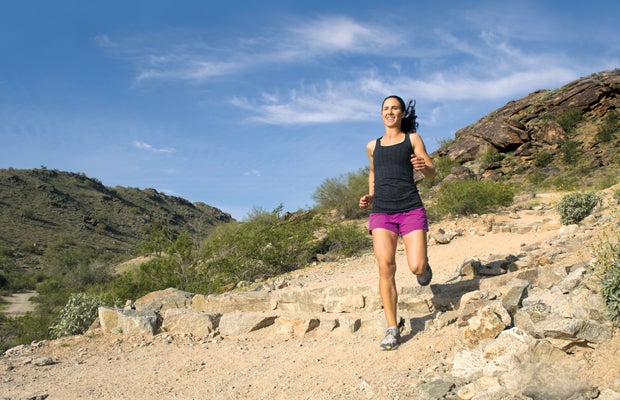 It's time to get outside! Exercising in the great outdoors has benefits beyond giving you a break from the ho-hum treadmill: According to research published in Environmental Science & Technology, it improves your mental state and helps motivate you to go back to it again (and again).
Researchers analyzed data from existing clinical trials that compared the effects of outdoor exercise activities with those performed indoors, using information from more than 800 adults. "Compared with exercising indoors, exercising in natural environments was associated with greater feelings of revitalization, increased energy and positive engagement together with decreases in tension, anger and depression," says study author Jo Thompson Coon, Ph.D., senior research fellow at the University of Exeter Medical School in the U.K. What's more, the research revealed that study participants were more likely to report feelings of joy and satisfaction from working out outdoors and that they were more apt to repeat the activity.
"Exercising outdoors can significantly increase the enjoyment of your workout, which means you are more likely to exercise longer as well as more frequently," says Tom Holland, MS, CSCS, a Darien, Conn.–based exercise physiologist, author of
Beat the Gym (HarperCollins, 2011) and an Oxygen advisory board member. "Success in any fitness program comes as a result of consistency, so these positive mental side effects can dramatically increase the likelihood you will stick to your program and, therefore, achieve results."
Calorie-Burn Bonus
Holland points out that there are added physical benefits to ditching the stationary bike or treadmill and hitting the open road (or trail) instead. He noted that changing terrain, wind resistance and varying temperatures all challenge your body to work harder.
Indeed, a study published in the Journal of Sports Sciences compared the exertion of individuals running on a treadmill to those running the same distance outdoors. The results? The lack of air resistance indoors resulted in less energy spent compared with running outside at the same speed. "The positive mental effect [of exercising outdoors] can have a significant impact, as well, resulting in longer, more intense workouts, which translates into more work done, more calories burned and greater fitness gains," Holland says.
4 Ways to Improve Your Mood
If you work indoors, try to get outside for a lunchtime walk, swim or stretch.
Take a hike or cycle in a park.
If there are outdoor stairs close by, run them at lunch.
Create a quick stretch routine for your balcony or backyard.
Quick Tip:
If you usually train on a treadmill, don't be surprised if running a mile takes longer outdoors — but you're burning more calories in the process.