How To Become A Morning Person
Hit the gym instead of the snooze button to recharge your health.
Heading out the door? Read this article on the new Outside+ app available now on iOS devices for members! Download the app.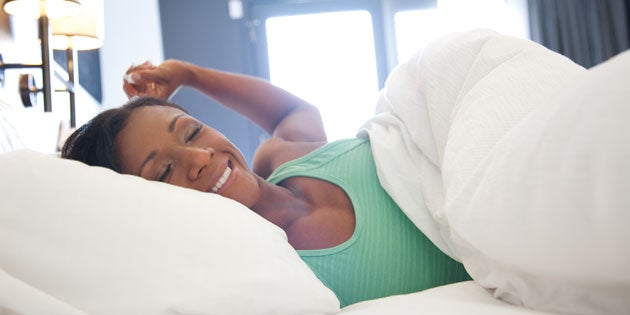 Marci Gilbert was tired of not being able to make dinner plans. She'd regularly rush from work to the gym, leaving no time for friends, or to enjoy a dinner with her husband. Her evening workouts seemed to take forever, and it was hard to stay motivated. "Plus, I was so tired of the Texas evening heat, not to mention taking two showers every day," says Marci, 28, a marketing and development director who lives in Houston. So Marci, whose exercise routine consisted of cardio/weight classes two days a week and running the other three days, made the switch to morning exercise. "It was so nice to be done exercising for the day by 7:30 a.m. I'd get to work and feel so ahead of the curve," she says.
Ahead Of The Curve
There's a reason Marci felt mentally alert and good about herself after her morning exercise. When you accomplish something first thing, it not only starts your day off right, but your thinking is more clear. "There is research linking morning exercise with productivity among executives," says Denice Ferko-Adams, RD, LDN, director of the MacDonald Center for Obesity Prevention and Education at Villanova University.
It's also about time management. "First thing in the morning is the only time you know isn't going to be compromised by something else," says exercise physiologist Bryan Bergman, PhD, associate professor of medicine at the University of Colorado. That's huge for exercise adherence, he says. The vague notion of "not having time" is a major reason that people cite for giving up on exercise programs. The great news is that morning is an equal opportunity time: any exercise you can do in the afternoon or evening, you can also do in the morning, provided you warm up and cool down just as you ordinarily would, Bergman says.
Benefits Of Not Hitting Snooze
After a workout, you continue to burn calories, which means that front-loading your day is a good way to get your metabolism started on the right track. But more than measurable metabolic effects, morning exercise creates a distinct mindset that inspires you to live the Oxygen lifestyle. "Exercising first thing turns the lens to having a healthy day," says Lauren Slayton, RD, director of Foodtrainers, a New York City-based nutrition counseling center that teaches people, including athletes, how to make healthier eating choices. You are more likely to eat healthy on days when you exercise first thing because you are already in the mindset. If you make the commitment to get up at 5:30 a.m., you will be less likely to "undo" all of that hard work with poor eating.
There may also be some more tangible physical benefits to hitting the gym in the morning. Research from Appalachian State University (ASU) suggests that exercising within an hour of waking (the study participants exercised at 7 a.m.) produced better-quality sleep than working out in the afternoon or evening. A related ASU study also showed that morning sweat sessions helped blood pressure dip during sleep better than afternoon or evening exercise. "Nocturnal dipping in blood pressure is one way we reset (lower) our normal operating pressures; if we do not experience a dip in blood pressure at night, we increase our risk for heart disease," says study author Scott Collier, PhD, assistant professor at ASU.
Change Your Sleep Routine
Marci admits that her transition wasn't seamless. The first two days her alarm went off, she couldn't do it because anxiety about getting up had kept her up half the night. "Eventually, I just told myself: 'I will sleep and I will get up and do this,'" Marci says. After about a week, she was in the groove of 6 a.m. classes at the gym.
Forcing yourself to go to bed earlier is probably not going to work, says trainer Nicole Nichols, creator of the SparkPeople: 28-Day Boot Camp DVD, who successfully transitioned to morning exercise herself. "Let your body adjust naturally," she suggests. That first morning will be tough: forge ahead, because by night, you will be tired earlier. You'll go to bed 15 minutes earlier, and it will be 15 minutes' worth easier to get up, and so on. Within a week or so, if you let it, your body will have adjusted to the new schedule and you'll be going to bed earlier, naturally.
Additionally, skip the afternoon caffeine, Ferko-Adams suggests, and be careful of eating too heavy of an evening meal: both can interfere with sleep. But mostly, she says, just relax about it. Putting too much pressure on the idea that you must get to sleep earlier will only stress you out and make it ultimately more difficult to actually fall asleep. Take 15 to 20 minutes and meditate at night to relax your body and get yourself in the right frame of mind for the next day. Once you're comfortable with it, meditate for up to 30 minutes at night.
Preload Your Decisions
You can't just set a goal of morning exercise. You need action triggers: decisions you make ahead of time about the actions you will take in a specific situation. Peter Gollwitzer, PhD, professor of social-personality psychology at New York University, calls this "implementation intention"; Chip Heath and Dan Heath, authors of Switch: How to Change Things When Change is Hard (Crown Business, 2010), call it "preloading the decision." You don't just make a decision to do something: you give yourself triggers to get it done – from your overall plan, "I will run the four-mile loop that starts on Locust Avenue," to all of the smaller cues, like, "When the alarm goes off, I will get up and put on my sports bra," and "When I walk into the kitchen and turn on the light, I will grab my water bottle." Research consistently shows that when people set specific intentions (visualize when and how they will perform a behavior), they commit to it more than when they just set a general goal.
Your preloading begins the night before. "Create as few steps as possible," Nichols says. Prepare your breakfast ahead of time (preworkout or postworkout, or both), pack your gym bag (keep a separate set of toiletries) and lay out your workout clothes in a visible area. If you're working out at home, have all the equipment (exercise ball, weights) ready to go, and the DVD loaded in the player. This way, when the alarm goes off early, you can rub the sleep out of your eyes, breathe deeply into those early-morning yawns, and get started on your fit day. You'll feel brighter, more alert, and more in shape before the rest of the world has even had their Starbucks.
Calm Your Mind Before Bed
Try this meditation technique before calling it a night:
Find a quiet spot where you will be able to relax, such as your bedroom. Dim the lights if necessary.
Sit in a comfortable position on the floor (use a cushion or mat if needed).
If distracting thoughts enter your mind, acknowledge them, but gently let them go. Focus back on your breathing.
Perform this meditation for five to 10 minutes to start, and increase your time as you become more comfortable with it.
Focus on the rhythm of your breathing, counting each breath as you exhale. Count to 10, then repeat. Continue counting until you are relaxed.