Career-Driven Mother Transforms Through Training
Once working mom Sarah Grant made herself a priority, she lost 57 pounds.
Heading out the door? Read this article on the new Outside+ app available now on iOS devices for members! Download the app.
Sarah Grant grew up poor, but once she got her first job, she quickly discovered the joys of a disposable income — and decadent food. Grant became a fine-dining foodie who reveled in eating for pleasure and didn't really notice that a few extra pounds had begun to stick. But once she had kids, she also stopped being active and the weight became an issue. "Unfortunately, exercise is one of the self-care things moms tend to take off the schedule when life is busy and we prioritize other things," she says.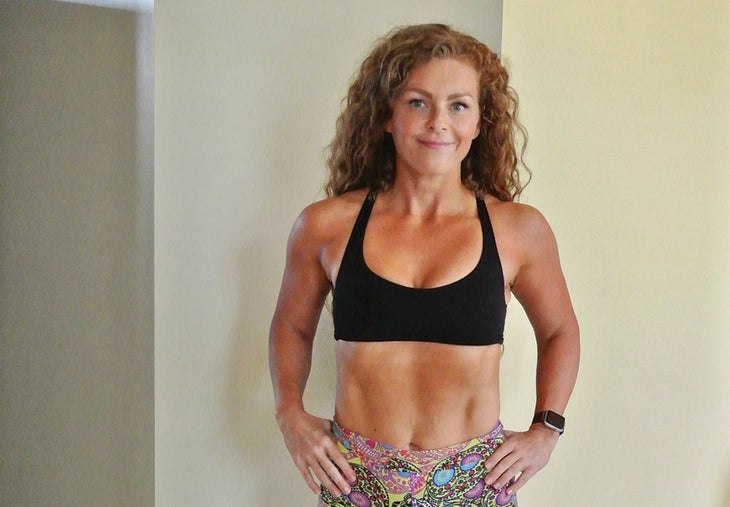 In 2005, Grant had a lot of changes in her life: She went back to work full time, her son was diagnosed with high-functioning autism and her daughter was diagnosed with Type I diabetes. "Food was my coping mechanism for the grief and guilt you go through as a parent when your child received a tough medical diagnosis," Grant says. And though her coping mechanism meant continual weight gain, Grant still did not see her health as being important. "I felt like it would be selfish or vain to prioritize myself when I had a family and a career that needed attention," she says.
Shedding the Guilt
A few years later, a friend got into strength training and Grant saw a transformation in her that was inspiring. She sat down with her friend and learned about macronutrients, energy expenditure and basic strength-training splits. Because she was not confident enough to join a gym, Grant bought her own barbells, weights and equipment and built a home gym in her garage. She started with very basic lifting and began eating a well-balanced, whole-food diet of lean protein, healthy carbs and healthy fats.
Slowly but surely, Grant whittled away at the layers of stress and grief, and a little over a year later, she emerged 57 pounds lighter. "A whole new world of possibilities opened up at that point," she says. "I got down to 118 pounds and went from over 40 percent body fat to around 20 percent."
Unexpected Gains
Though she didn't think it would, Grant discovered that taking care of herself by getting healthy and fit has been one of the best things she's done for her family. These days, she trains six days a week and is still working on adding lean muscle to her frame.
However, muscle isn't the only thing she has gained from her experience. "One of the really remarkable things about the strength-training community is the sense of family and friendship," she says. "Everyone welcomes you with open arms, and it's very special in today's world to see that kind of connection and community. My lifting family is by far one of the best 'gains' to come out of this experience."
Stats
Sarah Grant/Jupiter, Florida
Age: 42
Old weight: 175+ lb
Current weight: 118 lb
Occupation: Chief financial officer
Sarah Says:
Get started with what you can do right now. Make a commitment to yourself that no matter how long it takes, you will get up every day and work toward your goal.
There are no shortcuts, no quick fixes, no easy answers to weight loss. You simply have to make it happen every single day — especially on the days you don't feel like it.
Having the support of others is crucial. I would not have been able to weather the tough days without the support of the amazing women I have met in my journey. They gave me a place to cry, celebrate, and share the ups and downs of this process.