Sponsored Story: Q&A With IFBB Figure Pro and Instagram Fitness Personality Nay Jones
Read how a breakup catapulted Hi-Tech Pharmaceuticals and APS Nutrition fitness model Nay Jones into an Instagram star and full-time coach.
Heading out the door? Read this article on the new Outside+ app available now on iOS devices for members! Download the app.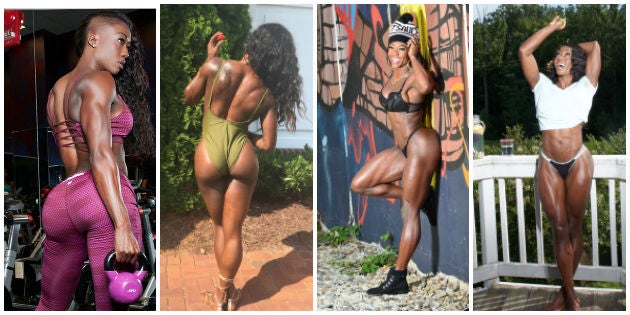 Name: Nay Jones | Hometown:Augusta, Georgia
Age: 30 | Sport: IFBB Figure pro, University of Georgia track athlete
OXYGEN: How did you get into fitness and track?
Nay Jones: I started lifting in May 2015 after a breakup. I decided to take time to take care of myself, and I became addicted to training — I love the way I feel when I am in the zone at the gym. As women, we get caught up in being moms, wives, sisters, employees, etc., and we forget about ourselves because we are pouring so much into others. It's not selfish to take an hour out of your day for your health!
OXYGEN: Is this your full-time job?
NJ: I am a full-time online coach. I train and prep clients all over the world, and I am a sponsored Hi-Tech Pharmaceuticals and APS Nutrition athlete.
OXYGEN: What do you think has set you apart from other athletes in your sport?
NJ: My ability to connect with my audience and clients sets me apart. I love to answer their questions, take time to know their names and thank them for their support. My social media accounts have over 300,000 followers combined, and I still take the time to communicate.
OXYGEN: What are some of your training rituals?
NJ: Before a workout, I like to have a high-carb meal so that I can get my energy going, and I listen to dancehall music on my drive to the gym to get myself motivated and ready to lift. I take a scoop of Mesomorph preworkout, and if I am cutting, I will take my HydroxyElite fat burner because the thermogenics really help me sweat during my workout.
I finish every workout with wide-grip pull-ups, but if I am super exhausted after a workout, I do assisted pull-ups. Ratios are the key to an hourglass figure — the wider the back, the smaller the waistline will appear!
OXYGEN: What is your favorite exercise?
NJ: Deadlifts and single-leg glute bridges are my favorite.
OXYGEN: What's the best advice you've ever been given?
NJ: The best advice I've ever been given is that if you want to attain a goal, you have to work for it. Nobody in the world is going to work harder for your success than you. If you want something, don't wait on anyone to hand it to you.
OXYGEN: What is one thing you would tell your younger self when she was first getting into the fitness scene?
NJ: Have fun!
OXYGEN: How do you remain focused and driven in such a competitive landscape?
NJ: My drive comes from setting a positive example for my daughter. When I hear her little voice on the videos at my show, it makes me melt. When I won my pro title, my daughter screamed, "My mommy won!" Knowing she is proud of me makes me work hard every day.
OXYGEN: What's the one thing you always have to have on hand?
NJ: Nivea body lotion with almond oil — it makes my skin so soft and moisturized. I don't leave home without it!
Learn more about Hi-Tech Pharmaceuticals and its complete line of innovative, science-based nutrition products here. Follow Hi-Tech Pharmaceuticals fitness model Nay Jones on Instagram here.