Sponsored Story: Q&A With Former Marine and Figure Pro Sherry Mayumi Darrell
Read how a broken engagement catapulted this former All-American's fitness career.
Heading out the door? Read this article on the new Outside+ app available now on iOS devices for members! Download the app.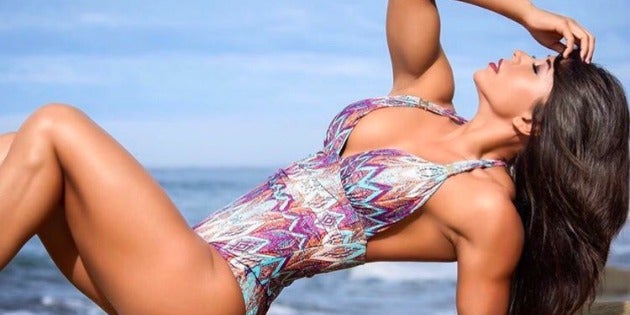 Name: Sherry Mayumi Darrell | Hometown: Bow, New Hampshire
Age: 28 | Sport: iForce Nutrition athlete, former All-American Division II women's lacrosse player, former nationally qualified Figure competitor
OXYGEN: What is your back story? Any standout achievements?
Sherry Mayumi Darrell: Athletics has always been a big part of my life. I played AAU basketball and travel lacrosse, and I played Division II college lacrosse where I received All-American honors, ranked No. 2 for points in a season in NCAA Division II my junior year and broke numerous school records. I'd spend my winters shoveling a pathway so I could shoot hoops and play catch with my lacrosse stick. My fitness journey began when I was enlisted in the Marine Corps in 2011. After my engagement was broken off, I really realized what was missing in my life — my sense of happiness was missing and I needed to focus on myself. Fitness has helped me with that, even through today.
OXYGEN: How did you get into fitness?
SMD: Although athletics have always been part of my life, I really didn't find my passion for fitness until I joined the Marine Corps. I was either running every morning at 4 a.m. before work or in the weight room lifting. I started doing my own research on proper dieting to gain muscle and lift heavier, and I started writing my own diets and workouts. I wanted to inspire others to be healthy and fit, so I decided to take classes on the side to become certified in this field.
OXYGEN: How has being a veteran shaped your workout style and drive?
SMD: I became more disciplined and structured. My focus was solely on myself and I always strived to be the best. My work ethic followed me even after the Marines.
OXYGEN: What do you think has set you apart from other athletes in your sport?
SMD: My mentality and drive sets me apart. Also, my experience in high-school sports, travel teams, collegiate sports and my military background has set me apart from everyone else.
OXYGEN: What are some of your training rituals?
SMD: I always have oatmeal mixed with some protein powder 30 minutes before I work out. I put water in it and microwave, then add Splenda and a couple of drops of sugar-free syrup. Of course I take preworkout right before I train, and I make sure to have carbs after my workout.
OXYGEN: What is your favorite exercise?
SMD: My favorite exercise would have to be dumbbell side lateral raises.
OXYGEN: What's the best advice you've ever been given?
SMD: You are put on this earth for a reason, give your all in everything you do — work, relationships with others, etc. Just give it your all because you have nothing to lose.
OXYGEN: What is one thing you would tell your younger self when you were getting into fitness?
SMD: Don't compare yourself to others. If you compare yourself to others, you're going to lose sight of your purpose and why you started in the first place. It's really upsetting to see social media promoting what society wants you to look like.
Believe it or not, people will go to the extreme to be what society wants us to be. Everyone is at different stages in their journey, so follow your own path and genuinely learn to love yourself.
OXYGEN: What does being fit mean to you?
SMD: This is something I always preach. Be comfortable in your own skin at all stages of your fitness journey. I can't remember the last time I stepped on the scale. I promote not going on the scale because it can mentally mess with your head. I judge myself on how I feel and look. The number doesn't matter to me.
OXYGEN: How do you remain focused and driven in such a competitive sport?
SMD: I stay focused and driven because I love this lifestyle — it's not a chore to me. Are there days I don't want to train? Yes. Are there days when I want to eat anything and everything? Yes. Do I skip workouts? Yes. I'm human and these kinds of things happen.
Although fitness is a competitive sport, I don't really compete with others — I like to compete with myself by seeing how far I can push myself. Who doesn't want to be on a cover of a fitness magazine? I know that's my dream, but what's most important to me is bettering myself every day while inspiring others to do the same.
OXYGEN: What's the one thing you must always have on hand?
SMD: I always have to have peanut butter with me — whether it's in my purse or in my car. Along with that, I always have chopsticks or lipstick on hand!